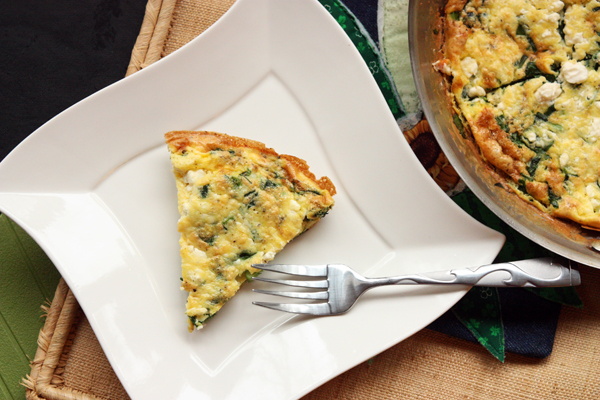 I have a really bad habit of planning my weekends too much. I always make a list full of more than I can possibly do, gradually shifting things to later in the week as the impossibility of my plans becomes clear.

But every once in a while, one of the items on those lists turns into a relaxing, inspiring, reflective endeavor with delicious results. As with this frittata.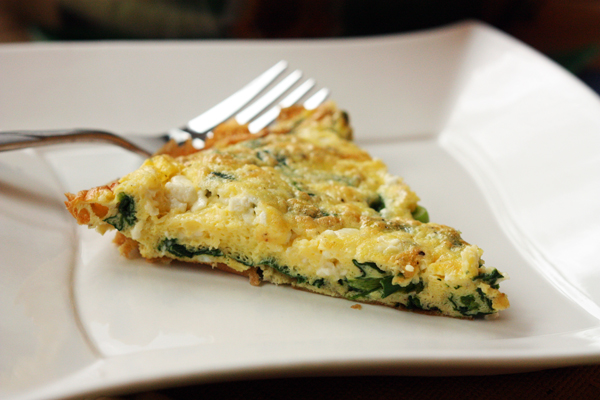 My initial impulse to make this crowd-worthy breakfast came from a delightful alliance of ingredients currently in season. "Egg season" (yes, there is one) has begun here in the Carolinas, and every week I see more and more vendors with teetering piles of egg crates on the corners of their tables.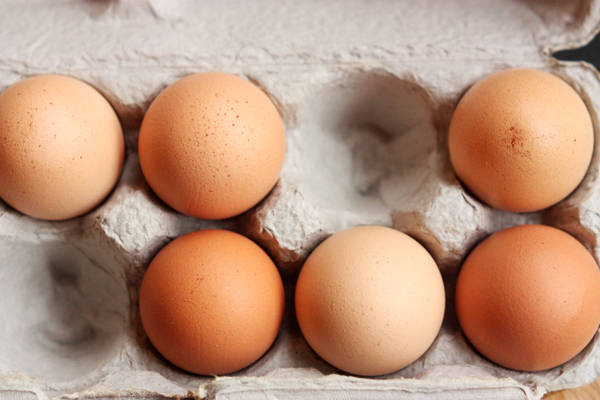 In addition to the chickens laying more eggs, spring greens are everywhere. I picked up a bag of deep green spinach leaves and a bunch of green onions to play along with the eggs. And a block of brined feta completed the set.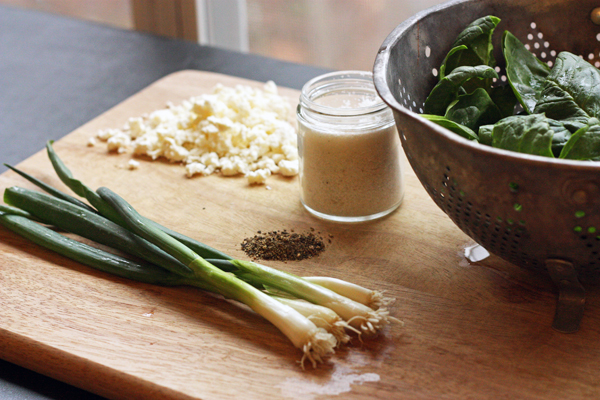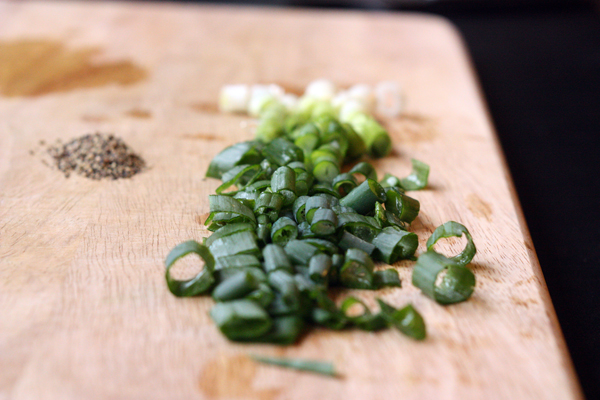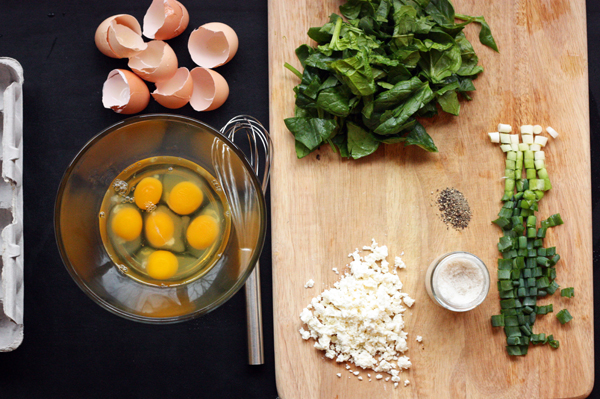 Frittata is, basically, a thin quiche that cooks quickly and has no crust. There are endless variations to this lovely breakfast. The key is to make sure you have a frying pan that can be used stove-top and in the oven.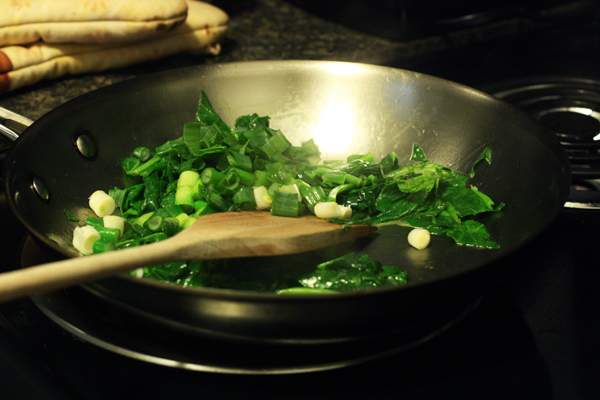 First, the spinach and onions are sautéed until the spinach has wilted, but not to the point that it's a stringy goopy mess. Only a few minutes go by before it's time to add the eggs.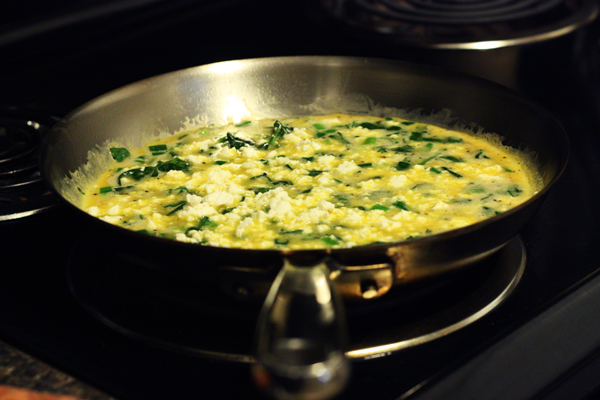 As you pour the eggs into the hot pan, those that hit the bottom first will immediately begin to cook. As that process starts, the feta is sprinkled on top. After a few minutes, the edges will start to firm and lighten in color as they cook, and into the oven it goes.
Now I've talked about broiling on this site before: it doesn't take much to burn the hell out of something under 500°F. Though this dish spent about eight minutes in the oven, I still spent the majority of that time staring at it through the oven window. It was cool to watch, as at that heat I could actually watch the egg cooking, but it also made sure that I didn't get distracted doing something else and open the oven to blackened eggs. Those minutes of inaction, sitting on my kitchen floor watching eggs cook, were worth it.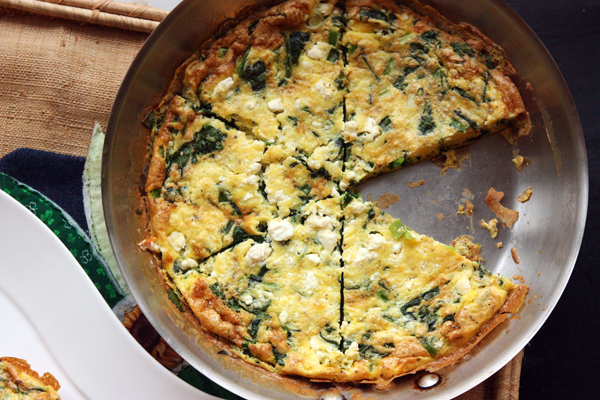 This frittata is fluffy and filling, and the union of flavors from the spicy onions and creamy eta is truly lovely.
I wish more mornings could be so satisfying. Cooking breakfast, listening to music, and watching the snow fall during a surprising bout of winter weather. I almost didn't want to cross this one off my list.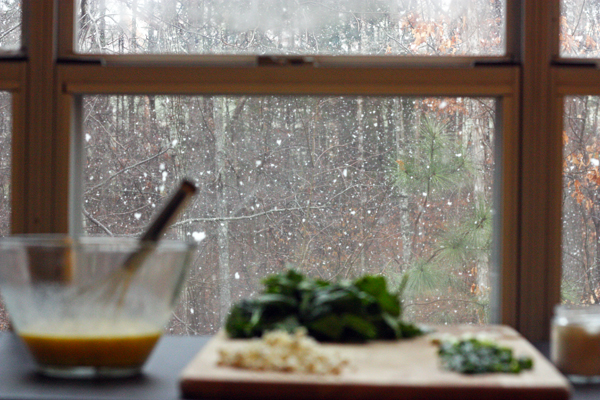 Spinach, Scallion, & Feta Frittata
1 T butter
3 oz fresh spinach leaves, washed & patted dry
4 scallions
2 oz feta cheese, crumbled
6 eggs
1 tsp freshly ground black pepper
pinch sea salt
Preheat oven on the broiler setting. Roughly chop spinach leaves and remove large, stiff stems. Chop the whites & greens of the scallions. In a medium bowl, beat the eggs with a whisk for 3-4 minutes. Add the black pepper and salt to the eggs and whisk a minute or so more.
Heat a 10-inch oven-safe frying pan over medium heat. Add butter and tilt the pan until butter coats the bottom. Cook spinach for 2-3 minutes until it has wilted and collapsed in size. Add scallions and cook for 2-3 more minutes. Pour in egg mixture and quickly stir so the spinach and scallions are evenly distributed. From this point on, do not stir the mixture. Sprinkle the feta evenly over the top of the eggs.
Once the edges of the frittata are cooked (they'll be lighter in color and look solid), place the frying pan on a middle rack in the oven. Broil for 6-10 minutes, watching it VERY closely. Stay focused: the frittata will quickly burn if left under the broiler for too long. Once the frittata is starting to turn golden-brown and is puffing up, remove from the oven and allow to cool for 2-3 minutes. The frittata will flatten a bit during this time. Cut the frittata into six wedges and serve immediately.