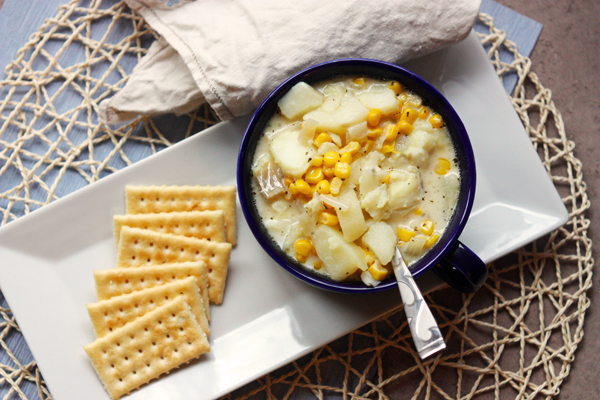 Let me begin by saying that I realize the title of this post doesn't make sense. Colorado is home to neither capes nor cod. I know.
I also know that I cooked this meal in North Carolina and cooked this meal using East Coast cod.
In addition, I have no idea what chowder from Cape Cod actual tastes like. No idea what the recipe is. So despite the fact that both my mom and grandma have been making "Cape Cod Chowder" (as is written in my grandma's hand on a splattered recipe card) to ward off the chill of January in Colorado for my entire life, I couldn't really call it that for fear of the wrath of proper Cape Cod residents with their own opinions on what is or is not Cape Cod Chowder.
It's rather dizzying.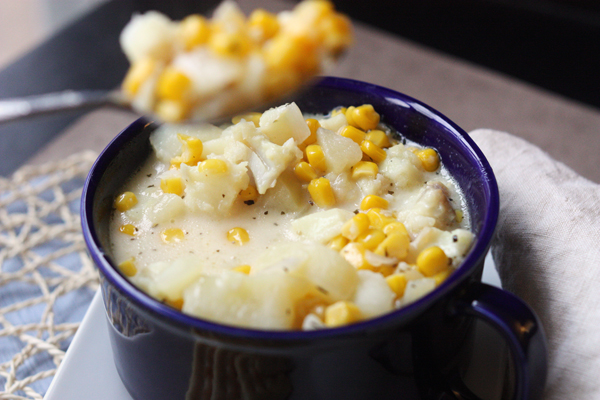 But I adore this soup. I look forward, each winter, to the stick-to-your-bones warmth provided by this hearty meal composed of relatively simple ingredients.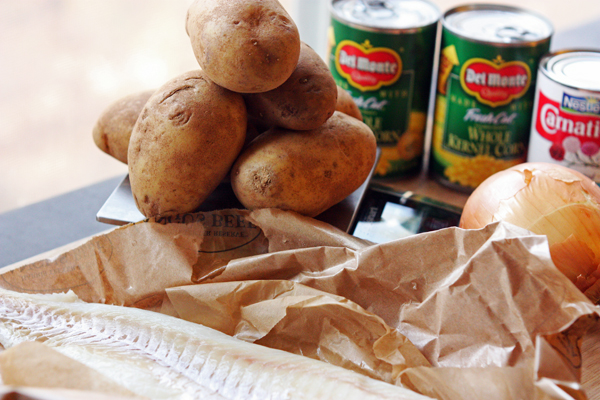 As most good soups do, this one starts with an onion, chopped up and sautéed in a bit of butter. The onion is followed by a pile of potatoes, some seasoning, and water.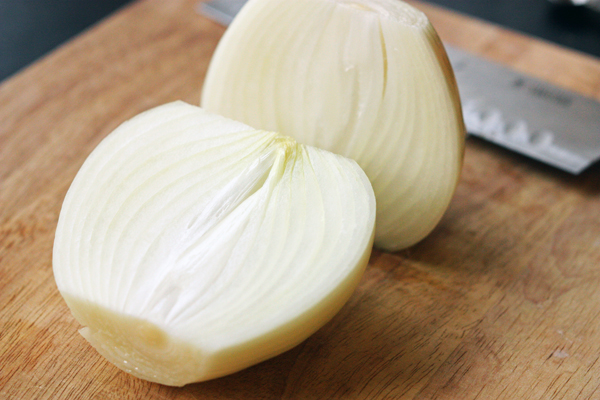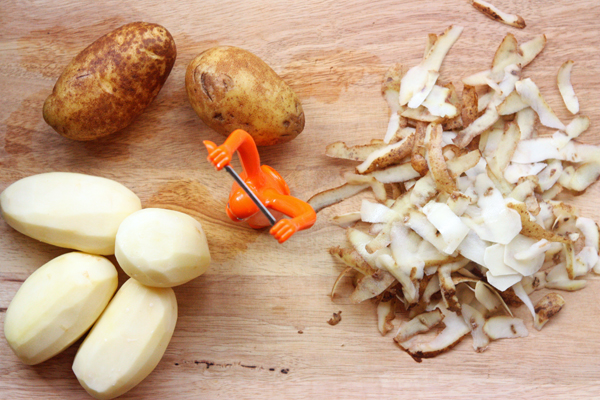 After the potatoes have simmered and softened for a few minutes, a filet of fresh cod is added to the pot to steam atop the hot potatoes and onions before adding corn and evaporated milk.
Now for full disclosure, I must confess: I don't particularly care for fish. In fact the first few times I flexed my post-adolescent cooking muscles in my tiny apartment kitchen, I defiantly excluded the cod from this chowder and added extra potatoes. However, in an effort to try to eat more fish and to give you a recipe with some semblance of balance, I gave it a shot again. Do I still guiltily prefer this soup without cod? You bet. But I feel like I'm doing a good thing for my body by keeping it in the recipe.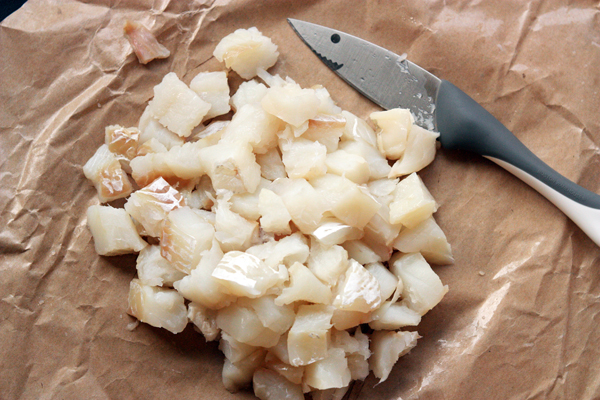 This meal can be done, start to finish, in less than an hour. It makes fabulous leftovers and freezes pretty well, so a large batch can last you for quite some time. And if you're like me, you can leave the fish out. If you like fish, you can add more.
And even if you live on Cape Cod, you can still make this and protect your chowder heritage. Because this is Colorado Cape Cod Chowder from a North Carolina food blogger.
Make sense?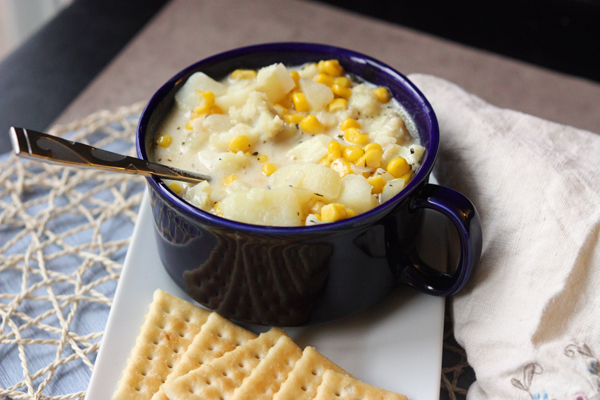 Colorado Cape Cod Chowder
Adapted slightly from a family recipe
3 T unsalted butter
1 large onion, diced (should yield about 2 cups)
2 lbs potatoes, peeled cut into 1″ cubes
2 tsp salt
1/2 tsp black pepper
1/2 tsp dried basil
2 bay leaves
2 c water
12 oz fresh or frozen cod, cut into 1″ cubes
two 15-oz cans corn with liquid
one 12-0z can evaporated milk (I used 2%, but you can use regular as well)
Dice onion and peel potatoes. Melt butter over medium heat in a large pot. Add onions and sauté for about 5 minutes until onions are soft. While the onions are cooking, cut potatoes into one-inch cubes. After the onions have softened, add potatoes, salt, pepper, basil, bay leaves, and water to the pot and stir well. Cover the pot and increase heat to medium-high. Cook for about 15 minutes.
While the potatoes cook, cut the cod into one-inch cubes. After 15 minutes, you should be able to easily stab the potatoes with fork, but they should not be totally soft. Place cod on top of the potatoes, not stirring, and re-cover the pot. Cook for an additional 10 minutes until the cod flakes easily with a fork. Add the corn and evaporated milk and stir well. Cover and bring just to boiling.
Remove from heat and remove lid. Allow to cool for about 5 minutes before serving.