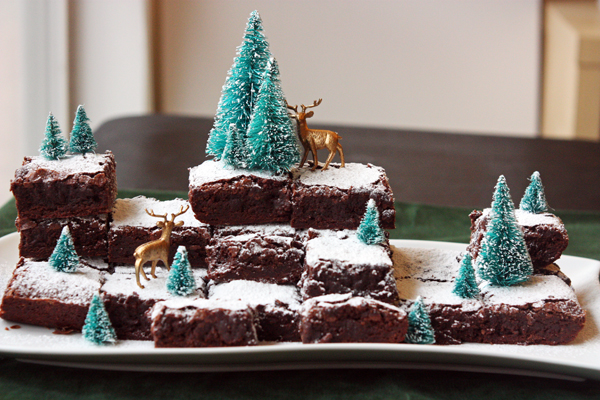 Durangoans are particularly proud of our beautiful state around the holidays. While many people send seasons greeting cards adorned with wintery vistas, evergreen trees weighed down with glistening mounds of snow, and woodland animals making their way silently through the drifts, those of us who spend Christmas in Colorado usually have the great fortune of watching those holiday cards come to life around us. This year, the first major snow of the season hit my hometown just a few days before I came home, and a gentle snowfall on Christmas Eve really sealed the deal for a white Christmas.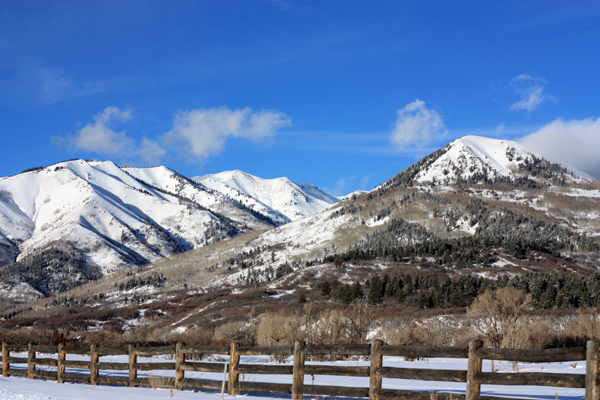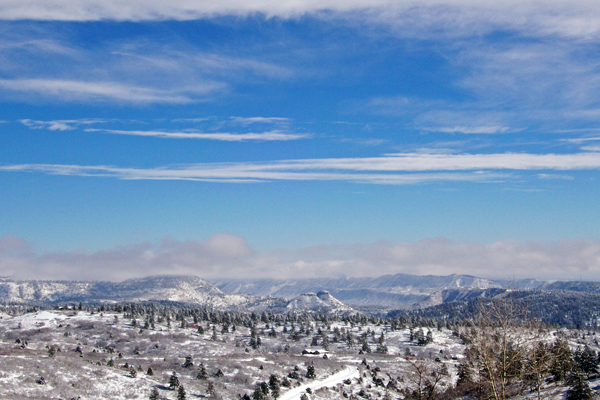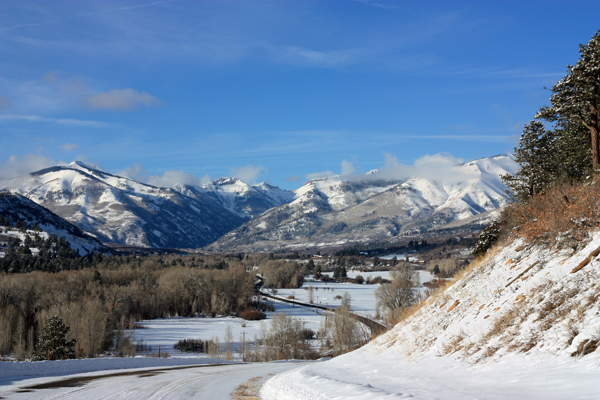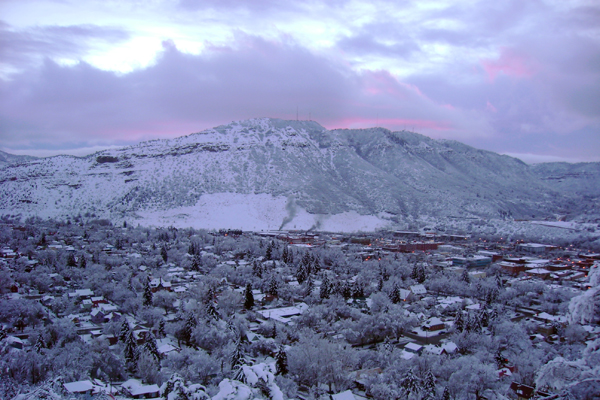 Having resided primarily in non-mountainous locations outside of Colorado for the better part of the last decade, I start getting really antsy for snow right around Thanksgiving but rarely actually see any until I'm flying over the Rockies a few weeks later on my way home for the holidays. For my holiday party (I swear, I'm almost done posting recipes from that dang party) in early December, I wanted to pay some small homage to the spectacular winter beauty of my home state, and I also was lacking a chocolate-y dish on my menu.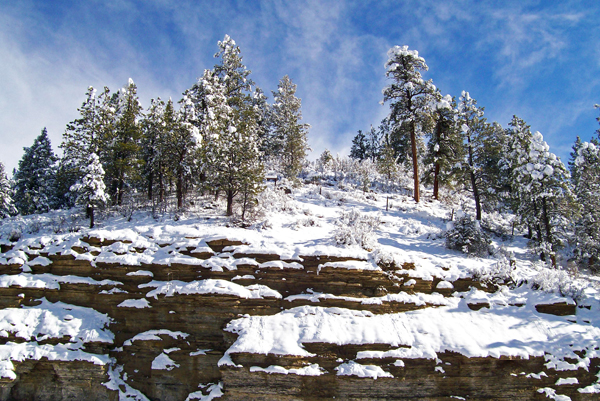 Enter the brownie.
Most often, I see brownies served with a light dusting of powdered sugar arranged in a pyramid of sorts on a serving tray. And boy, they never last long, do they? But what if, I thought, I rearrange those brownies like a little mountain? And top them with funny little trees!? And DEER?
I was committed.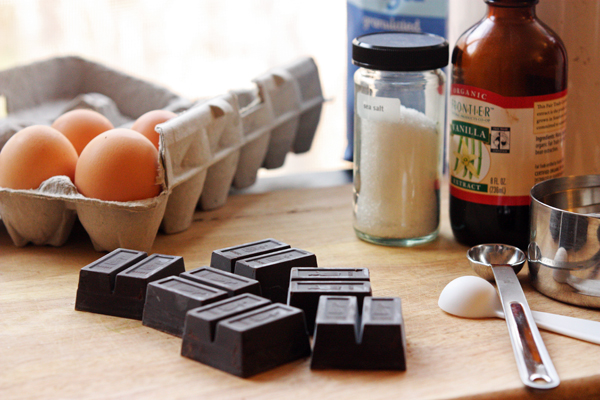 But despite all the décor, the truth of the matter is that this is a REALLY yummy brownie recipe. It's rich, fudgy (as brownies should be, sorry Mom), hugely chocolate-y, and is honest-to-god just as fast as using a brownie mix. It starts with, not cocoa, but a mound of unsweetened cocoa melted into some butter.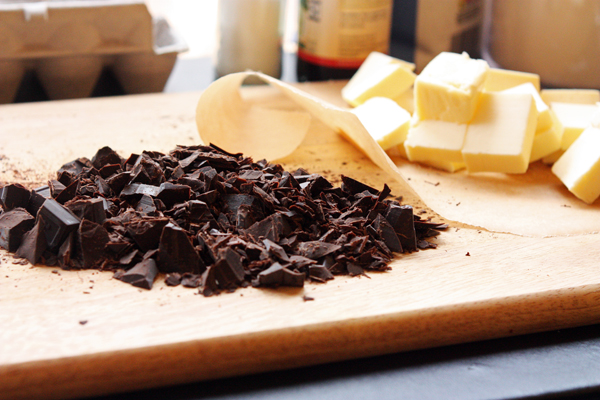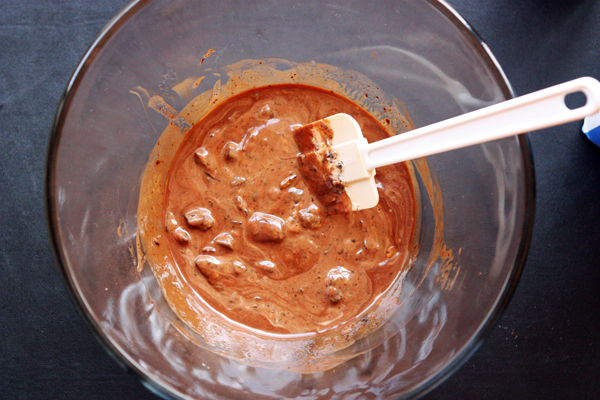 With the chocolate melted, the rest of the prep is really the easiest thing you'll ever meet. Whisk in some sugar, eggs, salt, vanilla, and flour, and you're just about half an hour away from brownies.
Now, if you're not having a bout of nostalgia for snow-covered mountains, you can just stop right here, dust the whole pan with powdered sugar, and slice these brownies up for eating. But let's operate under the assumption that you DO want to turn your brownies into a little wonderland, shall we?
Okay!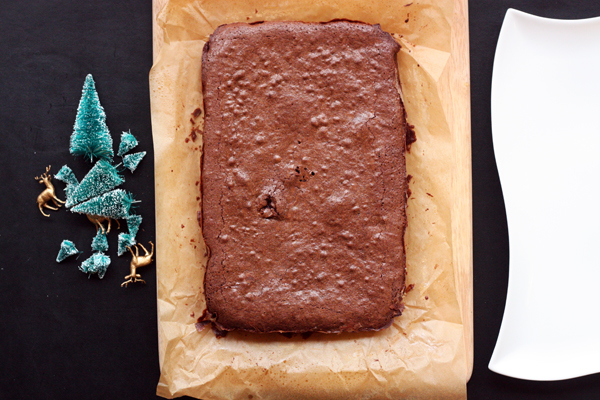 First, you need some trees. Otherwise you'll just have snow-covered rocky crags, which are interesting but probably will just alarm your guests into thinking you had some sort of accident when arranging your brownies. I found my trees in the miniature ornament section at a craft store. They came with adorable wooden bases that I chopped off immediately so I could stab them into the brownies. And I couldn't resist adding a couple of deer, as well. To celebrate Bambi. Or James Potter. Or just because deer live in the forest.
I arranged my mountain in a long panorama, but this could also be a round-ish mountain. However you arrange them, I do hope you serve them at a party or gathering where you can watch people pick up the brownie of their choice. It's quite amusing to watch the trees and deer gather closer together as people work their way in.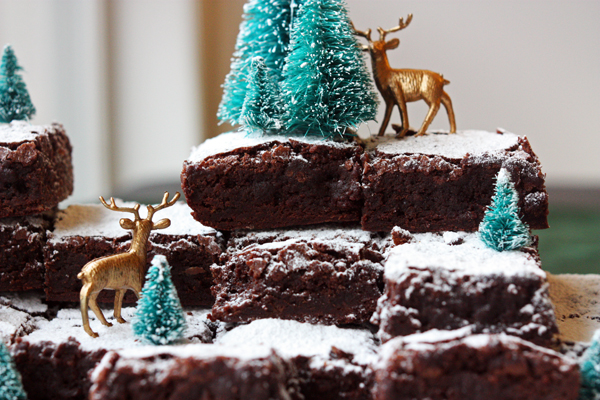 And there you have it! A winter wonderland of chocolate, sugar, and butter inspired by Colorado scenery.
I can promise it tastes much better than actual mountain.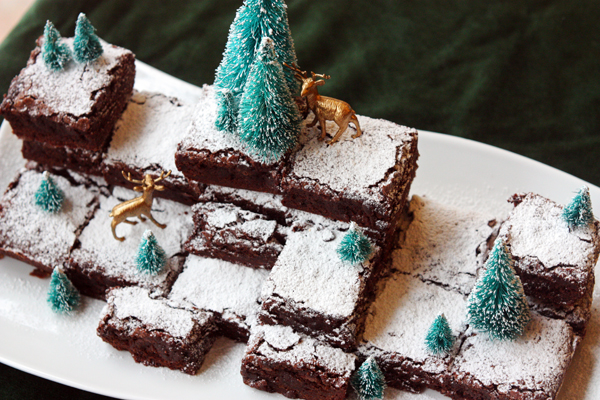 Winter Wonderland Brownies
Adapted from Smitten Kitchen
Makes one 13"x9" pan of brownies about one inch thick
6 oz unsweetened chocolate, roughly chopped
1 c (2 sticks) unsalted butter, chopped
2 2/3 c granulated sugar
4 large eggs
2 ½ tsp vanilla extract
1 tsp sea salt
1 1/3 c all-purpose flour
powdered sugar for dusting
miniature tree decorations, and forest animals if desired
Preheat oven to 350°F. Line a 13"x9" pan with parchment paper that extends up all four sides. Spray parchment lightly with cooking spray and set aside.
In a large microwavable bowl, combine chopped chocolate and butter. Heat in 30 second bursts at 50% power in the microwave, stirring between each burst. When the mixture is about 2/3 melted, stir without any further heating until all butter and chocolate is melted. Whisk in sugar, eggs, vanilla, and salt. Shake off whisk and switch to a rubber spatula. Add flour and mix well. Scrape batter into the lined baking pan and spread evenly throughout pan.
Bake for 35-40 minutes or until a toothpick inserted in the center of the pan comes out with just a speck or two of brownie. Remove from oven and allow to cool completely.
Once brownies have cooled, lift the parchment from the pan. If using decorative trees, snip off any wooden bases and shake thoroughly over a trashcan to remove loose "snow". Cut brownies into two-inch squares. Arrange about half of the brownies on a narrow, rectangular serving platter or plate. Place 2-3 tablespoons of powdered sugar into a fine mesh strainer or sifter and dust the bottom layer of brownies until sugar coats the top. Arrange remaining brownies as desired to create multiple levels and a mountainous effect. Continue dusting the tops of the brownies as you place each layer down so that every brownies is dusted with sugar.
Carefully arrange trees and forest animals as desired just before serving.
Leftover brownies should be covered with foil or plastic wrap or can be stored in an airtight container or zippered bag.