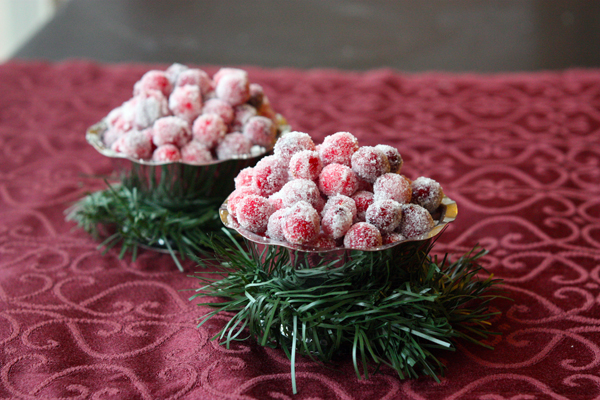 If fall is pumpkin-everything season, then early winter is certainly the moment for the tart, gem-like cranberry to rise to prominence. I find myself recently obsessed with the immense versatility of cranberries, but this simple recipe is, by far, the best way I've found yet to feature these beautiful little berries.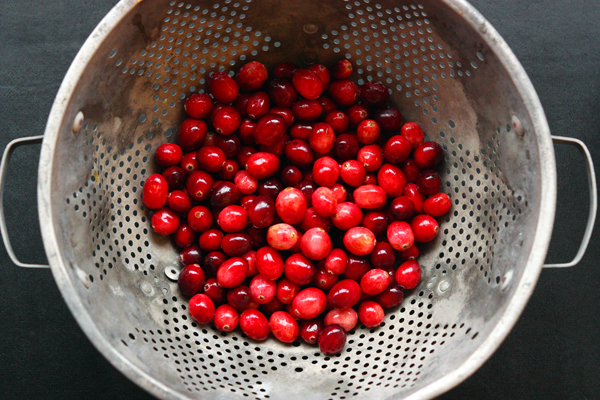 Cranberries are, on their own, incredibly tart, and I rarely see them served raw and unaltered. But they are also so fashionable in that state, aren't they? It's sort of a shame that most of us consume the majority of our cranberries either liquified in fruit juice cocktails or gel-ified in classic, ruby-red sauce served aside turkey and cornbread stuffing at Thanksgiving.
This method gives the cranberries a nice level of sweetness to cut the sour but lets the berries glisten as a centerpiece of your holiday party spread. And while the berries require several hours of soaking in the fridge, these are incredibly easy to make. All you need is a bag of cranberries, sugar, and water.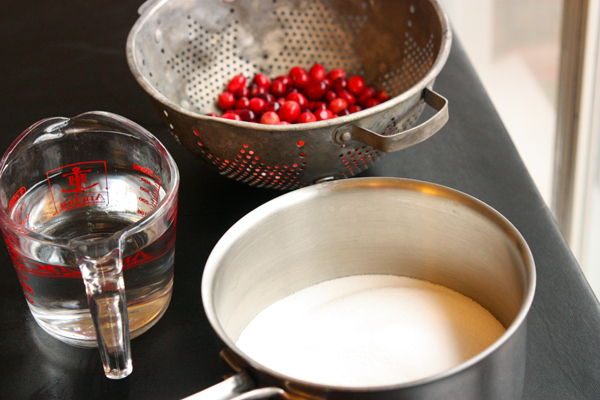 The first step is to make a simple syrup, or, a mixture of sugar and water in equal parts. Once the sugar dissolves and the syrup comes just to boiling, the cranberries get a nice, long soak. I like to make the mixture the night before I need the berries and allow them to sit in the fridge overnight, but you can also start the morning of your festivities if you're short on time.
After several hours of absorbing simple syrup, the berries are certainly sweeter, but still quite sticky. That stickiness is perfect for the final step: giving these pretty little rubies a glistening, sparkly coat of sugar!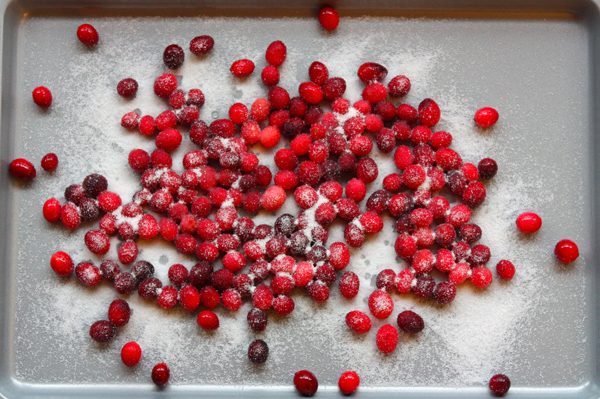 I used a cookie sheet, shaken back and forth on the surface of a table, as a vehicle for covering the berries evenly with sugar. I attempted to roll them with a fork on my first batch, but the cookie sheet works much better. And a little sugar goes a long way: I used about 1/2 cup to give each and every berry its shiny coat.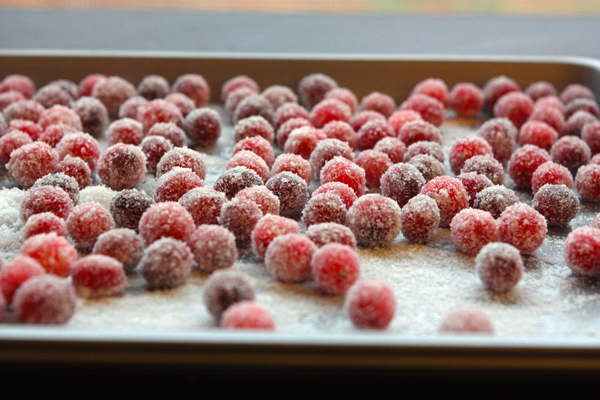 And how shall we use them? OH. LET ME COUNT THE WAYS. They would make an elegant topping to cheesecake. They make a great garnish for cocktails. I tossed a handful in a bowl of cranberry lemonade punch. But mostly, we ate them straight up, one by one, right out of the bowl. Sweet, tart, perfectly festive finger-food.
Let the season of the cranberry begin!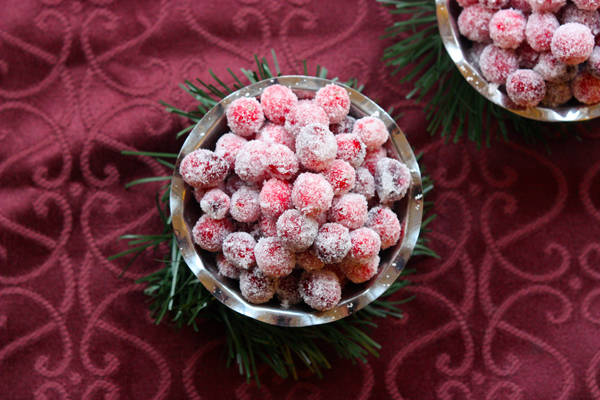 Sparkling Cranberries
Adapted from Tokyo Terrace
3 c cranberries (picked through, removing any berried with soft spots)
2 c granulated sugar
2 c water
1/2 c additional granulated sugar
Wash cranberries thoroughly and drain in a colander. Combine 2 c sugar & water in a medium pot over medium-high heat. Stir until sugar dissolves and heat just until mixture comes to a boil. Remove the simple syrup from the heat and allow to cool for 5-10 minutes.
Pour cranberries into a glass or metal dish, preferably with a lid. Pour the simple syrup over the cranberries. Place the lid on the bowl or cover with aluminum foil and place in the refrigerator. Chill berries in the simple syrup overnight or for at least 8 hours.
After berries have chilled, pour into a colander and drain for about 10 minutes. Dump berries onto a medium cookie sheet. Sprinkle a bit of the 1/2 of sugar over the berries. Slide the cookie sheet back and forth over the surface of a table or counter so that the berries roll around in the sugar. Continue adding sugar a bit at a time to cover berries evenly and thoroughly. Allow berries to rest for 1-2 hours on the counter to allow the simple syrup to begin forming a hard shell. Sprinkle with additional sugar to cover any final sticky spots.
Serve as is, as a cocktail garnish, as a topping for cheesecake, or in any other way you can imagine. Keep refrigerated when not serving.