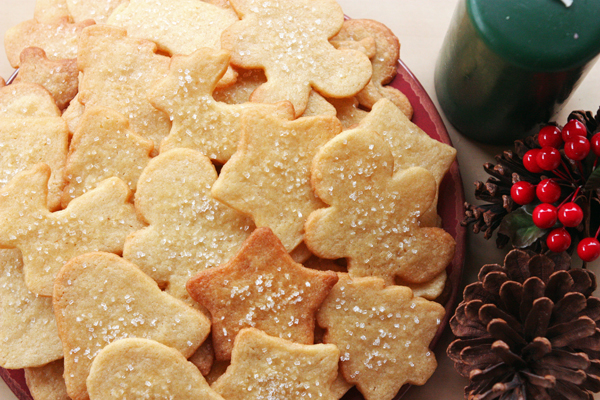 I've got cookies on the brain today. And in the fridge, actually. Today my sister and I are baking the sparkly, classic sugar cookies we've been baking (and eating) every Christmas for most of our lives. Each year seems to have its own theme though. There was the year of 1000 fish when we found a tiny fish-shaped cookie cutter in our eclectic mix of shapes. And the year of multi-cultural gingerbread people. And one year when I believe we used the smallest cookie cutters we could find to create a gazillion bite-sized stars, trees, and bells.
I'll always love my mom's classic sugar cookie recipe. It tastes like tradition and family gatherings and anticipation for what Santa might put under the tree. But I must admit: these cookies, based on a recipe I've been eyeballing for a while, are definitely worth repeating. And while I only make classic sugar cookies at Christmas, these maple-rockin' ones qualify for year-round baking.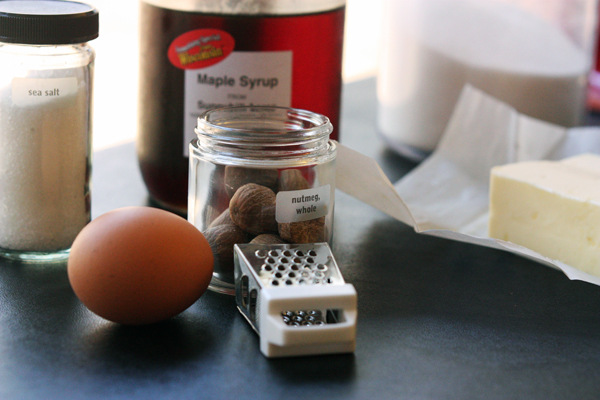 The stars of this little cookie show are maple syrup, nutmeg, and sea salt. I'm not certain I've ever tasted cookies so magical and complex in flavor before. I also added a bit of cinnamon to bring even more seasonal flavor to the mix, but the combination of sweet maple and the occasional punch of salt make each bite a pleasure.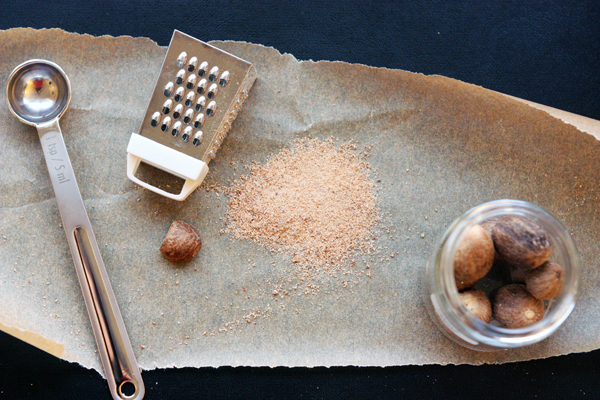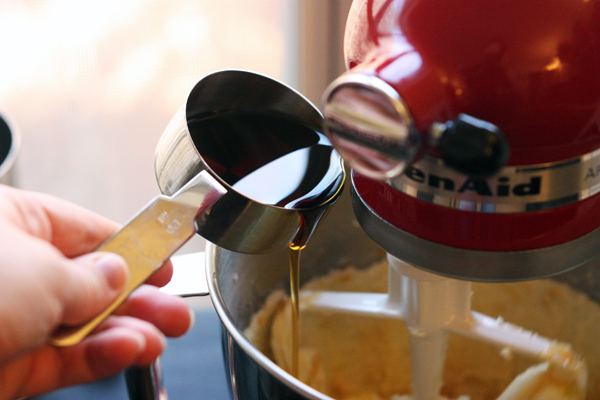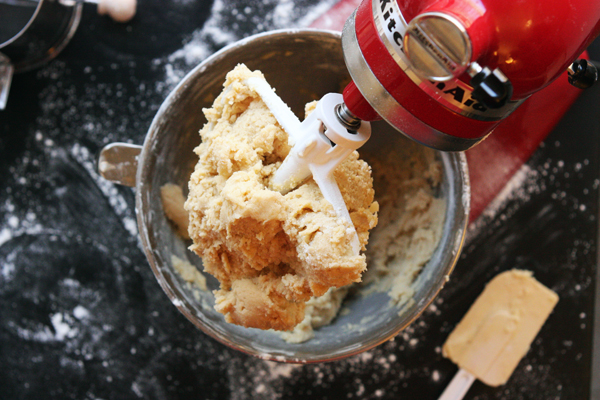 Like most cutout cookies, this dough needs a good long chill in the fridge before rolling. And like pie crust, it's best to keep it as cold as possible. I work with only a quarter of the dough at a time AND return the unbaked trays of cookies to the fridge for a few minutes before they go in the oven. The cold helps the cookies keep their shape so your reindeer look like reindeer and not bulbous root vegetables.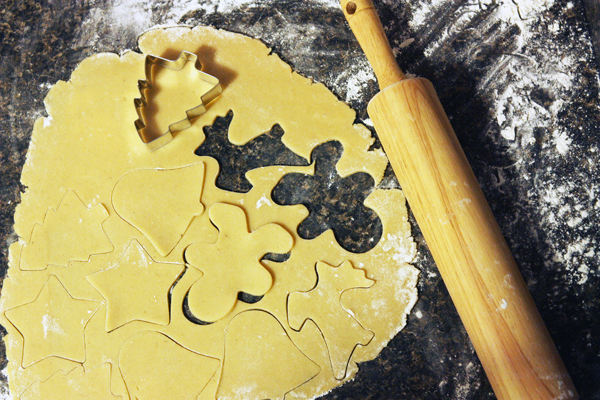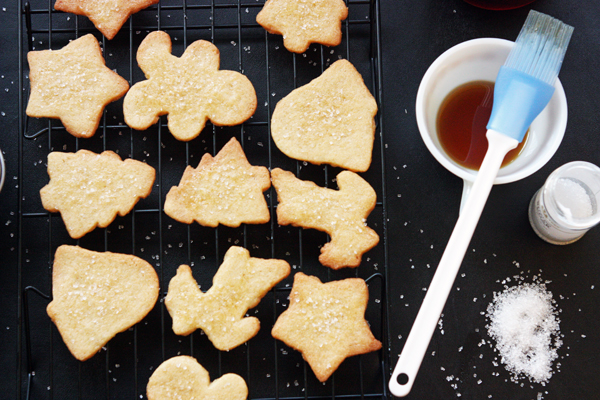 These cookies are darn good right off the pan. But it's Christmas, so I wanted to add a little extra panache. While still warm from the oven, each cookie gets a final kiss of maple syrup and a sprinkle of large grain sugar (I found mine in the sprinkles section at the grocery store). The result is a chewy but crisp, flavorful cookie with just the right amount of sparkle.
I'd love to sit here and chat cookies with you, but I have a lot of actual cookies to bake right now. And I bet you do, too.
Happy Holidays to you and yours!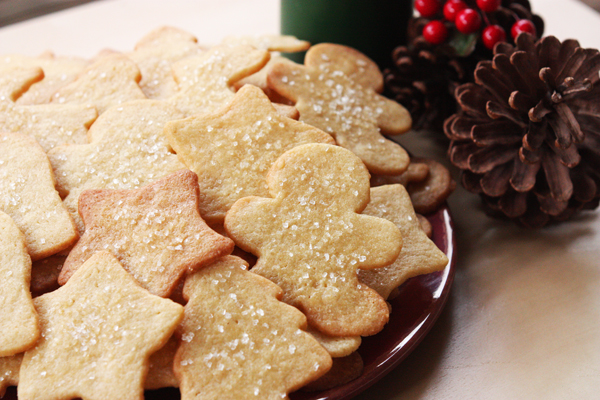 Salted Maple Cutout Cookies
Adapted from Smitten Kitchen
Makes 5-6 dozen cookies
1 c (2 sticks) unsalted butter, at room temperature
1 c granulated sugar
1 egg yolk
1/2 c pure maple syrup (Grade B)
3 c all-purpose flour
3/4 tsp freshly grated nutmeg (or 3/8 tsp ground nutmeg, which packs more tightly)
1/2 tsp ground cinnamon
1 1/2 tsp sea salt
1/4 c additional maple syrup (for decorating)
large grain sugar sprinkles (for decorating)
Combine butter and sugar in the bowl of an electric mixer and beat until light and fluffy. With mixer on medium, add egg yolk and drizzle in maple syrup.
In a separate bowl, whisk together flour, nutmeg, cinnamon, and sea salt. Add to the butter mixture and mix just until combined, making sure you scrape down the sides of the bowl several times to incorporate all dry ingredients. Gather the dough onto a two-foot stretch of plastic wrap and wrap well. Place dough in the refrigerator to chill for at least two hours.
Preheat oven to 350°F. Line two large cookie sheets with parchment paper. Remove about a quarter of the dough from the fridge and place on a floured surface. It's important to keep the dough cold as long as possible, so working in small batches is best. Roll dough out to about 1/4″ thick and cut into desired shapes. Lift each cookie onto the lined cookie sheet, leaving about 1/2″ between cookies.  Once the first sheet is full of cookies, place it in the fridge for 10-15 minutes. Chilling the uncooked cookies will help them retain their shape while baking. Gather scraps into a ball and return to the fridge. Remove another cold quarter of the dough and repeat with second cookie sheet.
Once first cookie sheet has chilled, bake on a center rack for about 10-12 minutes or until cookies are lightly browned around the edges. Remove from oven and carefully lift each cookie onto a cooling rack. Pour 1/4 c maple syrup into a small dish. Use a pastry brush to lightly brush each cookie with maple syrup (think kisses, not puddles). Once all cookies from the first sheet have been brushed, lightly sprinkle each cookie with the large grain sugar.
Continue this process of rolling out dough, cutting cookies, chilling cookies, baking cookies, brushing with maple, and sprinkling with sugar until all dough has been used up.
Cookies can be served warm (obviously) or can be stored in an airtight container for several days.