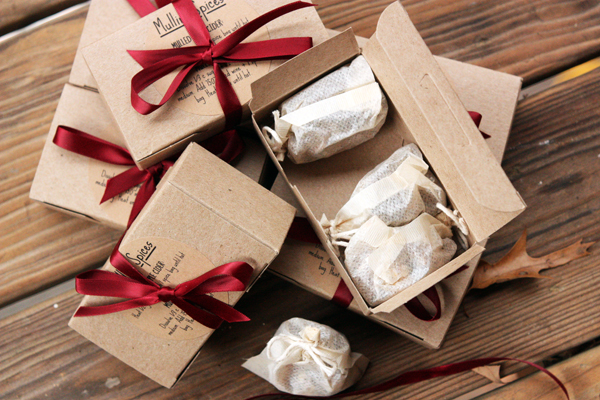 I'm not entirely sure where November went, but December (and with it, the holiday cooking season) seems to have arrived quite suddenly. Before Thanksgiving, I felt like I was finally on it for my holiday planning: I had lists, I had a rough cooking schedule (don't judge me), I had some hard-to-find ingredients ordered. But now we're here, hurtling through the first week of December, and I feel overwhelmed and scrambled and concerned that I won't get everything done. As usual, I've probably scheduled waaaaaay too many recipes to try, I decided months ago that throwing a food-filled holiday party this weekend would be a good idea, and I have a fantastically busy schedule at work.
However, at least one of my gift-giving projects is already under way and is actually right on schedule. And just in case you think it's a swell idea too, I'm gonna go ahead and ruin the surprise for those of you on my Santa list this year.
Everyone on my list is getting homemade mulling spices! And, because it's fun and I like sharing, I'm hosting a little giveaway so that three of you readers can have some too!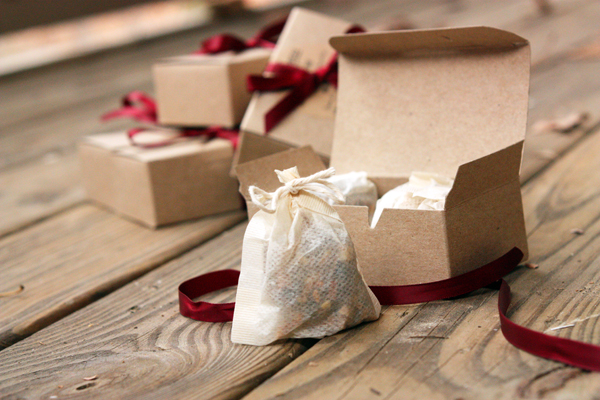 Last year, my holiday crafty-gift-project was making these little hot chocolate sticks. They were a hit, and they make a mean mug of hot chocolate, but this year I wanted to come up with something a bit more versatile. After seeing tiny containers of mulling spices being sold at a market in Ohio, I knew I had found my next project.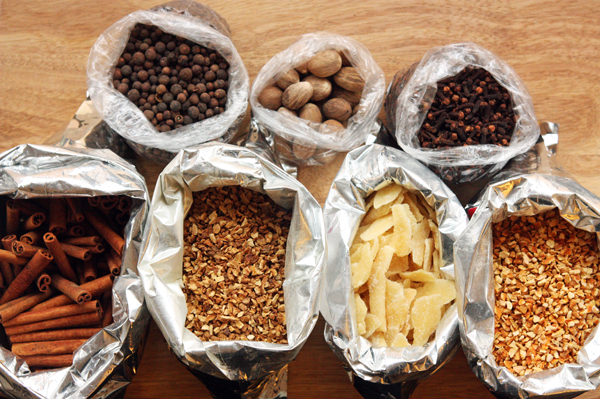 Mulling spices, if you've not heard them called that before, refer collectively to the spices generally used to turn apple cider and red wine into mulled cider and mulled wine. I've seen dozens of recipes, and used a few myself, but mulling spices typically include cinnamon, cloves, allspice, nutmeg, ginger, orange peel, and lemon peel in a variety of combinations.
The first step? Buying those dang spices. And lots.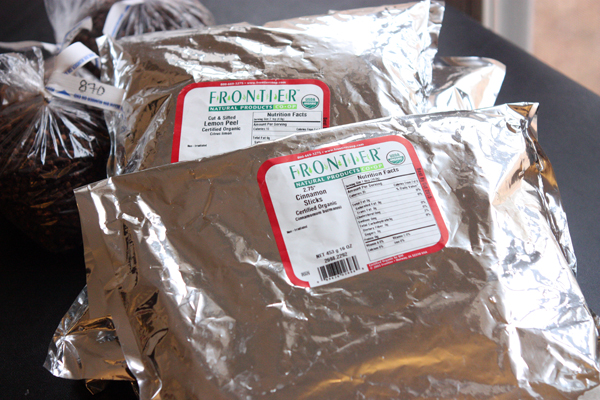 I already buy most of my herbs and spices in the bulk spice section of the co-op grocery store, which is MUCH less expensive than buying them one bottle at a time, and I knew I could pick up a cup or two of many of the spices I'd need that way. But the dried orange peel, lemon peel, and candied ginger were not available. But it turns out you can order whole bags of these in bulk, and they're fairly reasonably priced. Hooray for Amazon!
With spices in hand, I now needed a way to make tiny bags of them. You can use cheesecloth and tie it up, but I wanted to use something with a more finished look. T-sacs, which are essentially empty tea bags, seemed to fit the bill just right.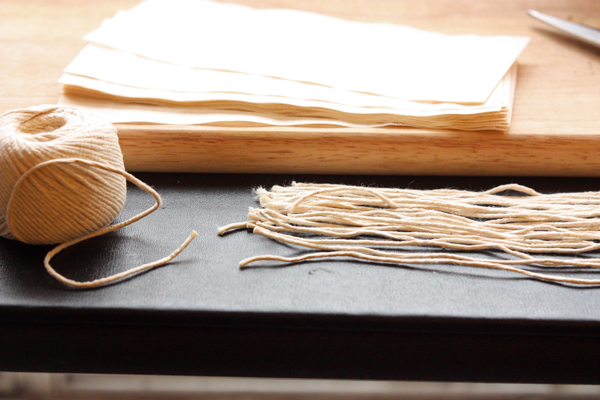 With spices and satchels in hand, all that's left is mixing and constructing. The cinnamon sticks and nutmegs require just a bit of breaking, which can easily be achieved with an old, heavy pot and a freezer bag, and the ginger needs to be chopped, but that's all you need to get all your spices in a bowl and turn them into mulling spice.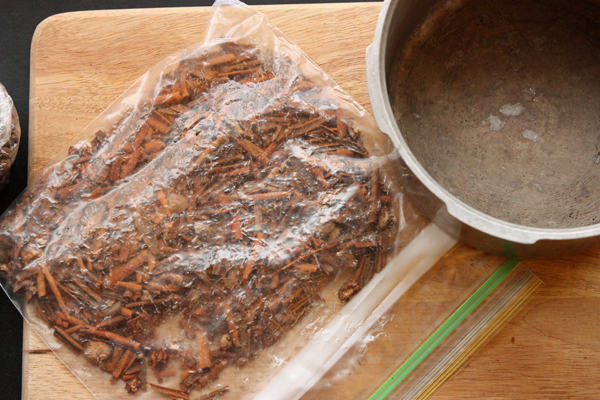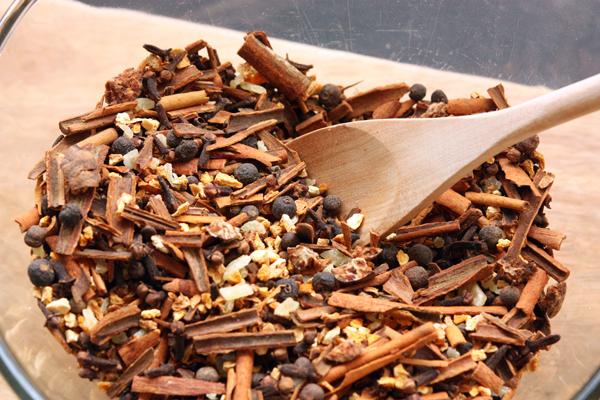 Once the mix is ready, each tea bag gets two heaping tablespoons of the mix. Then each bag is pinched closed, tied off, and trimmed of excess paper.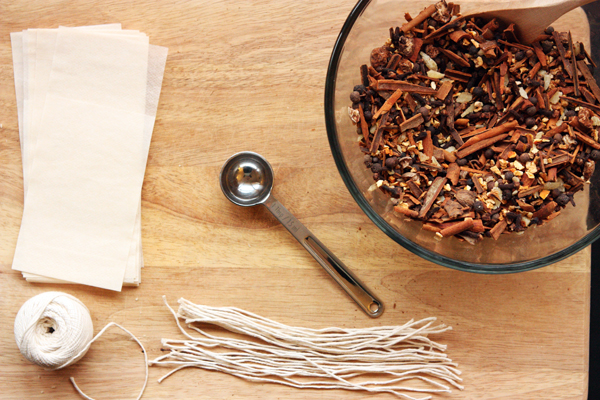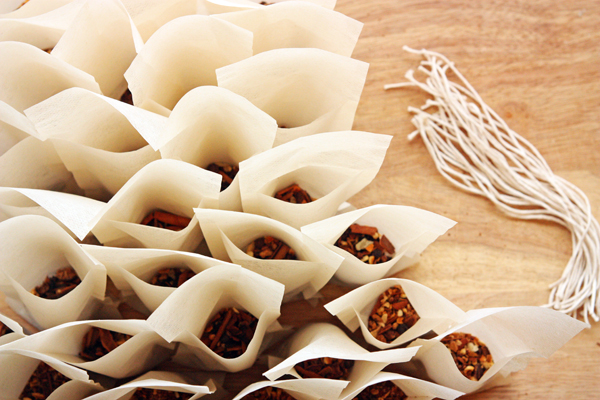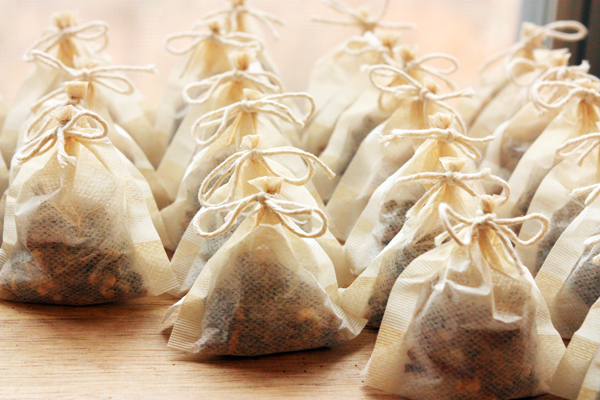 And look! Each little bag is perfect for mulling one bottle of wine or one 1/2 gallon of apple cider. I tested a bag for myself in apple cider, and the result was perfect. The tea bags are thin enough to allow the flavor of the spices to flow through the liquid, but sturdy enough to stay in the pot for 30 or 40 minutes while the cider simmers.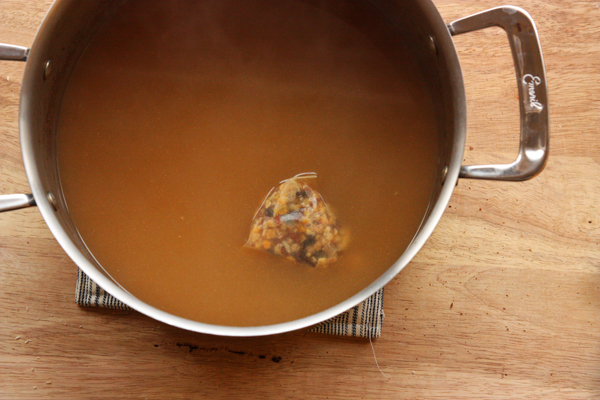 Now the bags are ready to give away as is, but I'm giving mine as sets of four in these cute little quarter-pound candy boxes I found online. Along with some pretty ribbon, I added a label for each box with instructions for making both mulled cider and mulled wine.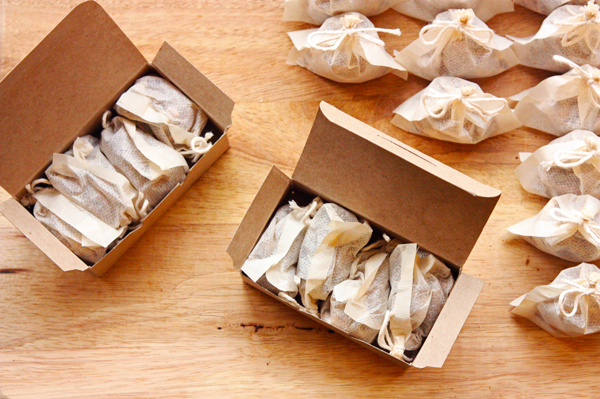 So here they are! Little packages of mulling spices to perk up your holiday party beverages. My friends and family will have to wait for Christmas to receive theirs, but not you! I'm doing a little giveaway and mailing a box of these little spice satchels to three readers. Want it to be you? Here's how to enter:
GIVEAWAY CLOSED: How to Win A Box Of Mulling Spice Mixes
1. Leave one comment on this post to answer this question: What is your favorite holiday party treat or drink?
2. BONUS! To enter twice, head on over to 30 Pounds of Apples on Facebook and like the page. Then, come back to this post and leave me a comment saying you liked the Facebook page, and you'll be entered twice. Fancy!
3. Enter before 11:59pm EST on Sunday, December 9. Winners will be announced on Monday, December 10.
4. Open to US residents only (sorry to my international readers, shipping is so dang expensive!)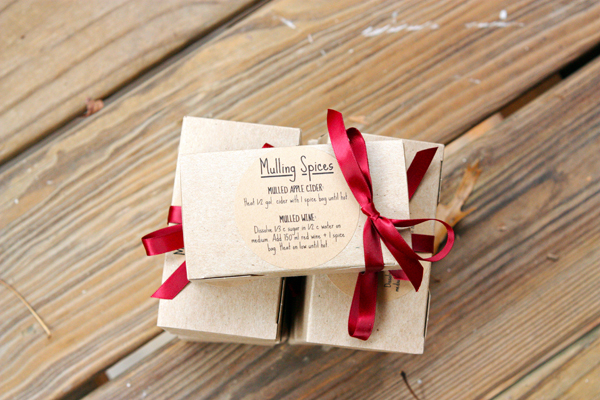 Homemade Mulling Spice Mix
Adapted from About.com
Makes 32 spice bags
Supplies
32 empty tea bags (I use #3 T-sacs)
cooking twine
quarter-pound candy boxes (optional)
instruction labels (optional) Here's the template I made!
ribbon (optional)
Ingredients
6 oz whole cinnamon sticks
10 whole nutmegs
2/3 c dried orange peel
2/3 c dried lemon peel
3/4 c whole cloves
1/2 c allspice berries
1/3 c finely chopped crystallized ginger
Place cinnamon sticks and nutmegs in a zippered freezer bag and close, pressing out all the air from the bag. Place the bag on a cutting board and pound with a heavy pot or frying pan until sticks and nutmegs are broken into pieces. Chop ginger into small pieces.
Combine all ingredients in a large bowl and mix well. Set aside. Cut kitchen twine into 32 six-inch pieces. Place two slightly heaping tablespoons full of spice mix into each tea bag and tap gently on a hard surface to settle the spices in the bottom of the bag. Fill all bags until spice mixture is completely used up.
Pinch each bag closed about one inch above the top of the spices so they have enough room to expand and move around while in the liquid. Tie a double knot around the pinched point with the kitchen twine, and add a bow if you like.
If you are giving these as gifts, make sure to include the instructions below for your recipients.
To Make Mulled Apple Cider
Combine 1/2 gallon apple cider and 1 spice bag in a crock pot or a large pot on the stove. Heat for 30-40 minutes or until hot. Remove spice bag and discard. Serve hot.
To Make Mulled Wine
Combine 1/3 c sugar and 1/2 c water in a large pot on medium heat. Stir until sugar is dissolved. Add 750 ml of red wine and 1 spice bag. Reduce heat to low and heat until wine is hot. Remove spice bag and discard. Serve hot.