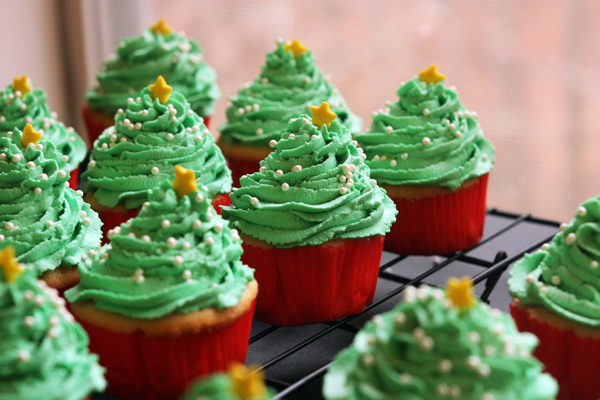 As we move into the final days before Christmas, I imagine that your holiday baking agendas are already full. That's cool. Mine certainly was for my holiday party. Every year, I like to make a mix of old, traditional Horvath holiday favorites and new recipes. One of my favorites from this season are these possibly-overly-cutesy-but-outrageously-delicious vanilla Christmas tree cupcakes.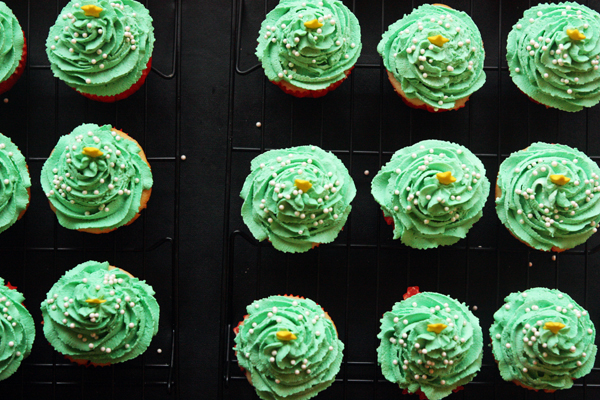 The reallybeautiful thing about this recipe is that it doesn't have to happen at Christmas AT ALL. It's simply a vanilla cupcake with whipped cream icing, and therefore is appropriate in all scenarios in the universe. What, you say, another vanilla cupcake? Doesn't the world have enough of those?
No.
Never.
And these vanilla cupcakes are a step above any I've had before. They are the softest, fluffiest, smoothest, vanilla-y-est cupcakes, and the clouds of simple whipped cream atop them offer just the right touch. What makes these cupcakes better than anything else? A secret ingredient: whipped cream, folded into the batter ITSELF, in addition to the icing that will finish these little bites of heaven.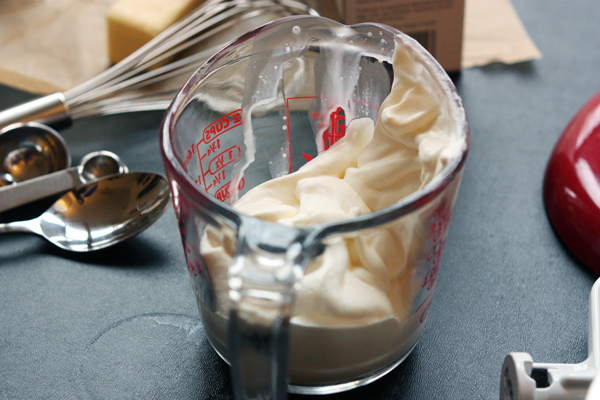 Just a half cup of heavy cream, whipped to soft peaks, gets folded into the icing at the end. This recipe is also punched up by the use of vanilla sugar, which I happen to keep in my pantry at all times. Sound too fancy? Next time you use the scrapings from a vanilla bean, don't throw out the pods (never throw out the pods)! Scoop a few cups of sugar into a jar or other airtight container and nestle the beans into them. You can continue adding sugar as you use it, and the result is vanilla-infused sugar whenever you want it.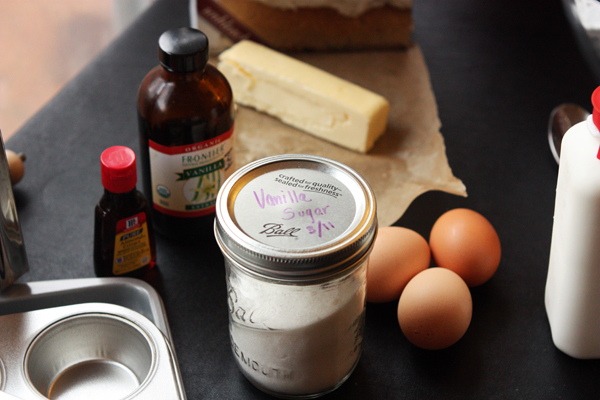 If you don't already have vanilla sugar waiting in your pantry, not to worry. You can use regular sugar and just amp up the vanilla extract a bit.
Again, the really magical party of these cupcakes lies not in the type of sugar you use but in the whipped cream added to the batter at the end of mixing. Then into the cupcake liners it goes! These cupcakes don't raise too much, so you can go ahead and fill the liners 2/3 of the way full. I use an old ice cream scoop, but you can use anything you want to get the batter into the liners.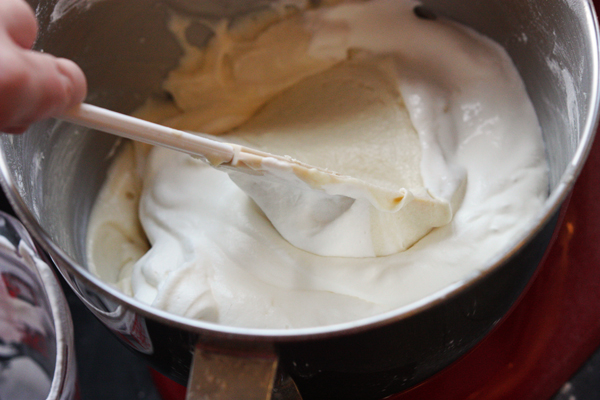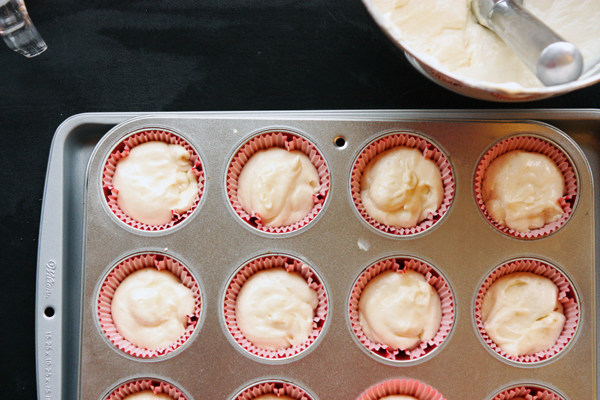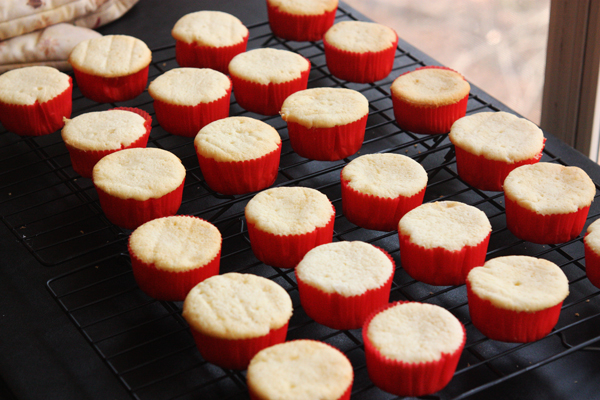 Once the cupcakes are baked and cooled, it's time to ice them. This icing is best when it is piped immediately onto the cupcakes and eaten within the hours after that. Over time, the whipped cream will slightly collapse, but we ate these as leftovers the day after the party and they still tasted fabulous, if a little deflated. We start, of course, with the basics for whipped cream: cream, sugar, and vanilla. For Christmas magic, I also added green icing color.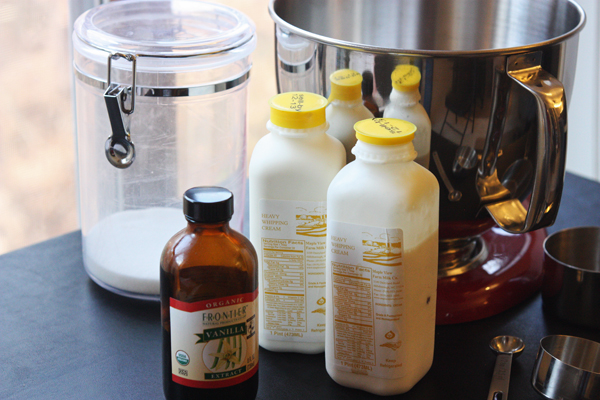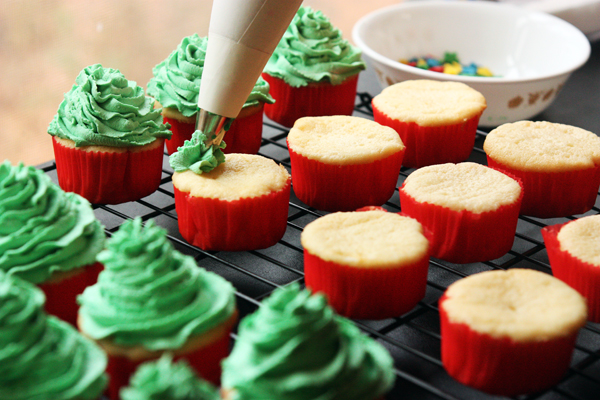 To decorate my trees, I found some great little star-shaped sprinkles. (I'm linking to them here so you can see them, but I found them in the baking aisle at my grocery store.) I also used a few pearl sprinkles, also from the baking aisle, to adorn the trees with baubles. Whatever you decide, make these trees your own!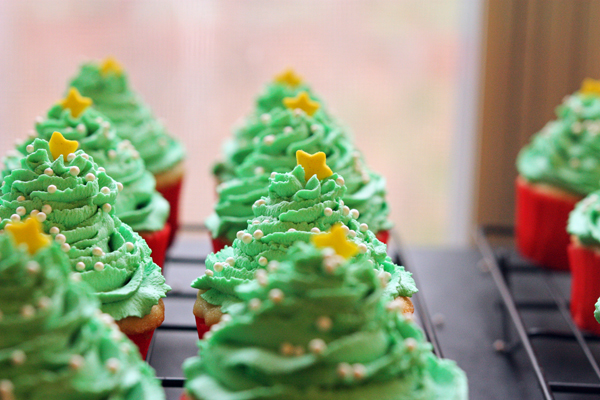 Dreamy Vanilla Christmas Tree Cupcakes
Adapted from Sweetapolita
For the Cupcakes
1/2 c heavy cream, very cold
2 1/2 c sifted cake flour
1 T baking powder
1/2 tsp salt
1 c whole milk, at room temperature
2 egg whites, at room temperature
1 whole egg, at room temperature
1 tsp vanilla extract (cut to 1/2 tsp if using vanilla sugar)
1/2 tsp almond extract
1 1/2 c granulated sugar (or vanilla sugar if you have it)
1/2 c (1 stick) unsalted butter, at room temperature
Preheat oven to 350°F. Line two 12-slot cupcake pans with cupcake liners. Place one pan on a cookie sheet (this will help prevent the cupcakes from browning on the bottom) and set aside. The second tray will go on to the cookie sheet once the first tray is baked.
Pour the cold cream into a standing mixer and whip to soft peaks using the whisk attachment. The cream should be fluffy and smooth but should not hold stiff peaks. Use a spatula to scrape the whipped cream out of the mixer bowl and into a separate small bowl. Place in the refrigerator until needed. Wipe the mixer bowl clean.
Sift the flour, baking powder, and salt into a medium bowl. In a separate larger bowl, whisk together the milk, egg whites, egg, vanilla, and almond extract.
In the bowl of the mixer, combine sugar and butter using the whisk attachment and mix until it has lightened in color and is smooth & creamy. Place the mixer on medium speed and add the dry and wet mixtures, alternating between each (3 dry additions, 2 wet additions). Scrape down the sides of the bowl with a spatula and mix for a few seconds more. Remove the whisk attachment and scrape off as much of the batter as possible.
Retrieve the soft-peaked whipped cream from the fridge and add to the batter. Fold in the cream gently with a spatula just until combined.
Fill cupcake liners about 2/3 full. I use an ice cream scoop, and it works well to give evenly-sized scoops.
Bake one tray at a time on the center rack (with the tray placed directly on a cookie sheet) for about 20 minutes or until a toothpick comes out barely clean. Remove from oven and allow to rest in tray for about 5 minutes, then remove each cupcake to a cooling rack. Allow to cool completely before applying icing. If storing overnight, store un-iced on the counter covered with a sheet of waxed paper, NOT in an airtight container.
For the Icing
2 1/2 c heavy cream, very cold
5 T granulated sugar
scant 1 tsp vanilla extract
a few drops green icing color
star-shaped yellow sprinkles
white pearl sprinkles (or your "ornaments" of choice)
Pour very cold cream into the bowl of a standing mixer. Using the whisk attachment, whip on medium-high until cream begins to thicken. Add one tablespoon of sugar at a time while cream continues to whip until soft peaks form. Add vanilla extract and green food coloring and whip until stiff peaks form, taking care not to whip too much or the icing will become grainy.
Assembly
Scoop icing into a piping bag with a large flower tip attached. Pipe icing onto cupcakes to form a gradual conical shape (a Christmas tree!) Carefully place the yellow star-shaped sprinkles on the top of each tree. Lightly sprinkle each tree with white pearl sprinkles so that they catch in the grooves like ornaments.
Serve and enjoy!