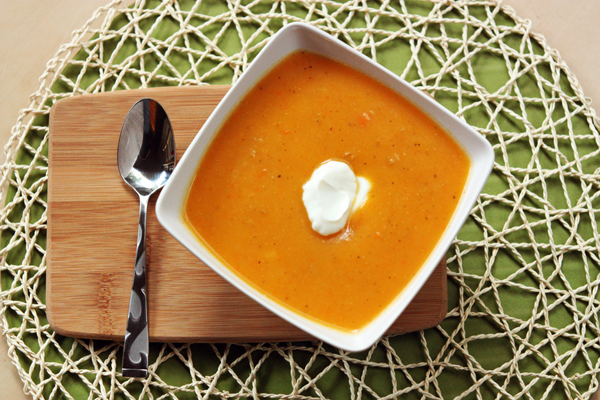 With both colder weather and a bothersome chest cold arriving in the last couple of weeks, I've craved almost nothing but soup. I know many of you live in areas where it's still a bit too balmy to day dream about tiny basins full of steaming soup, but bear with me. Your cooler weather will arrive soon enough, and when it does, you need to be ready to make this incredibly incredible soup featuring a vegetable almost as synonymous with autumn as king pumpkin: the butternut squash.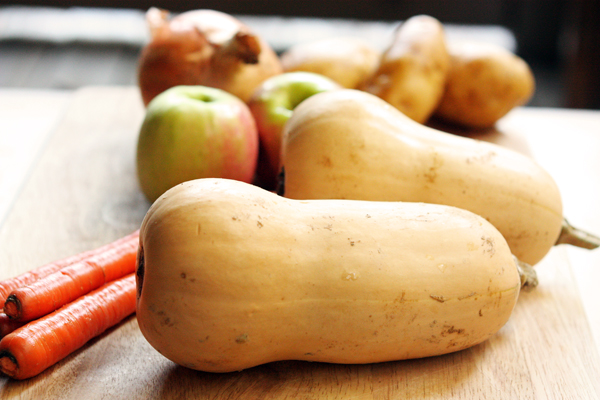 I won't lie to you. Butternut squash is only something I've come to appreciate very, very recently. I don't remember eating it much as a kid; we tended to favor summer squashes in my house. So when a friend brought me a bowl of butternut squash soup (in the worst days of my cold) I admit: I was a bit nervous. But after one spoonful, I became keenly aware that I may have been missing out on a vegetable that is practically given away at the farmers market, easy to store for long winters, and downright delicious.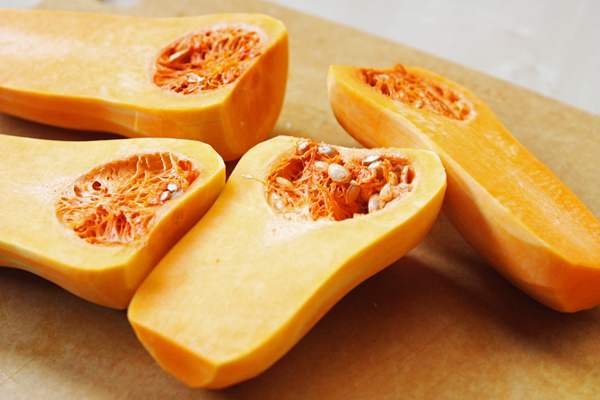 But it doesn't stop there. This soup is a medley of fall produce: carrots, potatoes, onions, and for fun, a couple of apples. Short of tossing some fallen leaves in there, it's hard to get more autumnal than that.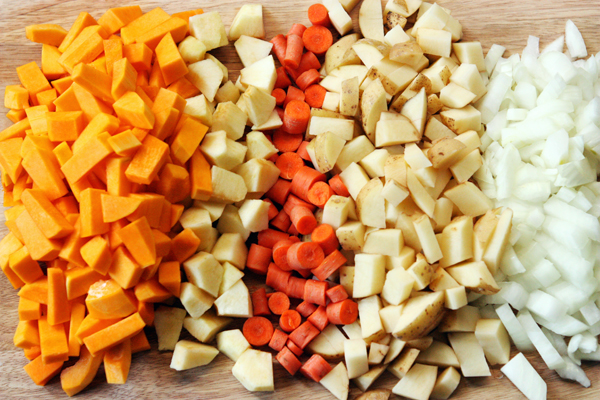 This array of chopped produced is then simply tossed in a pot, simmered in chicken stock, and blended. I've steered away from blended soups in the past because I don't have an immersion blender, but don't worry if you also don't have one. I ladled mine in batches into a regular, cheap-ass blender from Target and it worked swimmingly. A food processor would also work well. Once it's blended, you're just a few fall spices away from one awesome dinner.
Chock full of produce, creamy without any cream, and simply bursting with fall flavor, I positively insist you make some. Don't think you like butternut squash? Neither did I. Now I'm eating it for lunch every day for the rest of the week, and I couldn't be happier about it.
Butternut Squash Soup
Adapted from All Recipes & Monica B.
Makes about 18 cups, enough for 9 servings (leftovers, baby!)
2 medium butternut squash, peeled and cubed
1 large onion, chopped
3-4 carrots, chopped
3 medium potatoes, cubed
2 tart apples, peeled, cored, & chopped
1/4 c butter
2 quarts chicken stock (or enough to cover vegetables in the pot)
2 tsp garlic powder
1 1/2 tsp salt
1 1/2 tsp black pepper
3/4 tsp ground ginger
1/2 tsp cumin
1/2 tsp ground nutmeg
sour cream to garnish
Chop squash, onion, carrots, potatoes, and apples into pieces 1-2 inches in size. To peel the squash, chop off 1/2″ of the bottom and 1/2″ of the top. Use a vegetable peeler to peel away the skin, which may take several passes, until the pale skin has been removed. Then, stand the squash on its end and slice it down the middle, leaving two halves. Scoop out the seeds on each half before slicing the halves into strips and ultimately into cubes.
In a large pot (I use an 8-quart one), melt butter over medium heat. Add all chopped ingredients to the pot and cook for 5-6 minutes, stirring regularly. Pour in the chicken stock, using enough to cover the vegetables. Increase heat to high until the mixture comes to a boil, then cover and reduce to medium. Allow to simmer for about 40 minutes or until the vegetables are tender.
Remove the pot from the heat and ladle out about 2 cups of stock and set aside. If you have an immersion blender, blend the mixture until it is smooth and creamy. If you don't, ladle it in batches into a blender or food processor, making sure that you have a couple of good ladles full of liquid in each batch. Blend until smooth and pour into a second pot until the whole mixture has been blended. Add as much of the remaining broth as you like to reach your desired consistency (I used about a cup).
Add the seasonings to the pot and adjust to taste. I recommend starting with about half of all the measurements and adding more as desired. The measurements above reflect what I use and love.
Spoon one dollop of sour cream onto the top of each bowl just before serving. This soup makes fabulous leftovers and freezes well.