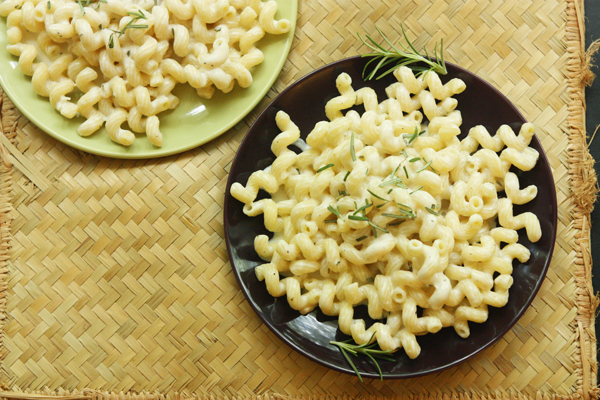 Folks, we need to talk about mac and cheese.
Mac and cheese, when I was little, meant the blue box. Oh, beloved blue box of tiny elbows and mysterious orange powder. Then those Velveeta shells came out, and the blue box was supplanted by tiny shells and mysterious orange goo.
And they were delicious, weren't they?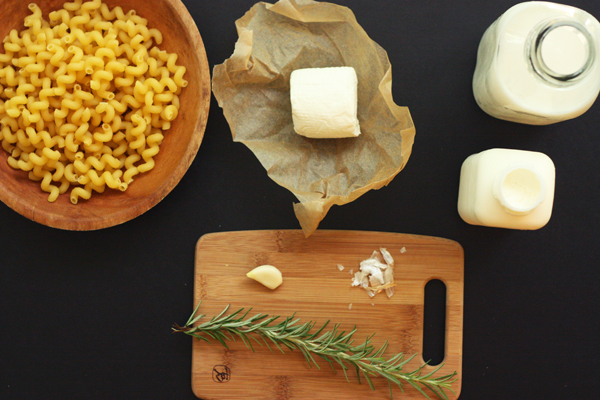 I discovered, early in my surfing of the foodie corners of the internet, that mac and cheese was something I had never really known. Baked casseroles of pasta and cheese, topped with a decadent crust of cheddar and bread crumbs, seemed to be what the foodie world wanted mac and cheese to be. And I confess! I looooove a good baked mac.
But sometimes, I just want some dang stove top cheesy pasta, creamy and without the crunch, but also without the mystery of the orange powder and goo. Is that so much to ask?
The answer is here, friends. No, this sauce isn't a classic orange hue. It's not a copycat recipe of the blue box. But it's so, soooo good. And, I'm pleased to report, dreadfully easy. No tedious grating of cheese, no tempering of cream, no casserole dish required, no 45 minute bake in the oven.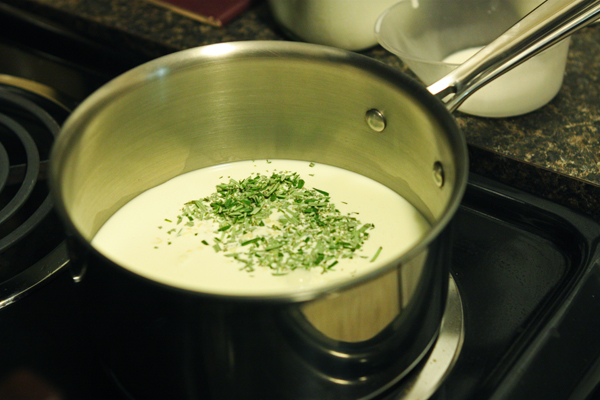 The original recipe called for the sauce to be entirely cream-based, but I lightened it up and replaced half of the cream with lowfat milk, and I didn't miss a thing. Next time I may try replacing even more. While your pasta boils, the sauce heats up and pulls some flavor from a bit of fresh rosemary and garlic.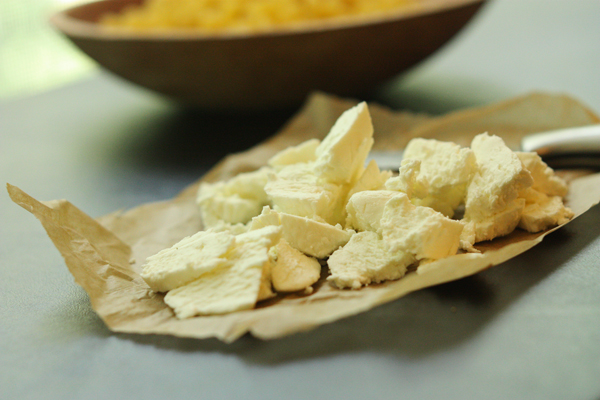 Instead of cheddar, this mac and cheese features a little block of chèvre. The cheese melts easily into the cream without any weird clumping issues that sometimes occur with harder cheeses and creates a tangy, creamy sauce.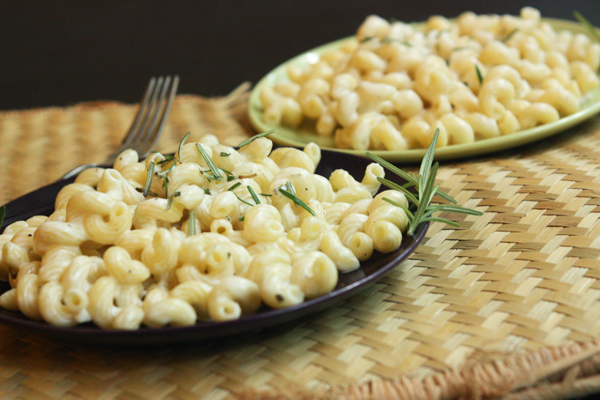 Plus, this is really, really fast. I completed the whole dish in 30 minutes flat, and that included time for photos while a hungry Brad leered at his plate from the other room.
I'm still on the hunt for a perfect replacement for the blue box, but in the meantime, this lovely little pasta is certainly worth making again.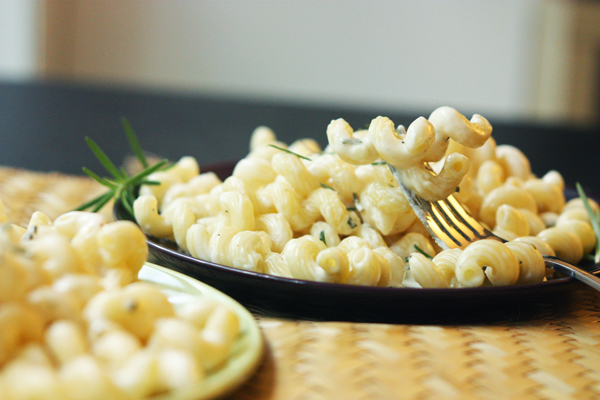 Goat Cheese Mac with Rosemary
Adapted from My Baking Addiction
1 c heavy cream
1 c milk
1 clove garlic, minced
1 T finely chopped fresh rosemary
8 oz cavatappi or other shapely pasta
1 tsp canola oil
4 oz goat cheese
1/4 tsp black pepper
pinch salt
2 T all-purpose flour (optional)
Place a large pot of salted water over high heat. While the water comes to a boil, place a medium-sized pot over medium heat. Combine cream, milk, garlic, and rosemary in the smaller pot and bring to a boil, then reduce to a simmer.
Once the large pot of water is boiling, add pasta and cook to al denté as directed, usually 8-12 minutes. Drain pasta into a colander and allow to sit, covered, while you finish the sauce.
Once pasta has been drained, add the goat cheese, pepper, and salt to the cream mixture and stir until cheese is melted. Add drained pasta to the sauce and stir constantly for 2-3 minutes. If the sauce is still too thin to coat pasta, add flour a bit at a time and continue to stir.
Serve immediately, garnishing with additional rosemary.