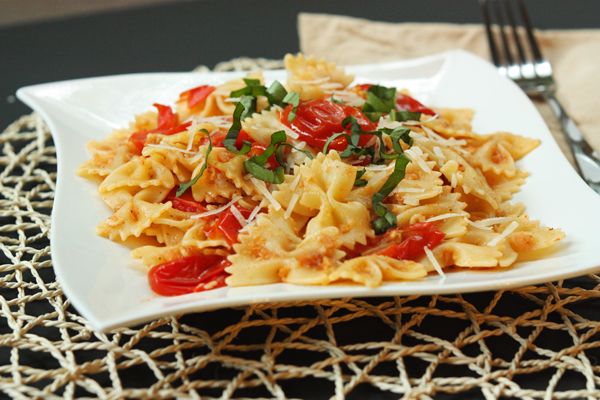 Last year, I planted tomatoes in my little community garden plot. They were… unsuccessful. Extremely. I think I harvested two,maybe three tomatoes before they were attacked by bugs or rotted rather than ripened on the vine. Needless to say, I was distressed, but also determined to do better this year.
So I planted more tomatoes. Six plants, actually. And on the big tomato front, guess what? I still did not succeed. Dozens of green globes filled me with anticipation alllll summer. And then? Kaput. Like seriously, five tomatoes. It appears that I am doing something terribly wrong with my large tomatoes.
But the little guys! For the last six weeks, I've been harvesting dozens and dozens of both Sungolds, tiny orange spheres, generally considered the most flavorful cherry tomatoes, and Juliets, slightly larger egg-shaped tomatoes that ripen to a classic tomato red. A couple weeks ago, the harvests became so immense that even my tomato-loving beau couldn't keep up with them. So what does one do with a couple pints of tiny tomatoes before they meet their maker?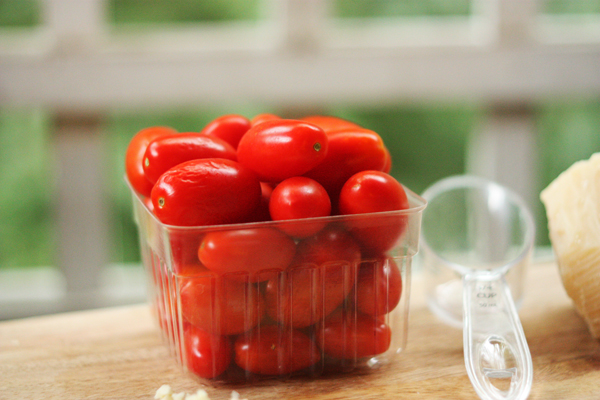 This recipe features the tomatoes about as close to their natural form as is possible to get in a pasta "sauce". To start, the tomatoes are simply sliced, squashed into a baking dish, and sprinkled with bread crumbs, cheese, garlic, and olive oil.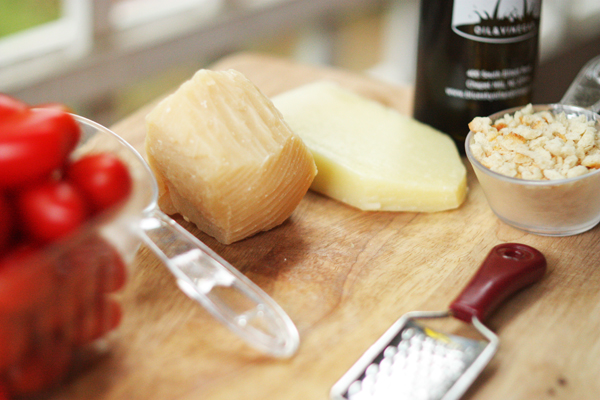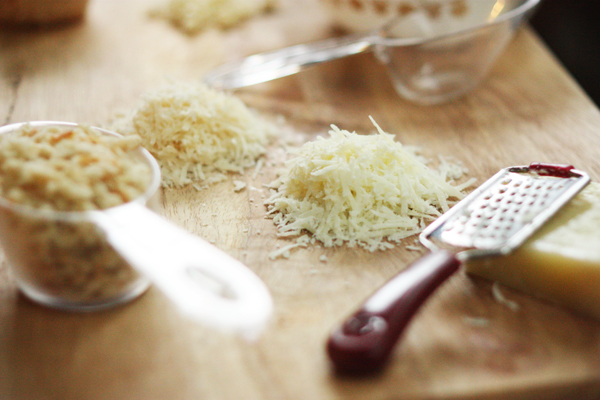 And the simplicity continues beyond the ingredients. If you can chop tomatoes in half, grate cheese, place a baking dish in the oven, remove it, and boil a pot of pasta, then you have every skill you need to make this for dinner.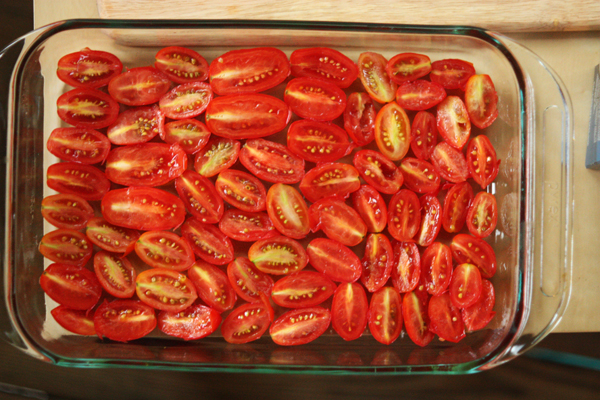 Now we've talked about this: I cook a lot of pasta, especially on weeknights when I want something quick, filling, and warm to eat. I was so pleasantly surprised by this dish. It's fast enough to make after a harried day at work, and it's a truly fantastic way to celebrate the last hoorah of gorgeous little tomatoes before the season gives way to more autumnal fare.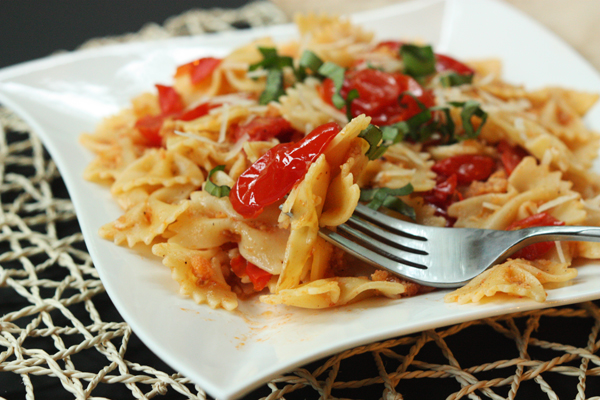 The flavor of the barely-cooked tomatoes is bright, fresh, and tangy. If you're looking for noodle slopping with sauce, this may not be the one for you, as the tomatoes, cheese, and bread crumbs produce just enough "sauce" to lend their flavor to the pasta rather than drown it.  I like bowtie pasta for this, since its shape is compatible with the tomatoes in their finished form, but you can really use any shape you want.
If you thought you were burned out on summer tomatoes, please, reconsider. Let's elevate the humble cherry tomato to new heights! Or at least make the other tomatoes jealous .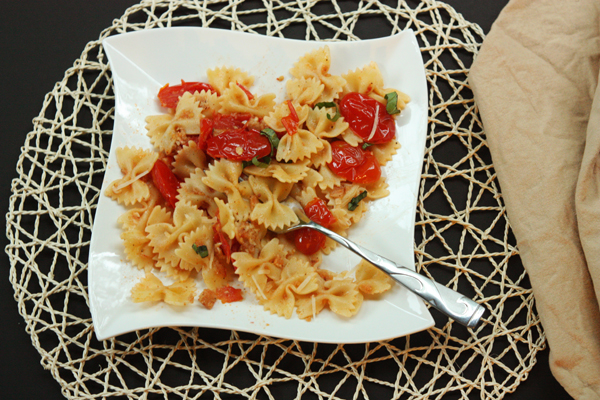 Baked Tomato Pasta
Adapted from Smitten Kitchen
1/4 c olive oil
1 1/2 pints cherry tomatoes
1/2 c bread crumbs
1/4 c freshly grated parmesan cheese
1/4 c freshly grated pecorino cheese
2 garlic cloves, finely chopped
1/4 tsp salt
1/4 tsp black pepper
1 pound bowtie pasta (or your favorite shape)
5-6 leaves basil, thinly sliced into strips
Preheat oven to 400°F. Pour half of the olive oil into a 13″x9″ baking dish and spread evenly along the bottoms and sides with your fingers or a pastry brush.  Wash cherry tomatoes and pat dry. Slice each tomato in half and place them in the baking dish, skin-side down, to form a single layer in the baking dish. Fit in as many tomatoes as you can.
In a small bowl, combine bread crumbs, cheeses, and garlic and mix with a fork. Sprinkle the mixture evenly over the tomatoes. Sprinkle salt & pepper over the tomatoes and bread crumb mixture, and finally, drizzle the remaining olive oil over the top. Place the baking dish in the oven and bake for 20-25 minutes, or until top begins to brown.
Once the baking dish is in the oven, bring a large pot of water to a boil. Add pasta and cook to al denté. Ideally, the pasta should be drained immediately before or after the baking dish is removed from the oven. Once you remove the dish, use the back of a large spoon to stir the tomatoes, squishing them to release their juices. Pour the drained pasta into the baking dish and stir well.
To slice the basil, stack the leaves together and roll up lengthwise. Then, chop the roll in pieces about 1/8″ wide. Fluff the basil gently with your finger tips and sprinkle over the pasta and tomatoes.
Serve with additional parmesan cheese as a garnish. This dish also makes fantastic leftovers!