This morning, we're here to talk about breakfast.
Most of the other breakfast-y treats I've posted here are warm, savory treats: they tend to revolve around potatoes, eggs, or bacon. You might assume that I eat these hearty country breakfasts every day, when in truth, breakfast is usually more of a poached egg and apple sort of affair.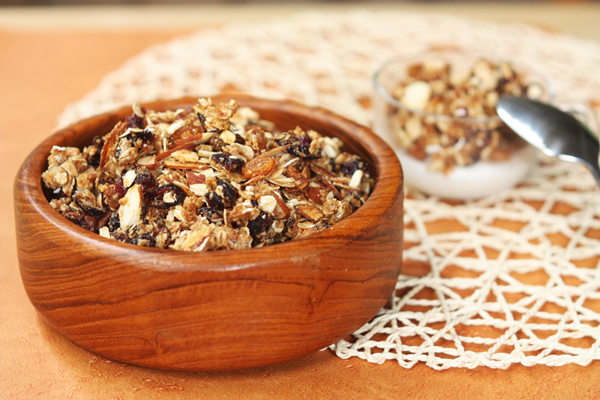 But maybe there's a happy medium. Something hearty and tasty, but quick enough to pack before I run out the door in the morning. How about some homemade granola?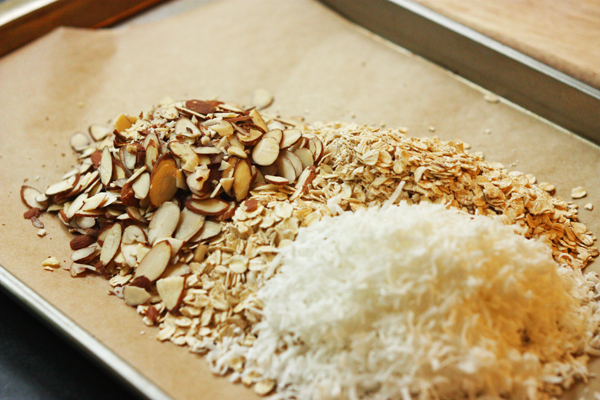 This granola is not boring. This granola is not bland. This granola is full of oats and almonds and coconut, all toasted together on an ugly old cookie sheet.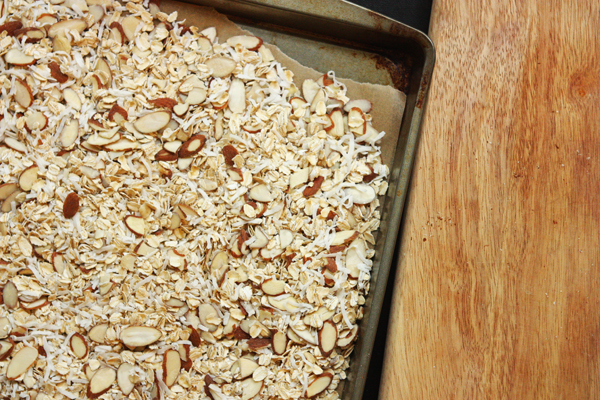 Okay, the cookie sheet doesn't have to be ugly. Mine are just ugly. Nothing a little parchment paper won't fix!
Once this oat-y mixture is toasted, it's actually pretty delicious all on its own. But let's add some extra pizazz.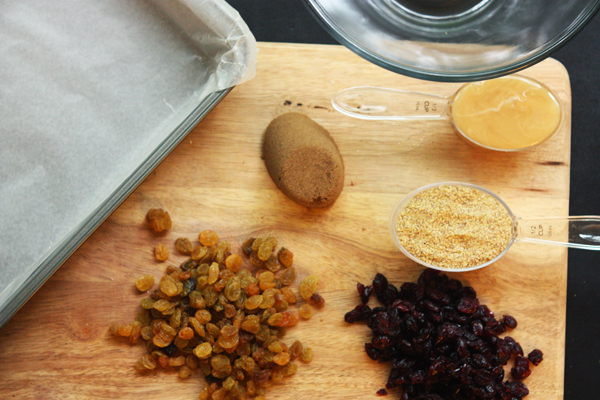 Hearty portions of dried cranberries and golden raisins compliment the crunchy oats and almonds nicely. And to sweeten the whole mess up, an even split of brown sugar and honey. The honey gives the granola the ability to clump up a bit, and the brown sugar adds a slighty gritty-but-pleasant texture. You can regular honey, but I use my favorite from a honey factory in my hometown. Amaretto whipped honey? Yes, please.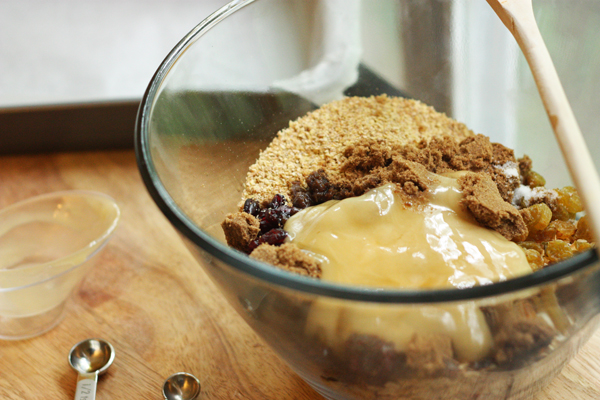 After a good strong stir, the whole mass of granola gets tossed in a cake pan lined with waxed paper for a ride in the oven. Don't skip the waxed paper… it will prevent your granola from sticking firmly to the bottom of the cake pan. I learned that one the hard way… trust me.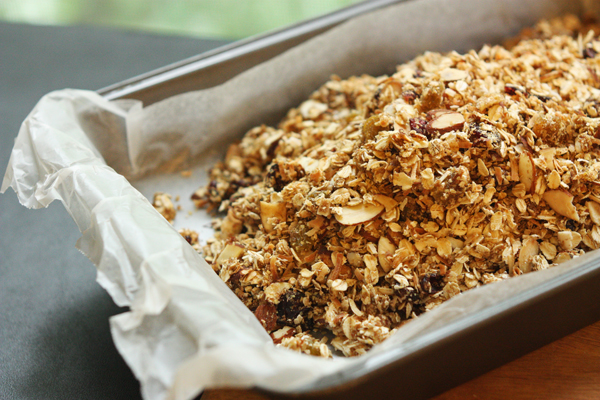 While it bakes, make sure you toss it around a bit so that every little clump gets nice and toasty brown. After about 30 minutes in the oven and a couple hours to cool, this stuff is ready for storage. Like any cereal, it will start to soften as it absorbs moisture from the air if kept at room temperature. However, it stays nice and crisp in the freezer. A freezer bag or large airtight container works just fine.
Then you're set! Serve this up like cereal with some milk or stir it into your favorite yogurt. Breakfast delight!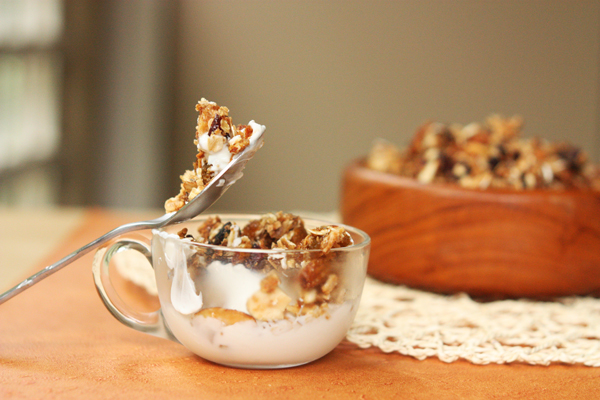 Honey & Almond Granola
Adapted liberally from Smitten Kitchen
Note: The original source recipe is for granola bars. I tried them as bars the first time and found they were quite brittle and didn't hold their shape very well, not to mention that they were very difficult to cut. If you do try this as a bar instead of loose granola, I'd love to hear about your attempts.
2 c rolled oats
1 c sliced almonds
1 c shredded unsweetened coconut
1/2 c wheat germ
1/3 c honey
1/3 c brown sugar
1 1/2 tsp vanilla extract
1/4 tsp salt
3/4 c dried cranberries
3/4 c golden raisins
Preheat oven to 350 °F. Line a large cookie sheet with parchment paper. On the cookie sheet, mix together the oats, almonds, and coconut and spread evenly across the pan. Place cookie sheet in the oven and toast oat mixture for 12-15 minutes or until coconut is starting to turn golden brown.While mixture is toasting, line a 13″x9″ cake pan with waxed paper.
Reduce oven heat to 300 °F. Remove cookie sheet from the oven and pour oat mixture into a large mixing bowl. Add all remaining ingredients and mix well with a wooden spoon. Pour granola into the lined cake pan and spread out evenly and loosely. Bake for 30 minutes or until granola is golden brown, stirring every 6-8 minutes.
Remove from the oven and allow to cool to room temperature. Store in an airtight container in the freezer to keep it crunchy! You can also store it in the pantry, but it will lose its crunch after a week or so. Serve alone, with milk, or with yogurt.