Grilled Pesto Turkey Gouda Sandwich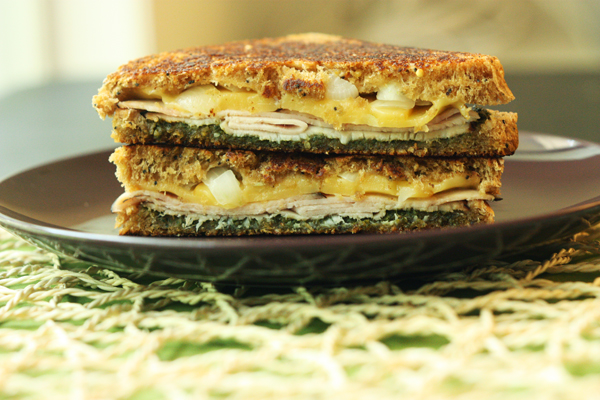 I feel just a teensy bit ridiculous about this post.
This post is about a sandwich I made.
Not a pretty dessert, not an elaborate entree: a sandwich.
But this is real life and sometimes in real life, I need a sandwich. And since this one was phenomenally good, I thought you might need this sandwich also.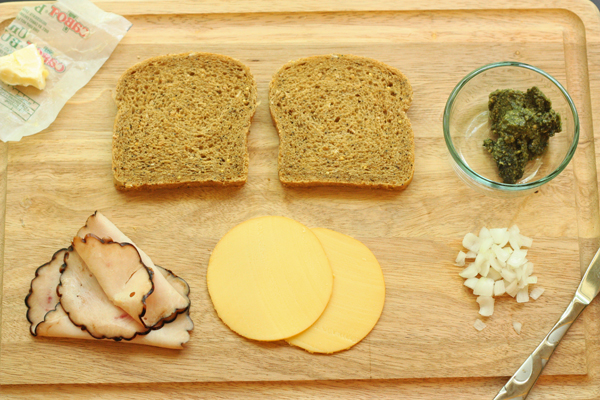 This sandwich is inspired by one I enjoyed on a recent trip to a small town in the rolling mountains of Western North Carolina. My friend Abbe and I each ordered a turkey-gouda panini, which was literally just turkey and gouda – a tasty combo on its own – but we both agreed that it might be even better with… something. We just weren't sure what.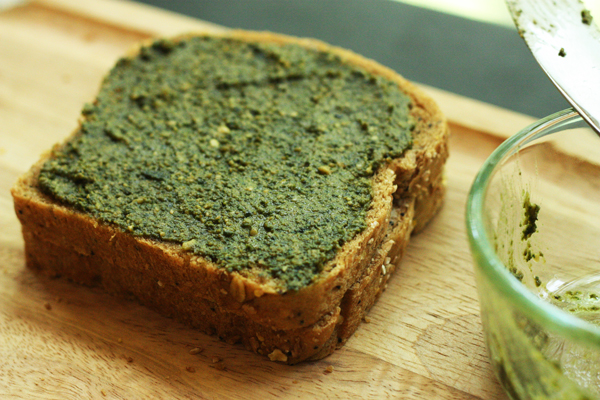 Upon returning home, I was eager to figure out what that something could be. I had just thawed out a couple of pesto cubes from last summer's enormous basil harvests, and thought I'd give this green magic a whirl. Adding some onions for good measure (and for crunch!) also seemed like a good idea.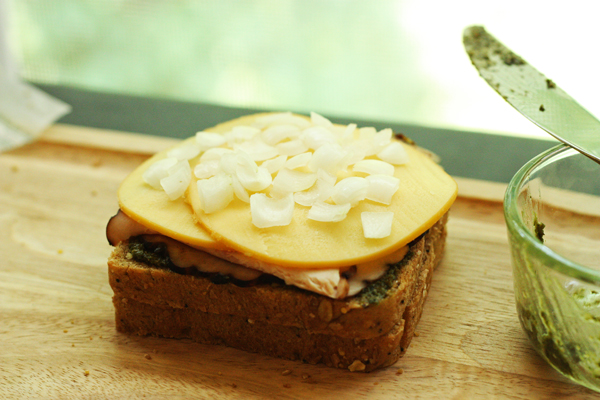 But how to panini-fy it? My kitchen is not equipped with a panini machine, and I don't really intend to get one anytime soon. As usual, my frying pans came to the rescue. They are easily the most-utilized items in my kitchen (competing only, perhaps, with spoons), and have now illustrated they make a great faux-nini.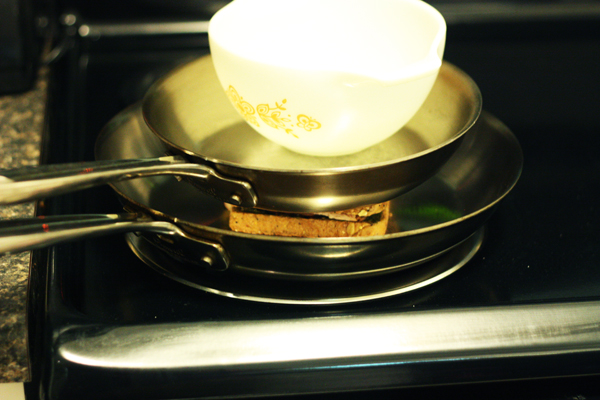 If you're using stainless steel pans, you might need to add some weight into the top pan for added pressure, as I had to do. A heavy cast iron skilled would be just the ticket, however.
And then you have sandwich! The deep, smoky flavor of the gouda plays nicely with the fresh and herby pesto, and sandwiched between two slices of gently grilled bread? Can't. Wait. For. More.
Real life is awesome.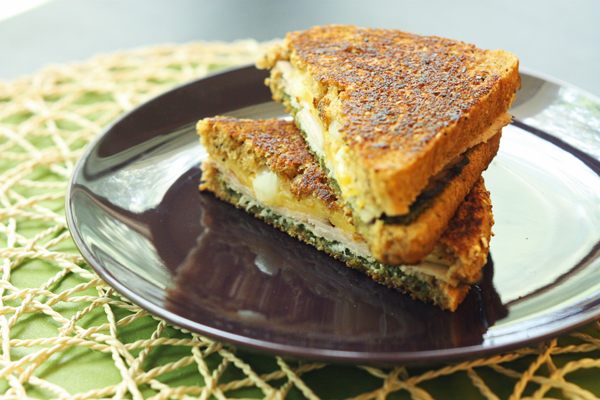 Grilled Pesto Turkey Gouda Sandwich
Inspired by a tasty meal at Quotations
2 slices of your favorite sandwich bread
1 T butter
2 T pesto (my recipe is here)
sliced turkey (use as much as you want)
1-2 slices smoked gouda
1-2 T diced onion
1 T butter
Pre-heat a frying pan over medium-low heat. Spread butter on one side of each slice of bread and stack slices together with the buttered sides against each other (this will prevent butter from getting all over the dang place). On the un-buttered side of the top piece of bread, spread pesto evenly. Layer on turkey, gouda, and onion. Carefully remove the lower piece of bread and  place the un-buttered side against the onions.
Place the sandwich into your pre-heated frying pan and place another frying pan on top of the sandwich, adding weight inside the pan if it is light weight. Cook sandwich for 3-4 minutes, checking occasionally to ensure you are not burning the bread. Remove the top frying pan and carefully flip the sandwich to cook the other side, placing the top frying pan back onto the sandwich.
Slice in half so you can see all the pretty colors and serve immediately.