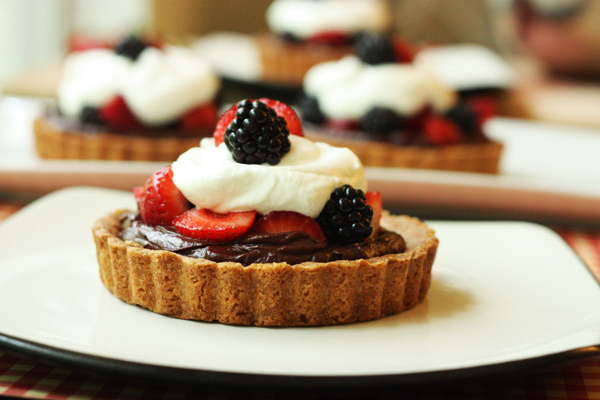 The various food blogs and aggregates I browse are alight with red, white, and blue this week. And it's no surprise! What better way to celebrate America's Independence Day than with some desserts that feature fresh fruit that coordinates so well with Old Glory? You probably already have your plans in place for whatever festivities await you today, but if you don't, get out your baking gear and try this one.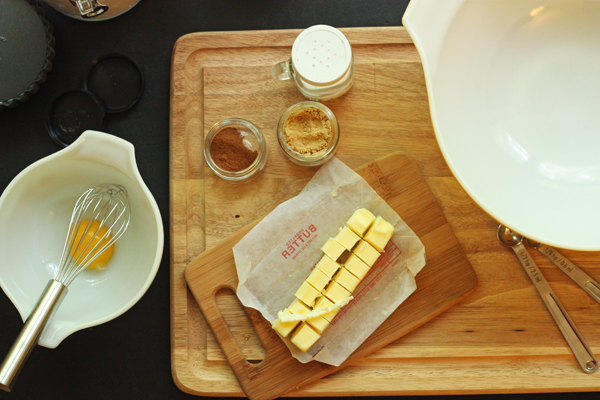 These little desserts are based on a recipe out of the Joy the Baker Cookbook. I've mentioned before that the blog of the same name is one of my favorites to follow, and I was thrilled to finally get my hands on her cookbook. I find it inspiring that someone who is not classically trained in culinary technique, photography, or writing has created such a mind-blowingly successful blog and now has a published book to show for it.
It's the first of many recipes in the book I'm eager to try.
I've never made a tart before, but a happy stroke of fate found the cookbook in my hands and a pack of miniature tart pans on sale at the same time. With removable bottoms, these fancy little pans allow for a cute and classy presentation of an already pretty dessert.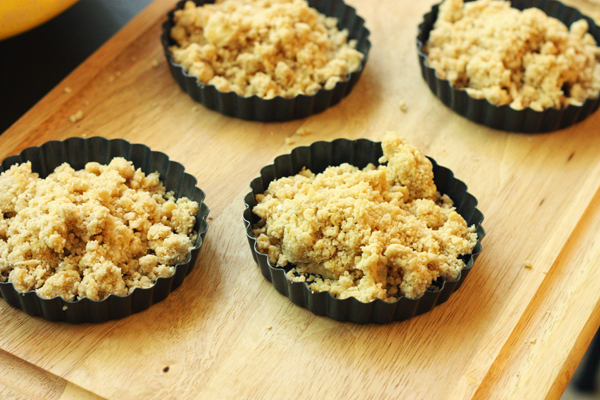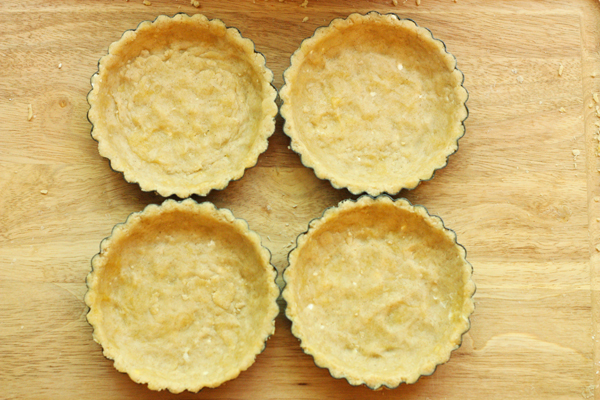 The tart crusts are surprisingly easy to make… no rolling of pie dough required! They do need an hour-long chill in the freezer so they don't get all puffy in the oven. But that will give you plenty of time to prepare the rest of the tart filling and topping.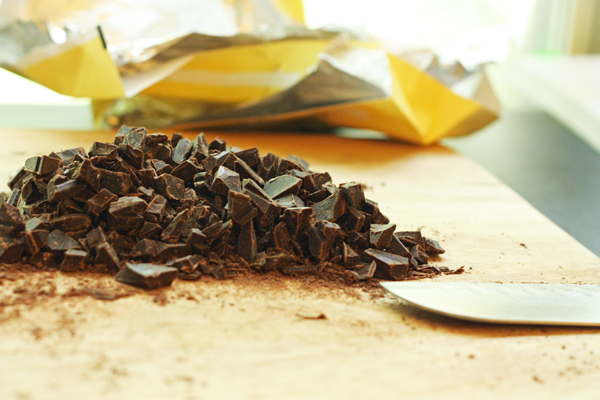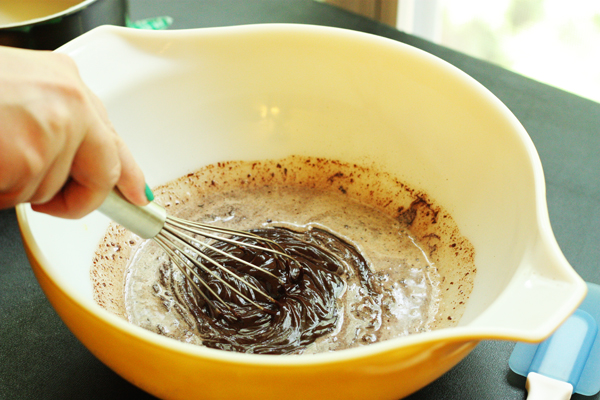 Chocolate ganache, which plays a starring role in this dessert, is also really easy. Dangerously easy. Some good dark chocolate, some cream, and a bit of butter create a smooth and creamy ganache that spreads like magic.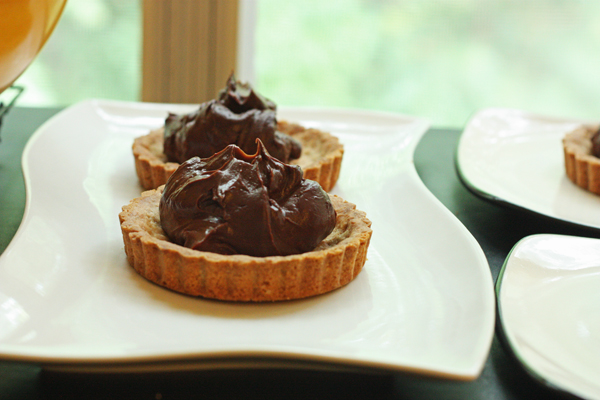 And the toppings, of course, come together with hardly any effort at all. The whipped cream can be done by hand in several minutes, or if you have a mixer, several seconds. The berries hardly need any help at all at this time of year.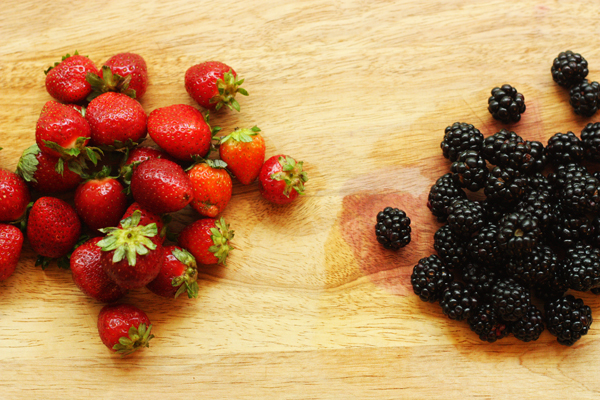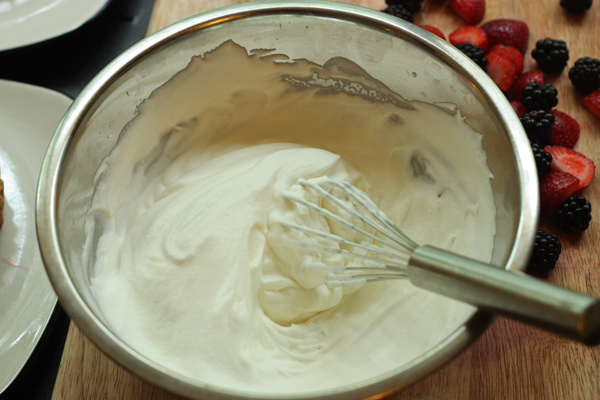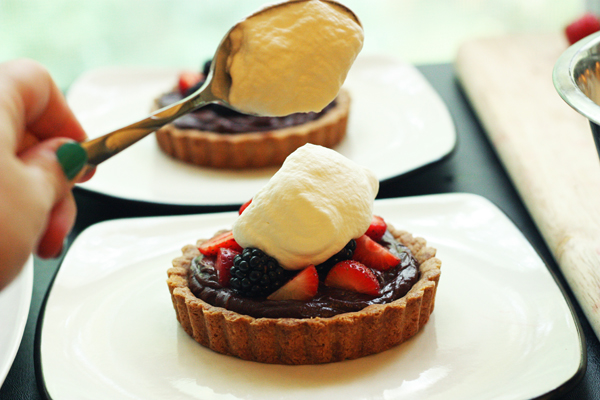 And before you know it, you'll have a pretty little treat to bring to your Fourth of July gathering. The spicy crust and rich chocolate are complimented nicely by the cool, fresh berries and cream.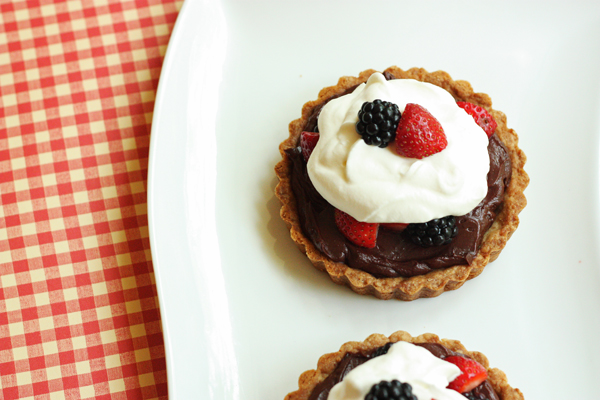 Happy Independence Day!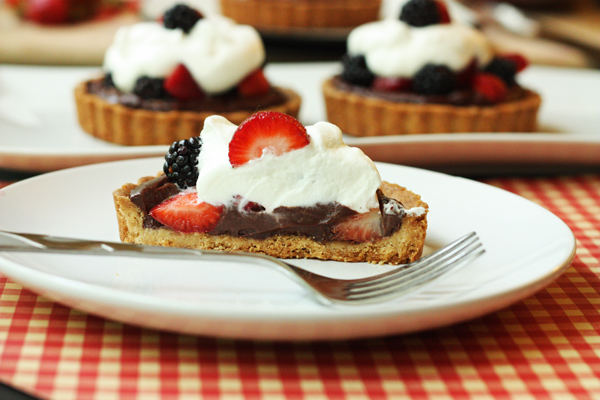 Chocolate Ganache Berry Tartelettes
Adapted from Joy the Baker Cookbook
Makes 4, 4-inch tartelettes
For the Crusts
1 1/2 c all-purpose flour
1/2 c powdered sugar, sifted
1/4 tsp salt
1/2 tsp ground cinnamon
1/8 tsp ground ginger
1/2 c unsalted butter, cold and cubed
1 large egg yolk, beaten
In a large, wide bowl, combine flour, sugar, salt, cinnamon, and ginger. Add butter cubes and work into the flower using your fingers. Work butter into the dry mixture until a consistency of very coarse meal is achieved. Using a fork, add the beaten egg yolk and combine well. Mixture will appear to be quite dry and crumbly.
Spoon the mixture into 4 miniature tart pans with removable bottoms. Using your fingertips, press mixture into the bottom and sides of the pan evenly all the way around. Remove any excess dough from the top to form a flush, horizontal edge around the rim of the pan. Place pans in the freezer for at least an hour. Chilling the dough will help to prevent the crusts from puffing up. While crusts chill, prepare ganache below.
After ganache is prepared and crusts have chilled, preheat oven to 350 F. Cut four squares of aluminum foil, each one large enough to lay on top of a tart pan, and grease one side of each square with butter. Remove tart pans from freezer and cover with aluminum squares, buttered side down. Bake covered pans for 18 minutes. Remove aluminum squares and bake for another 12 minutes or until crusts are golden brown. Remove from oven and allow to cool completely.
For the Ganache Filling
6 oz dark chocolate, roughly chopped
Scant 1 c heavy cream
3 T unsalted butter, at room temperature and cubed
Chop chocolate and place in a medium bowl. Heat cream in a small sauce pan over medium-low heat until it comes to a simmer. Pour half of the cream slowly over the chocolate pieces and allow to sit for 1-2 minutes. Gently whisk chocolate and cream mixture until combined, starting at the center of the bowl and moving out. Continuing to whisk, add remaining cream and mix until combined. Add butter cubes and stir with a spatula until all butter has melted. Ganache should be smooth and shiny. Set aside at room temperature.
For the Toppings
1 c fresh strawberries, hulled and halved
1 c fresh blackberries
1/2 c heavy cream, very cold
1 1/2 T powdered sugar, sifted
After crusts have been removed from the oven and are cooling, wash and prepare berries. If you are using large blackberries, carefully cut them in half. Set berries aside.
In a medium bowl, combine very cold heavy cream and powdered sugar. Whisk or beat vigorously until cream forms soft peaks. It is helpful to place the entire bowl in the fridge for a few minutes during this process to cool the cream, which will help it whip up faster.
Assembly
Carefully remove crusts from tart pans and remove the bottom, as well. By this point, ganache should be thick but spreadable. Spoon a large dollop of ganache into each crust and spread evenly. Top each tartelette generously with berries, keeping one berry of each type set aside. Dollop whipped cream onto each tartlette. Add a strawberry and a blackberry to the top of the cream on each to make 'em pretty.
Tart is best served immediately, but can also be stored in the refrigerator for several days. If storing, remove from the fridge for 30 minutes prior to serving.