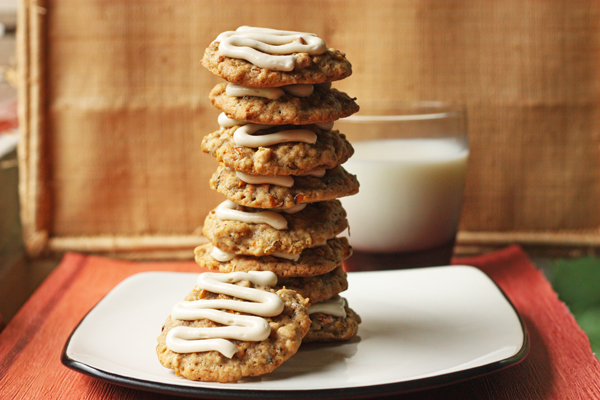 It's June! And this first day of June is many things!
1. The first day of June, which is exciting enough on its own
2. The first day of National Fresh Fruits and Vegetables Month
3. The first day of National Accordion Awareness Month (who knew we even had that? Consider yourself aware.)
3. Mah birthday!
I'm spending the day doing what any sensible girl would do. Reading on the balcony, possibly getting a pedicure, re-organizing my spices in tiny matching jars (!!!!!!), taking a stab at cooking crème brûlée, seeing a movie with friends… it's a lovely day off! Full of little birthday presents to myself.
My birthday present to you, however, are these cookies.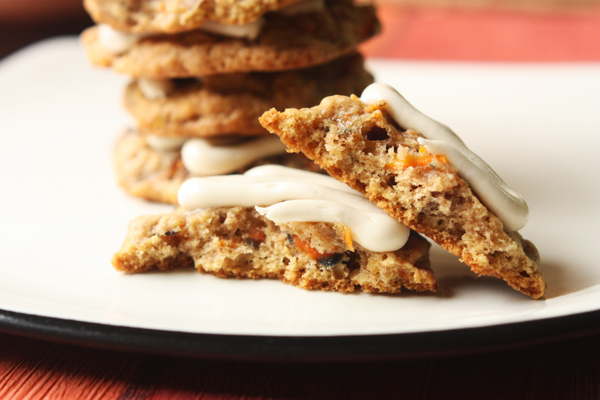 Last year around this time, we talked about carrot cake. I was never a particularly big fan in the past, but I now frequently find myself craving those tender bites of spice-filled, textured cake topped with a healthy dollop of tangy icing. Plus, the carrots in my garden are now bursting from the soil (okay not bursting, they actually require rather a lot of coaxing to come out of the ground), and my experiment with a curious variety put carrot cake on the top of my list to make.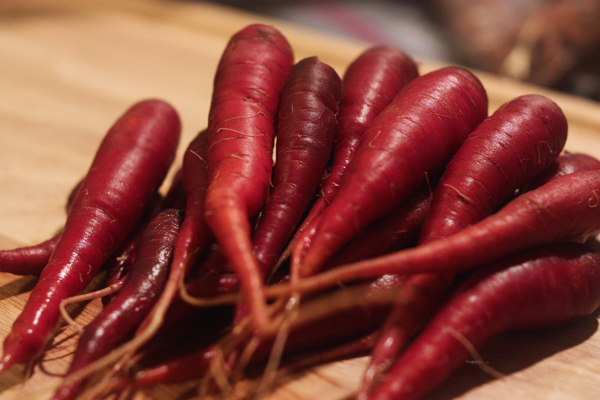 Aren't these neat? I wish I had taken pictures of them straight out of the earth, their brilliant fuschia dims slightly within minutes: they are easily the most intriguing vegetable I'd planted so far. And what fun would it be to use purple carrots for carrot cake?
But I couldn't just make carrot cake. I couldn't convince myself that re-making my carrot cupcakes with purple carrots instead of orange merited a new post, and I wasn't in need of a new recipe, as I love the one I have beyond compare. So what else could I make? Perhaps, I thought, I could find a carrot cookie recipe instead. Makes sense, right? I set forth, found a recipe that seemed reliable, and started my project.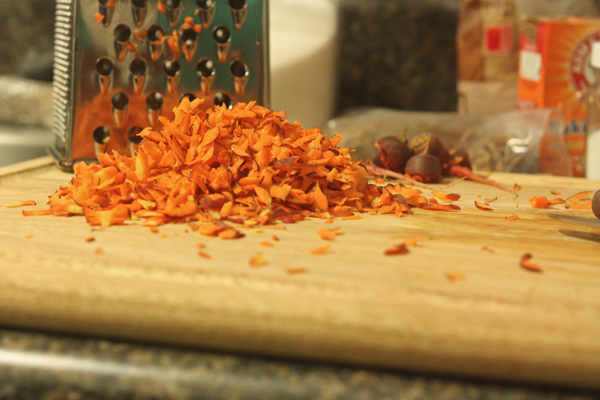 Surprise! Upon grating my first carrot, I discovered that in fact, I wouldn't have purple carrot cookies at all! This variety, I learned in a hasty Wikipedia search later, contains more antioxidants than other carrots that manifest themselves in a thick purple skin concealing a brilliant orange carrot inside. So no, they wouldn't be purple, but they would sure as hell be delicious.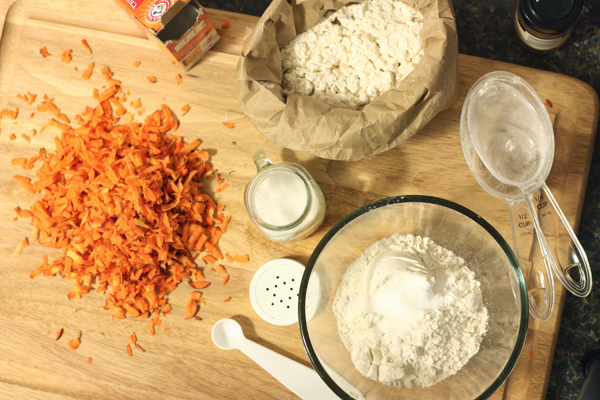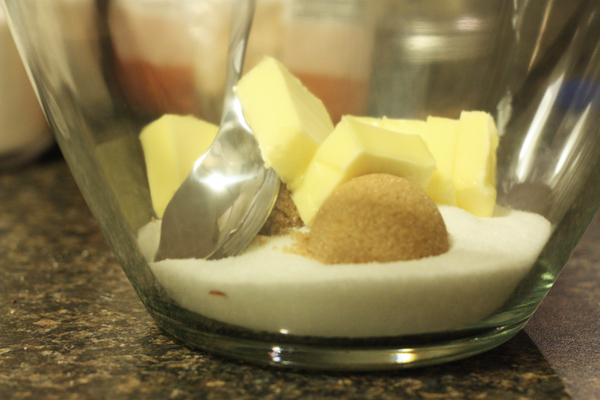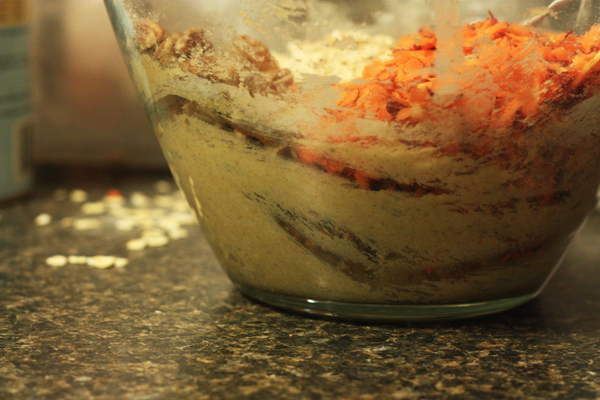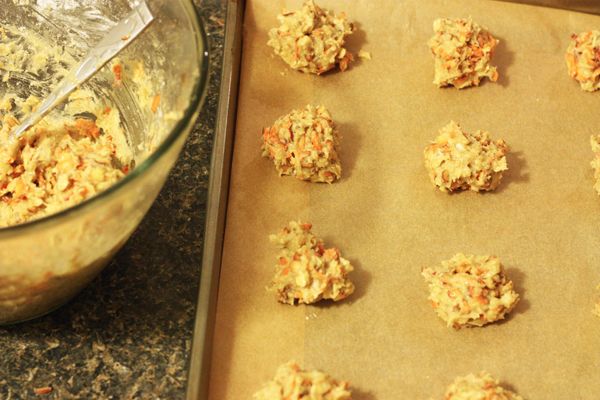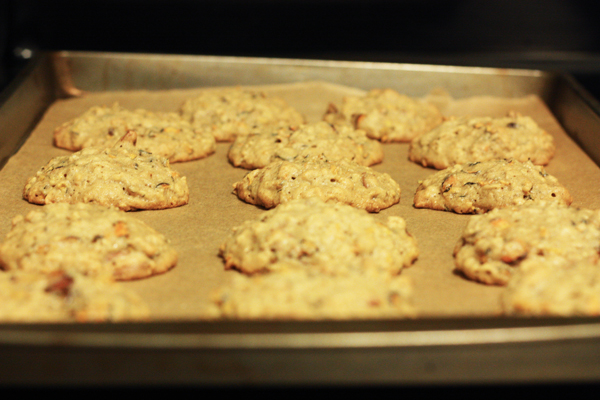 I made one sample cookie before cooking the whole batch: I'd fiddled with the recipe significantly, and I wanted to make sure they weren't going to be gross. Or spread all over the pan. Or gross. But oh, my fears were allayed with the first bite. A thin crispiness on the outside, but tender, almost cake-y fluff on the inside, and bursting with little flecks of carrots, pieces of pecan, and hearty oats.
Yet there was still something missing.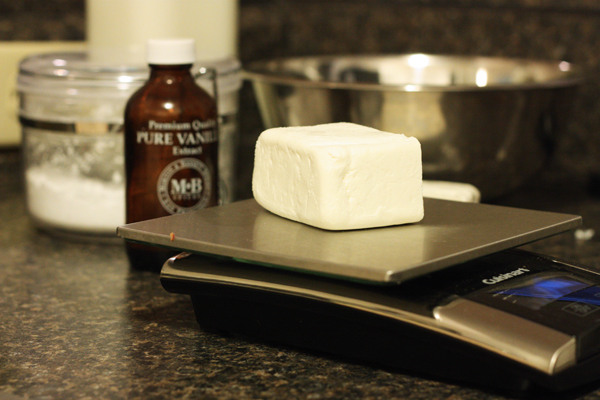 What carrot-y sweet is complete without just a bit of cream cheese icing?
This one is really more of a glaze: it pipes easily, but could also be spread onto your cookies. But this baker pipes, so there you have it.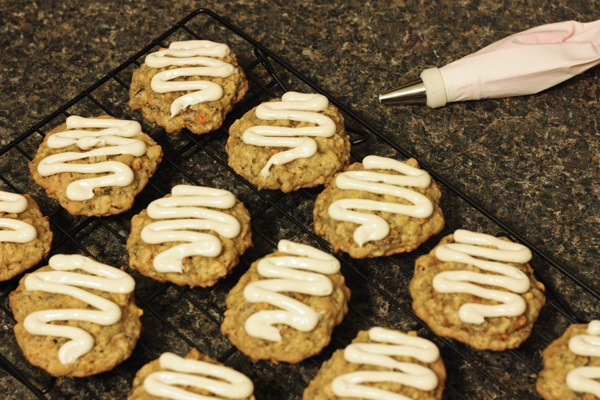 And then it's time for dessert! Nay, breakfast! Pretty as can be, these little cookies were easy to make and disappeared in a flash. And no, they aren't purple as I'd not-so-secretly hoped, but one bite in, and it didn't even matter.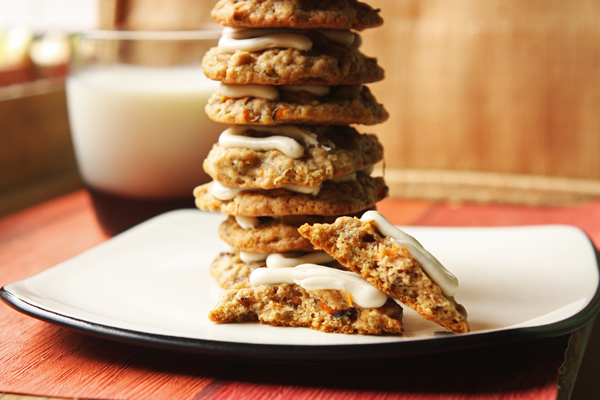 I'd go buy some carrots if I were you.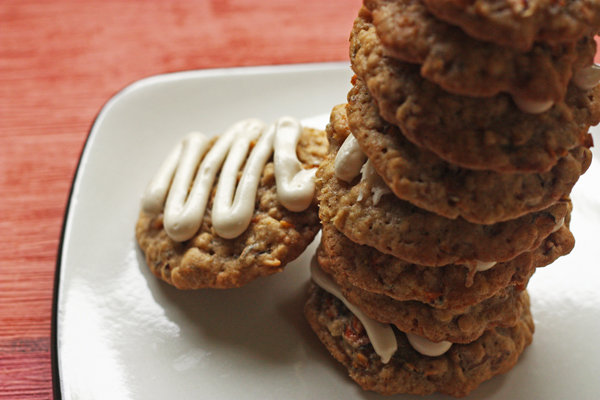 Carrot Oatmeal Cookies with Cream Cheese Glaze
Adapted from Baking Bites
For the Cookies:
1 1/2 c all purpose flour
1 tsp baking soda
1/2 tsp salt
1/2 c unsalted butter, room temperature
3/4 c white sugar
2 T brown sugar
1 large egg
1 tsp vanilla extract
1/2 tsp cinnamon
1/2 tsp pumpkin pie spice
1 1/2 c grated carrots
1 c old-fashioned oats
3/4 c chopped pecans
Preheat oven to 350 °F and line a cookie sheet with parchment paper.
In a small bowl, whisk together flour, baking soda, and salt and set aside. In a large bowl, cream together butter, white sugar, brown sugar, and egg with the back of a spoon until thoroughly combined and creamy. Add vanilla extract, cinnamon, pumpkin pie spice, carrots, oats, and pecans and mix just until dry ingredients are all moistened.
Use a spoon to drop dough onto parchment-lined cookie sheet about two inches apart. Bake at 350 °F for 13-15 minutes. Remove from oven when tops begin to brown but still look slightly gooey. Let rest on cookie sheet for 2-3 minutes, then remove to cooling rack. While cookies cool, prepare glaze.
For the Glaze:
4 oz cream cheese, room temperature
1/2 c powdered sugar, sifted
1 tsp vanilla
dash salt
2 tsp milk
Beat cream cheese for 2-3 minutes or until cream cheese is smooth and fluffy. Add powdered sugar, vanilla, and salt and beat until smooth. Add milk 1 tsp at a time to desired consistency.
Pipe a narrow squiggle of icing on each cookie or spread thinly with a knife.