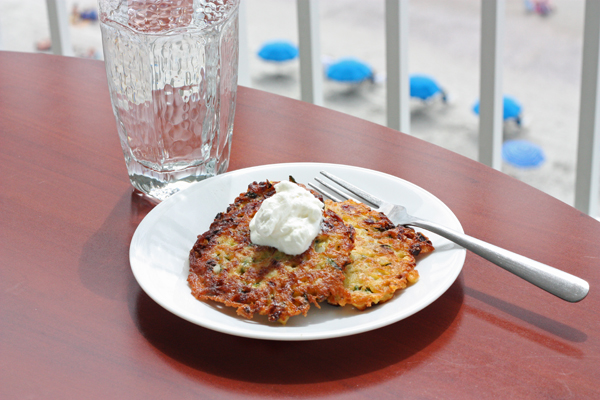 Yes, those are beach umbrellas.
Yes, that's a coffee table on a tenth-floor oceanfront balcony.
Yes, that's homemade breakfast.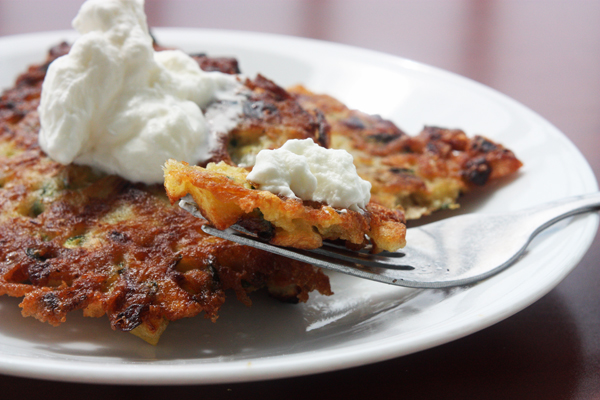 We just got back from a fabulous weekend at the beach, a weekend filled with sand and sun and all other manner of beach-y fun. But I also couldn't resist the opportunity to utilize the full kitchen in our room. Unsure of what this little kitchen might keep in its cupboards, I packed, um, one or two essentials and tossed them in the car with my swimsuit and flip flops.
And to cook? I didn't really have any meals in mind, but I filled a cooler with a smattering of ingredients anyway and put them in the car along with my box-o-kitchen-gear.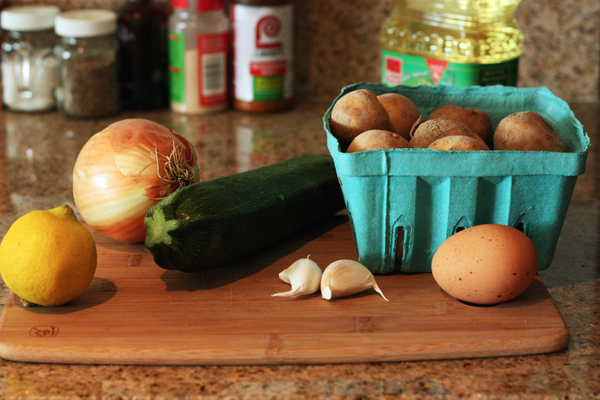 It turned out that breakfast on our first morning there was a great time to cook (Brad sleeps in like a champ). Based on the ingredients I had, I found two tasty latke recipes, which sounded so good I decided to combine them. I love a good potato pancake, and adding zucchini (first of the season!) seemed like an excellent idea.  After I had set my heart on these little cakes of joy, I discovered one flaw in my plan: I had forgotten the box grater.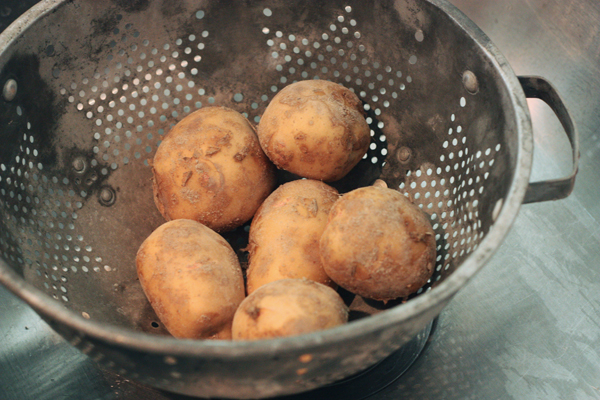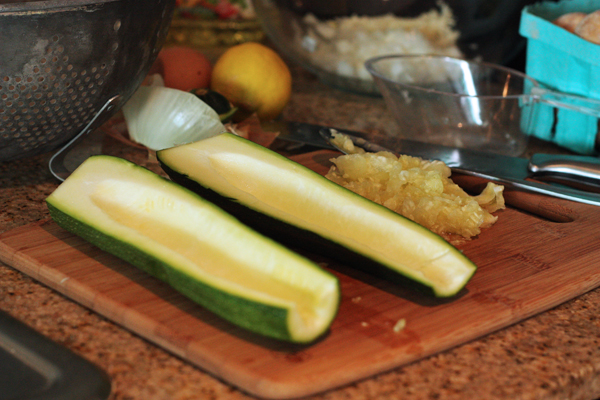 No grater! I know I unloaded it from the dishwasher, how did it not make it into the box!?!? After maniacally opening every drawer and cupboard in the kitchen in search of cooking utensils (and finding only a spatula, a can opener, and a corkscrew), I tried to regain control. This was no big deal. Surely I could figure out how to fry some dang vegetables into a patty without the comfort and ease of my trusty grater.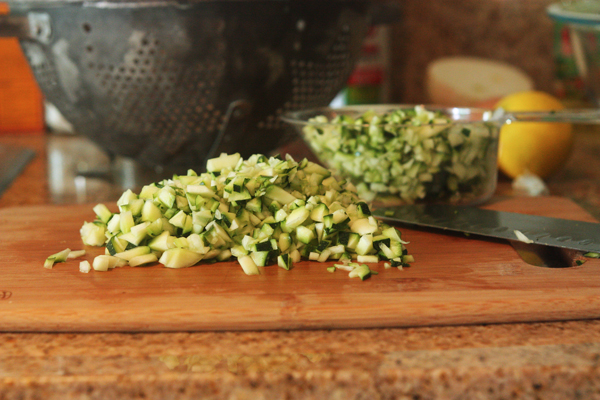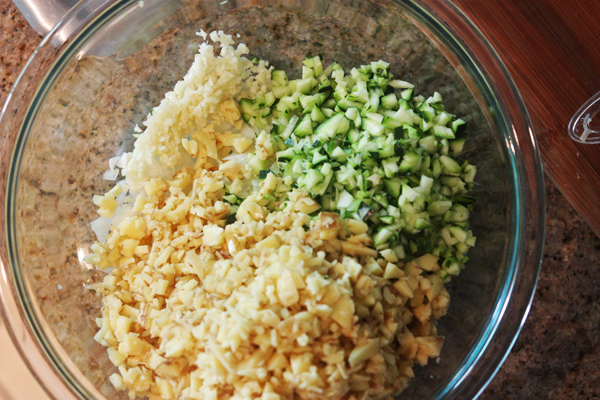 Luckily I had not forgotten a big sharp knife. After much, much, much chopping, breakfast was near! Without long shreds of potato and zucchini, I was a little nervous about the patties holding together. How could these little chunks of vegetable adhere to one another strongly enough to become a latke? But miracle of miracles! Eggs and flour came to the rescue (as usual), and with some careful, two-spatula flipping, these little pancakes came out golden-brown, crispy, and full of flavor.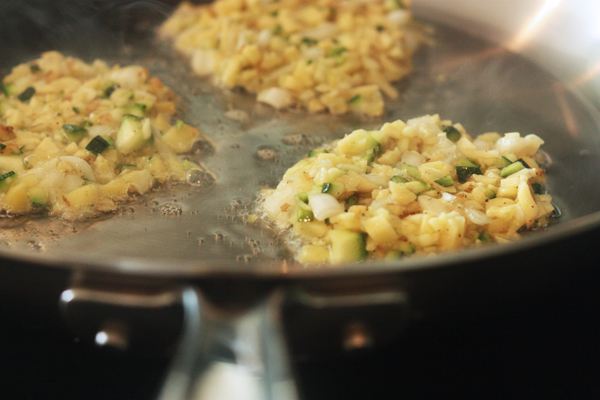 I've enjoyed latkes before with a little sour cream, but I did not have any in my tiny arsenal of ingredients. I did have cream, though, and after a few minutes of vigorous whipping and a dash of salt, I had just the dollop I was looking for. Thank goodness I didn't forget a whisk.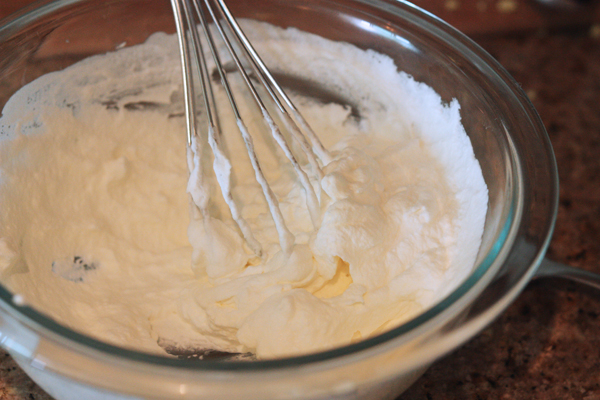 And then breakfast! Enjoyed in the warm May sunshine and a salty breeze.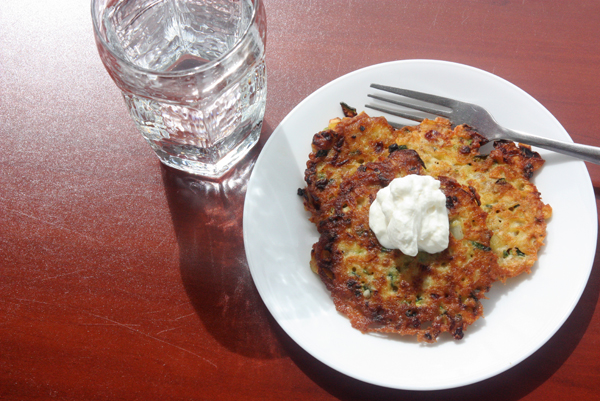 And with one hell of a view.

Makeshift Zucchini Latkes & Savory Cream
Adapted from Smitten Kitchen, both here and here
For the Latkes
1 1/2 c zucchini, finely chopped or grated
2 c potatoes, finely chopped or grated
3/4 c onion, finely chopped or grated
2 cloves garlic, minced
1 large egg, lightly beaten
1/4 c flour
1 tsp salt
1/2 tsp black pepper
1 tsp lemon juice
canola oil for frying
Slice zucchini in half length-wise and scoop out seeds with a spoon before chopping or grating. Finely chop or grate zucchini, potatoes, and onion and combine in a strainer. Squeeze out as much liquid as you can through the strainer. Pour vegetables into a large bowl and add garlic, egg, flour, salt, black pepper, and lemon juice. Stir until thoroughly combined.
In a large frying pan, add canola oil until the bottom is coated and heat over medium until oil glistens. Once oil is hot, carefully scoop a heaping tablespoon of the vegetable mixture into the pan and flatten with the back of the spoon. Use spoon to tuck stray pieces of potato or zucchini up against the latke if needed. Add three or four spoonfuls to your pan, depending on the size, to cook multiple latkes at once. Allow latke to cook for 2-3 minutes. Use a flat spatula to carefully lift latke from the pan. Then, have another spatula on hand to flip the latke onto, then returning it to the pan to allow the other side to cook. I found I had fewer tragedies using this method rather than flipping the latke with one spatula. Once both sides are golden brown and crisp, remove latkes to a plate lined with paper towels.
Serve hot with a dollop of savory cream (see below) for dipping.
For the Savory Cream

1/4 c heavy cream
dash of salt
Pour cream into a bowl and whisk/beat until cream has thickened to the point where it holds a soft peak. I found that returning the cream to the fridge every few minutes (mostly when I had latkes to flip) helped to keep the cream cold enough to hold shape.
Once cream has thickened, add just a little bit of salt to taste.