Fresh Spinach Artichoke Dip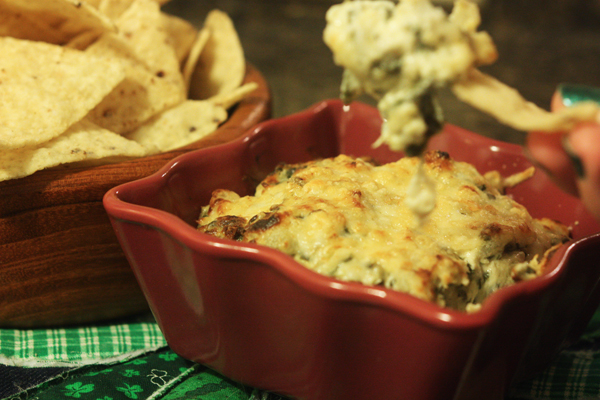 Brad left North Carolina this time last week for his summer internship in O-HI-O. Merh. I certainly have enough going on to keep myself entertained this summer in his absence but I must confess: it's a lot of fun to cook when he's around. Why? Because nine times out of ten, he loves my food. And who doesn't enjoy gushing compliments over something you just cooked?
But as I said, he's in Ohio, crashing with one of his college roommates for the next three months, and as he is not quite the local-food-new-recipe-must-cook-cause-its-fun person that I am, I suspect his daily bread will not be made from scratch, if you catch my drift.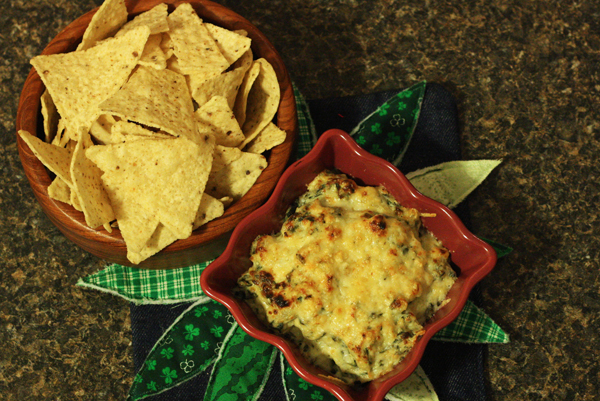 I, on the other hand, see no reason why I won't continue to cook like I usually do (like an manic-foodie-control-freak), and this dish is a prime example.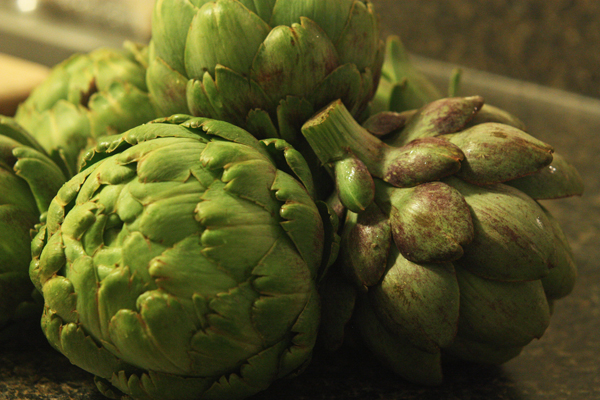 You just can't ignore the opportunity to make something amazing when you discover that something you've long-considered a thoroughly "exotic" food is in fact available at your farmers market. I couldn't believe my eyes when the weekly market newsletter heralded their arrival.
Artichokes can, however, be kind of a bear to prepare. I grew up eating them exclusively the easy way: one leaf at a time until the heart was reached. But using them in a recipe? Extracting the tender pulp that I normally obtain with my teeth? I consulted the internet, but was honestly intimidated by the techniques recommended. Artichoke season here is short, and there is a clamor for them at the market. It's extremely possible I won't be lucky enough to get any more this season, so I decided not to risk anything and prepared them exactly the way my dad taught me to years ago: wrapped in plastic wrap, microwaved, and then peeled apart leaf by leaf.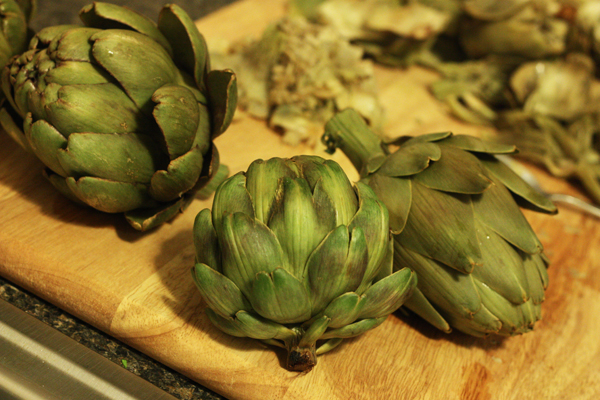 I'll be honest, this took a long time. If you're looking to make this dip in a jiffy, you may wanna just go with canned artichoke hearts. But oh, the fresh ones are so. amazingly. good. And once I got through the first one, the process sped up.
The result was, not particularly attractive? But let not looks deceive you: it was all I could do not to eat this by the spoonful before it resembled a dip.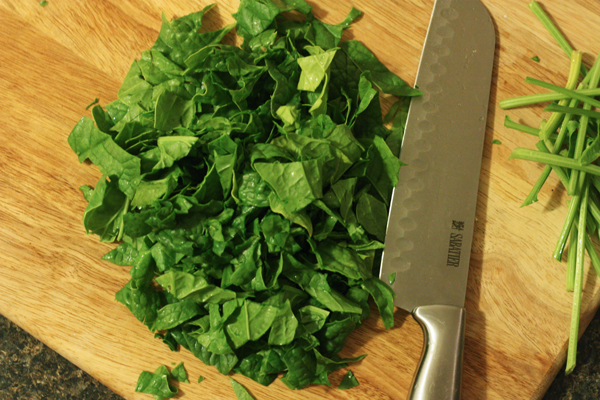 But that's not all! The last of my spring spinach was fresh off the plant, so I chopped it up so it would play with the artichokes.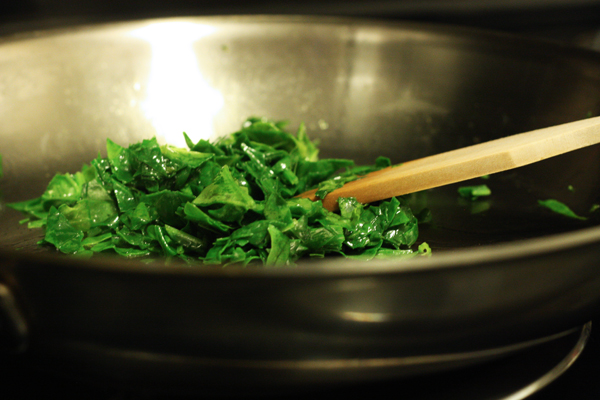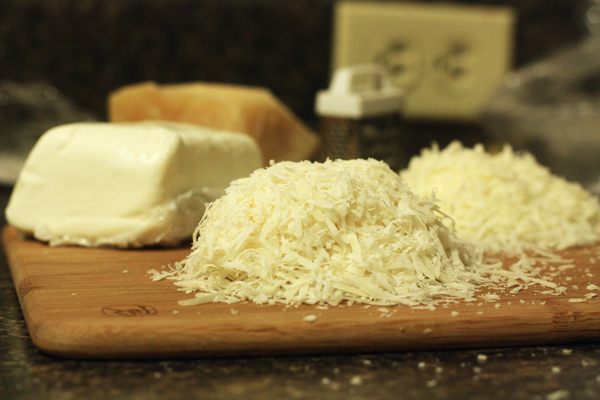 And then the cheese. Always the cheese.
Once I (finally) had everything scraped/chopped/grated, the dip came together in a snap.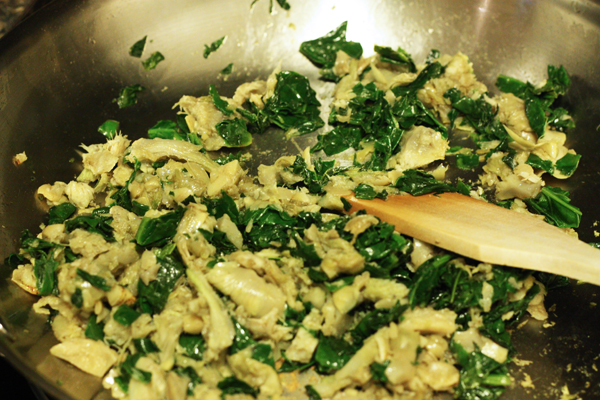 This photo isn't winning any contests. Doesn't the artichoke look like canned chicken? Gross. Let's add some cheese to make it feel better.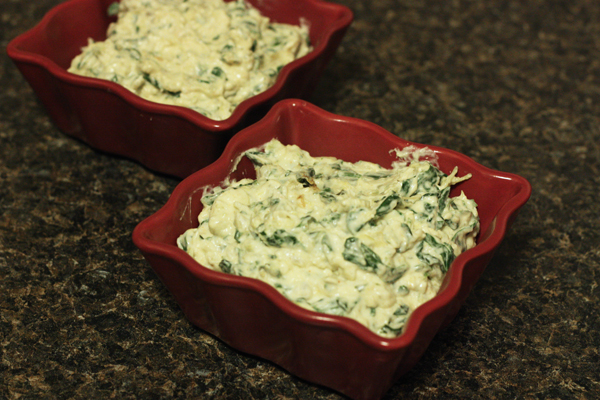 That's more like it. At this point I could hardly keep myself from grabbing some chips and going to town, but I wanted to give these little dippers a golden finish. A final sprinkle of asiago and a blast under the broiler made these dips everything I wanted and more: warm, creamy, and full of fresh local vegetables and decadent cheeses. On a chip, of course!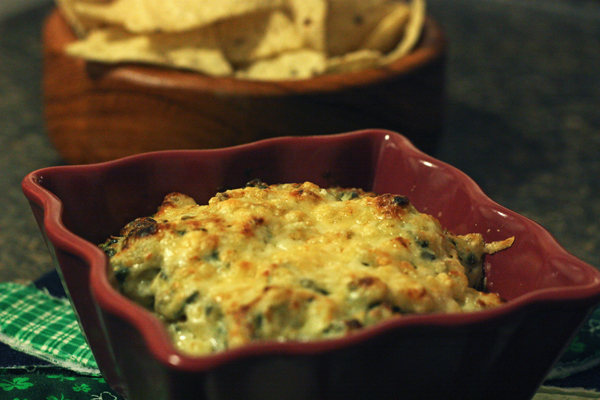 Fresh Spinach Artichoke Dip
Adapted liberally from Alton Brown
4-5 medium artichokes (or 2 c canned artichoke hearts, drained)
3 c chopped fresh spinach, loosely packed
1-2 T olive oil
1 tsp lemon juice
4 oz cream cheese
1/2 c parmesan cheese, finely grated
1/2 c asiago, finely grated
1/4 c mayonnaise
1/4 c Greek yogurt
1-2 T milk
1/2 tsp garlic powder
1/4 tsp sea salt
1/4 tsp cayenne
Rinse artichokes under cold water and shake dry. Slice off the very end of the stem to remove any dry, brown area. Wrap each artichoke in plastic wrap and microwave each for 3-5 minutes, depending on their size. Carefully remove with oven mitts (they are superhot) and remove plastic wrap. Set artichokes aside for a few minutes to cool.
While artichokes are cooling, remove stems from the spinach. Roughly chop spinach leaves into pieces about an inch wide. Heat 1 T olive oil in a large frying pan over medium-low heat. Once pan is hot, add spinach and sauté for 3-4 minutes or until spinach has softened, stirring often. Remove pan from heat, leaving the spinach in it.
This is also a good time to grate your parmesan and asiago!
Once the artichokes have cooled to the touch, remove the tough, small leaves from the stem and discard. You will then have to discard about one layer of leaves from the base of the artichoke before you get to the softer leaves. Peel all leaves from artichoke, scooping the tender edible part from the base of each leaf with a spoon and placing it in a bowl. Discard the tough portion of the leaf. Once all leaves have been peeled and you reach the fuzzy center, gently scrape the fuzz out of the heart with a spoon onto your discard pile. Add the heart to the bowl with the scrapings you've collected from the leaves. Continue with remaining artichokes until you have about two cups. Roughly chop up scrapings and hearts into small pieces.
Preheat your oven broiler to high. Place the frying pan with the spinach back onto medium heat and add remaining olive oil to the pan. Add artichokes to the pan and stir well, cooking for 1-2 minutes. Add cream cheese in small dollops and stir constantly, allowing the cream cheese to melt. Add parmesan, 1/4 of asiago (set the rest aside), mayonnaise, Greek yogurt, milk, garlic powder, cayenne pepper, and sea salt and mix thoroughly until cheeses have melted. Remove from heat. Transfer dip to one shallow baking dish or two smaller ramekins and sprinkle remaining asiago over the top. Place dish(es) under broiler for 4-5 minutes or until cheese has browned slightly and formed a bubbling crust.
Serve hot with tortilla chips or crispy baguette slices. Dip can also be refrigerated and re-heated later!