Broccoli Cauliflower Salad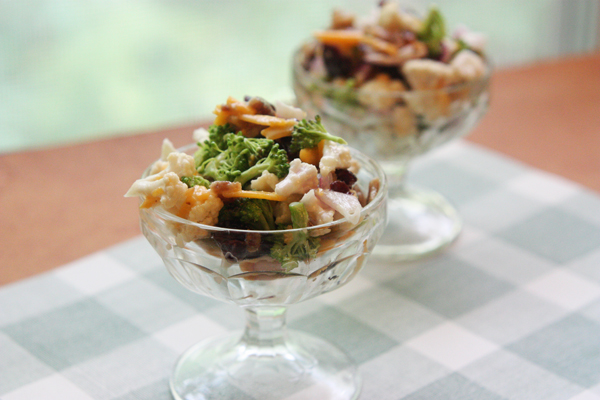 Ah, summer. Welcomed in over Memorial Day with cookouts, good friends, and sunny weather, it's a season of bounty in most of the States. In North Carolina, summer came (and often comes) early: the farms and gardens here are already flush with zucchini, peaches, blueberries, tomatoes, and even peppers.
I, however, skipped my market trip this week in favor of a long weekend visiting dear friends in Madison, Wisconsin.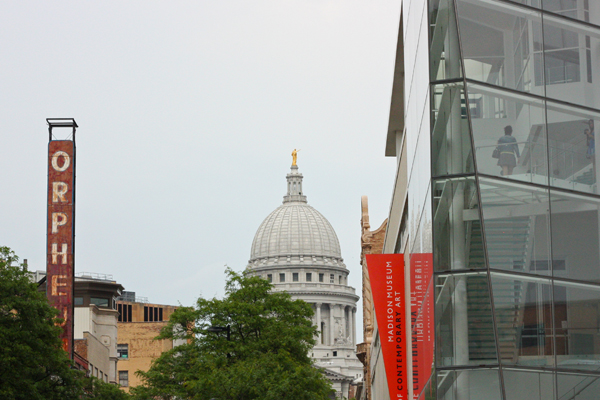 As seems to be more and more common for me, I spent a lot of my trip observing not just the city itself, but the food. And let me tell you. I was pleasantly surprised by what Madison had to offer.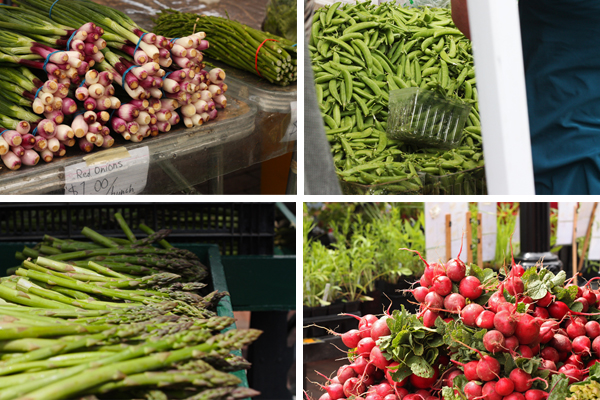 Just two blocks from my friends' apartment, the crowds at the city's largest farmers market were rivaled only by the huge quantities of locally produced food. At first glance, the market here looked like Durham's two months ago: green spears of asparagus, waxy baby onions, and the first tender snap peas covered the tables.
But there were also treasures not easily obtained in the Bull City.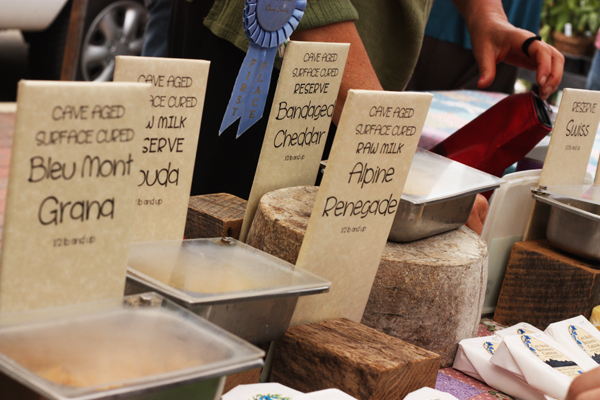 One would think that local market-goers would tire of cheese in the Nation's Dairyland. But no… many booths, each of them packed with customers, purveyed cheeses aged for years and curds made only hours before (some of which may or may not have returned in my backpack with a small ice pack). Even beyond the tiny white tops of the farmers market, it was clear that Madison loves its food.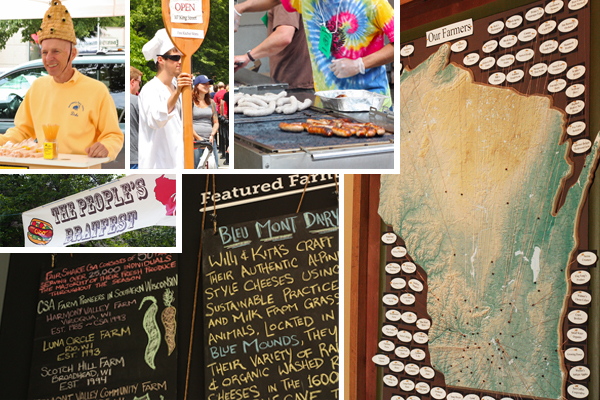 It was a lovely little vacation, full of interesting new restaurants and local meals enjoyed with friends. But now it's back to work! And enjoying the fruits of the South.
Or, in this case, the vegetables.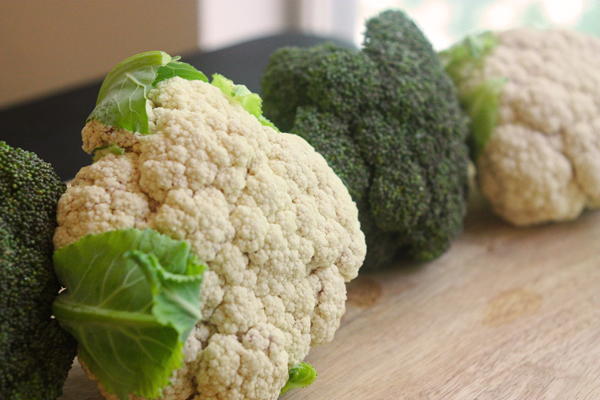 We have a long enough growing season here that broccoli and cauliflower can  be harvested twice, both in late spring and late fall. This recipe actually came to me as a holiday recipe: a way of acknowledging the tradition of serving cranberries without a gelatinous sauce. It serves that purpose well, but I've come to enjoy it as a meal all on its own in these early summer weeks when broccoli and cauliflower are so readily available.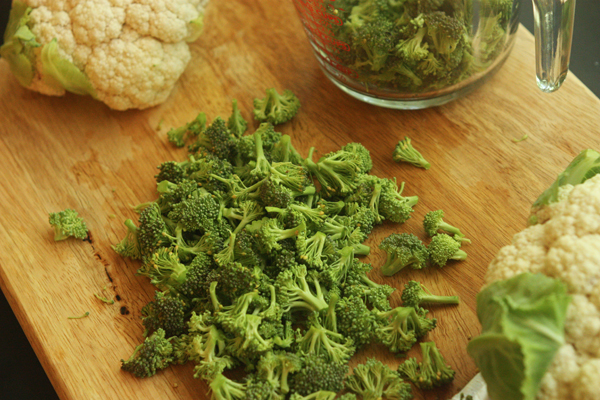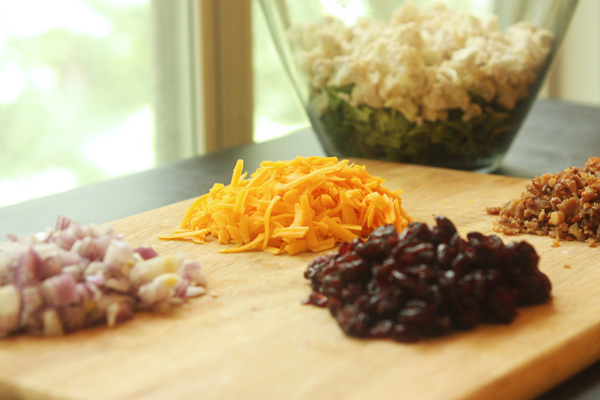 Though these two tasty brassicas are the feature of this salad, it is studded with a cast of equally delicious companions. Cool onions, cranberries, freshly grated cheddar, and crisp bacon add lots of flavor and color.
Isn't that pretty? If you're not making this for immediate use, you can leave it this way in the fridge until you're ready to serve. Do take caution, though… you may be tempted to steal all the bacon from the top. Don't do it! It's soooo good in the salad.
The dressing comes together just as easily as the salad! A little mayo, vinegar, and sugar whisked together. You can make this in advance, or if you prefer, right before you drizzle it into your goodies.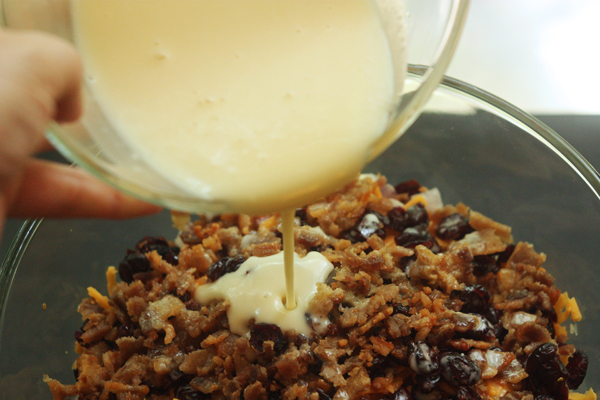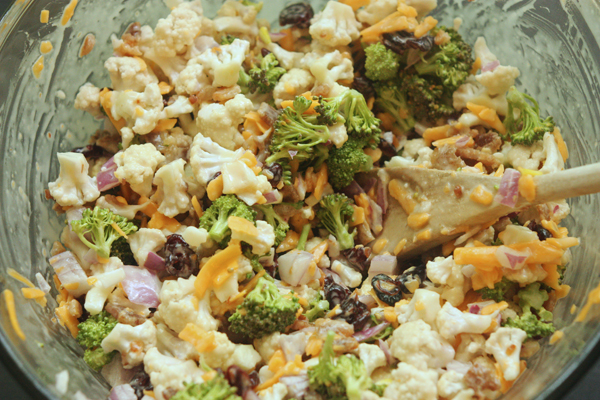 And then you have it! Hearty enough to eat on its own, savory and sweet, and a cool dish that doesn't require the oven! This is definitely one recipe you'll want to make more than once.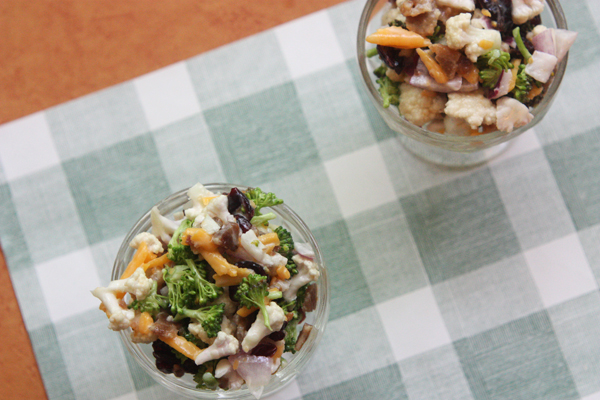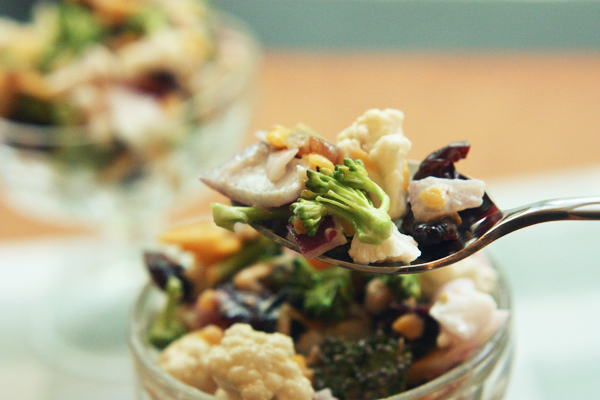 Broccoli Cauliflower Salad
Adapted from Mindy T.
4 c small broccoli florets, about 2 medium stalks
4 c small cauliflower florets, about 2 medium heads
1 c red onion, diced
1 c dried cranberries
1 c cheddar cheese, grated
1/2 pound bacon, cooked and roughly chopped, or 1 c bacon bits
3/4 c mayonnaise
1/4 c + 2 T apple cider vinegar
1/4 c + 2 T granulated sugar
In a large bowl, layer all solid ingredients in the order listed. In a separate small bowl, whisk together mayonnaise,vinegar, and sugar. Place both bowls in the refrigerator until ready to serve.
When ready to serve, drizzle dressing over the layered ingredients and mix thoroughly. Salad is best immediately served, but makes excellent leftovers for several days.