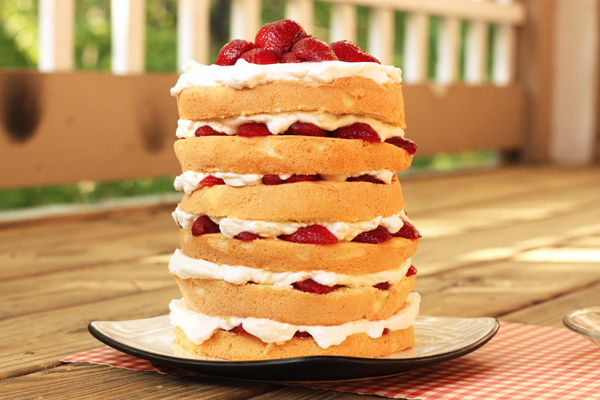 Spring (though it's actually starting to feel more like summer here in NC) has officially begun. It seems like the trees were, just moments ago, blossoming in delicate flowers and poking little green buds into the cool air, but they are suddenly enrobed in lush, green leaves still blinking in their new-found sunshine. The daffodils and tulips have come and gone, and the light lingers a few moments more every evening.
But just in case there was any doubt:
The berries have arrived.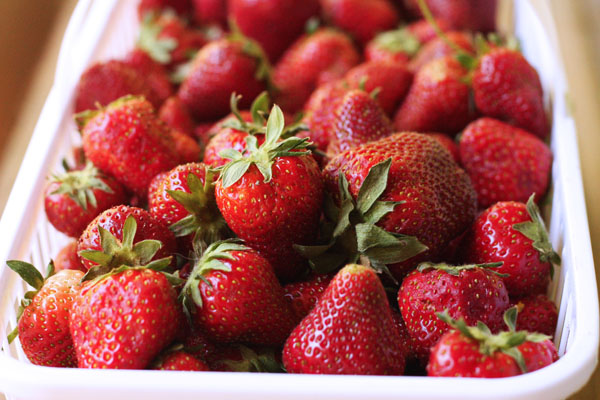 Glistening, ruby-red, and more photogenic than any berry I know, strawberries are the first fruit of the season to reach the farmers market in Durham. They're the first float of the summer produce parade; it's definitely cause for celebration.
And what better way to celebrate than with a classic, fresh, and simple strawberry shortcake?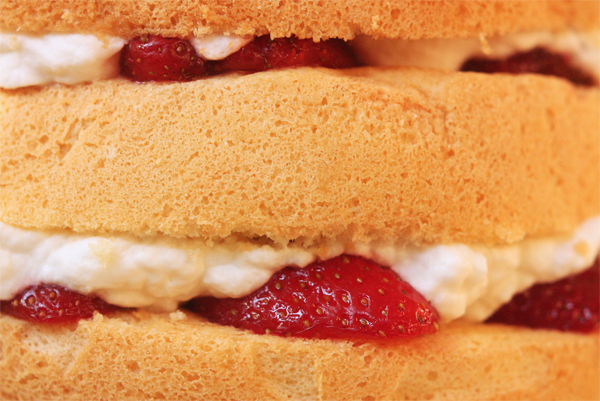 Okay, okay, I know you might be skeptical about my use of the word "simple" when discussing a six-layer cake, but I promise, it's really rather easy AND is so totally worth it once you have your first bite.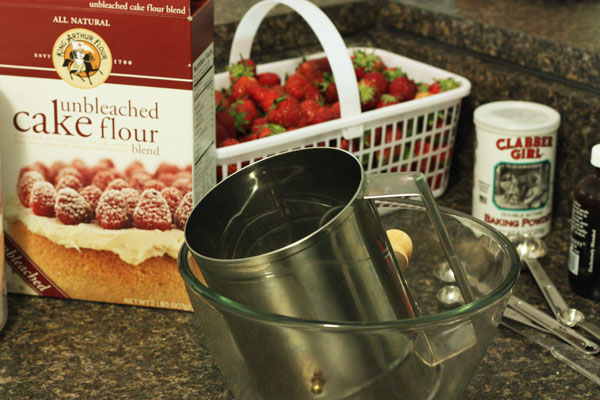 The cake itself is a "chiffon" cake. I've never really known what that meant, but now I feel inspired to make them again and again. This cake is spongy, similar to angel food cake, but richer in flavor and with a smaller crumb.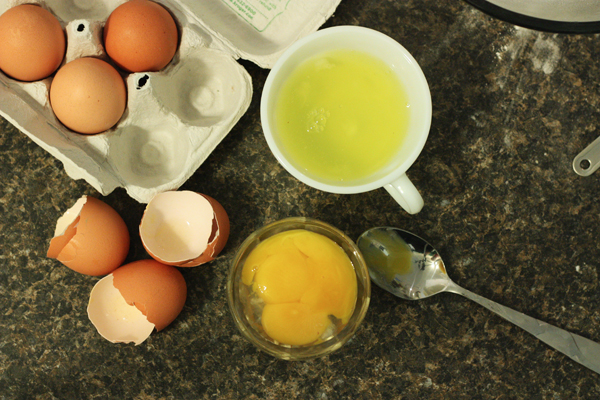 We start by separating eggs. The yolks will give this cake a definite cake-y texture (as opposed to angel food which, frankly, usually reminds me of eating a well-flavored cotton ball). The whites, on the other hand, make for a batter unlike any I've ever worked with before.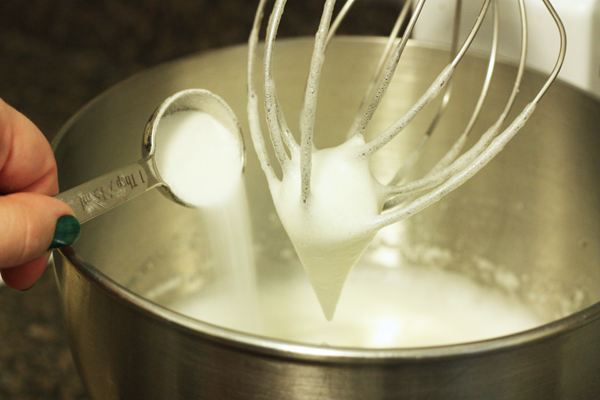 I haven't spent a lot of time making meringues or even really using egg whites in their cloud-like form, but now that I've opened that can of worms in the last few months, I find myself utterly fascinated. This stuff is downright FOAM, people. Foam I say. I found myself reminded me of those elementary school days when we ridiculously "cleaned" our desks with shaving cream.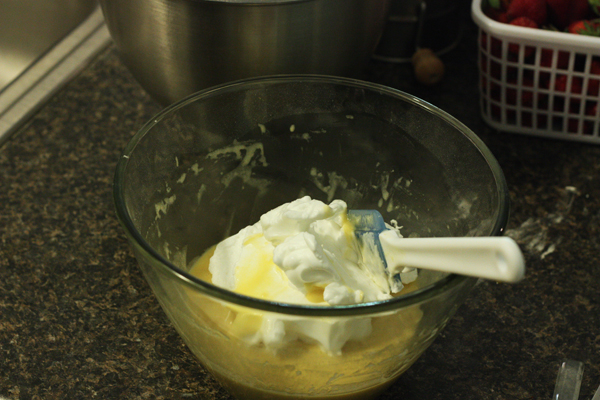 The whites, which are combined gently with the other ingredients, create a batter than is not even pourable, it must be spread. Like the shaving cream. I was tempted to scrap the whole dessert project and smear cake batter across the counter tops.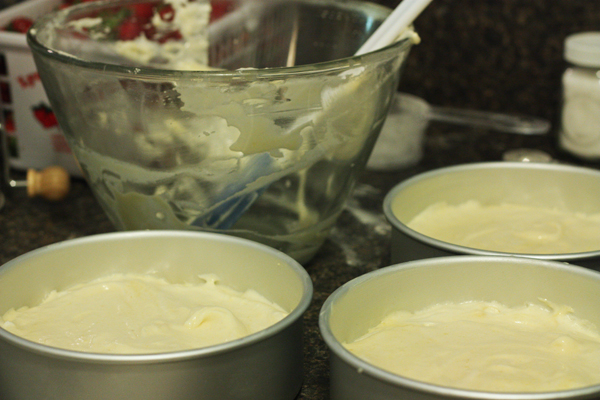 I didn't, but seriously, most fun cake batter I've ever made.
I followed through with the original plan for dessert and voila!, out came springy, bouncy, tender layers of cake.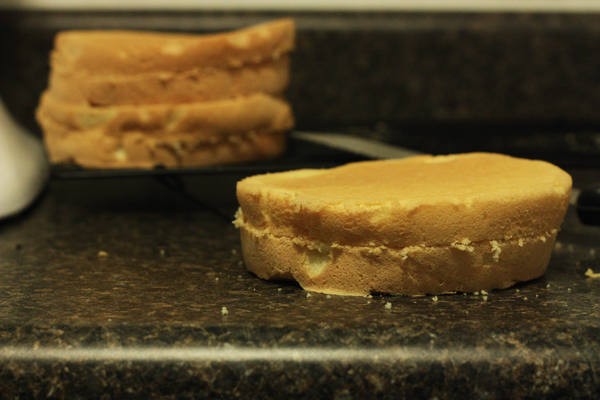 My layers weren't perfect, weren't even level, but that's okay: it all evens out in the end. Plus it gave the final project a kind of folksy, put-together charm.
Next! While my little cakes cooled, the berries and whipped cream were on their way.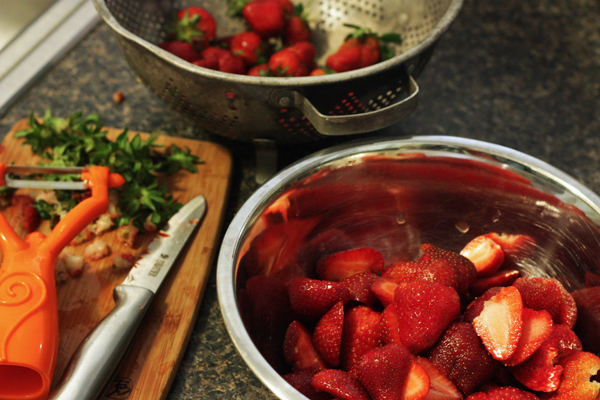 I chose to slightly sweeten my berries so their natural juices would release and soak ever so slightly into the cake. You could also try this without sweetening the berries, but I find just a little bit of sugar enhances the flavor without turning the whole mess into candy.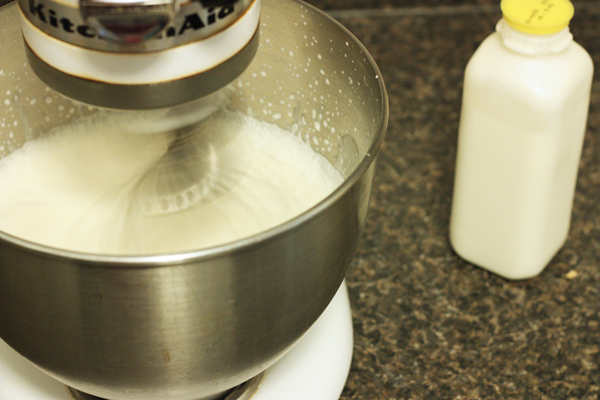 On the other hand, I tend to prefer my whipped cream a little on the un-sweet side. A little sugar, yes, but not so much that you lose the flavor of the cream. Mmmmmm I want more just thinking about it.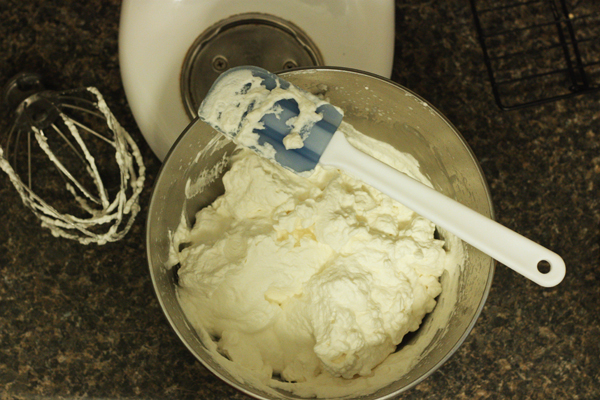 Be advised: if you try this recipe, you will not have as much whipped cream as you see in this picture. I um, slightly over-estimated how much I would need by, well, about double. The proportions below should give you enough for the layers of your cake without cups and cups (yes I really overshot it) of extra whipped cream.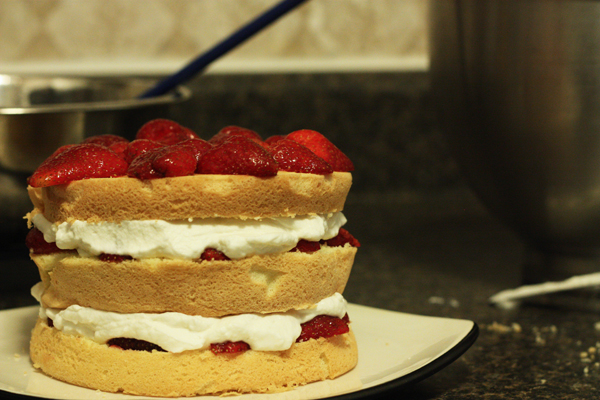 Then up, up, up! To the moon with this cake! To Mars! Or at least to six layers. I confess, it did get a little precarious, but fortunately, the whipped cream makes an excellent glue.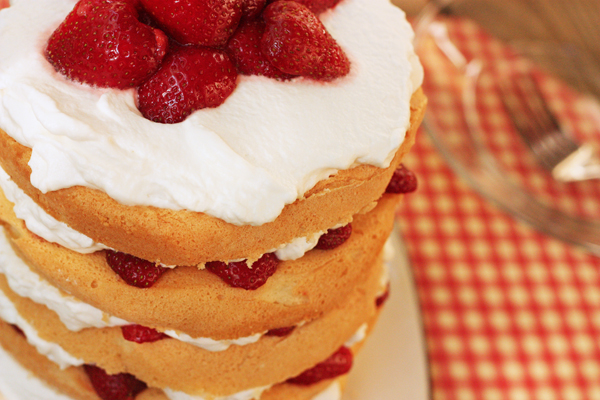 Not to mention an excellent dessert.
Welcome back, strawberries! I am SO happy you're here.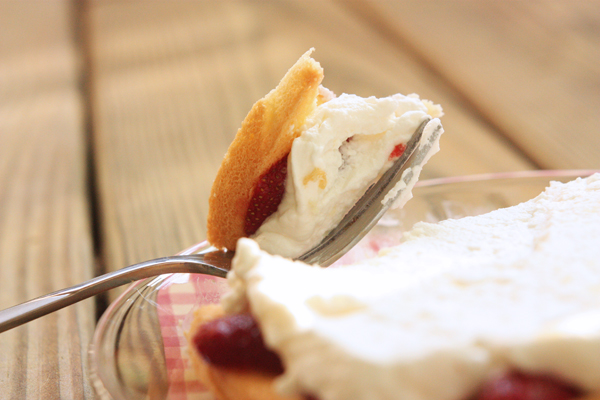 Supertall Strawberry Shortcake
Adapted from Smitten Kitchen
Note: The original recipe was designed for two 9″ round cake pans, which would ultimately yield four layers. My batter might have fit into two 6″ pans, but I didn't want to risk them overflowing. Plus, I like the ratio of cake-to-berry-to-cream with the thickness I got.
For the Cake
1 c + 2 T cake flour
1/2 c + 2 T sugar
1/2 T baking powder
1/2 tsp salt
1/4 c + 2 T cold water
1/4 c vegetable oil
2-3 drops lemon extract
3/4 tsp vanilla extract
2 large egg yolks (or 3 medium egg yolks)
4 large egg whites
2 T sugar (additional)
1/4 tsp cream of tartar
Use pan coating to grease the bottom and corners of three 6″ round cake pans and set aside. Preheat oven to 325°F.
Sift together cake flour, the first measure of sugar (1/2 c + 2T), baking powder, and salt into a large bowl.
In the bowl of a standing mixer (or another large bowl), beat the egg yolks, water, oil, lemon extract, and vanilla extract for 1-2 minutes or until thoroughly combined. Pour yolk mixture into the dry ingredients and stir until smooth. Clean out the mixer bowl and wipe dry with a towel. Beat egg whites and cream of tartar until soft peaks form, then add remaining 2 T sugar. Continue to beat on high until peaks are stiff.
Using a rubber spatula, fold about 1/3 of the egg whites into the batter until no more egg white are visible. Then, add remaining egg whites and fold just until egg whites are combined and are no longer visibly separate.
Scrape batter into cake pans and spread evenly. Bake for 30 minutes or until top is springy and a toothpick poked in the middle of the cake comes out clean.
Let cakes cool in their pans on a cooling rack for 15 minutes or so, then, running a knife around the edges first, flip the pans over to release the cakes. Place in the fridge to cool.
For the Strawberries
12-14 oz strawberries, washed, hulled, and halved
2 T sugar
Sprinkle sugar over strawberries and stir gently to dissolve sugar. Allow berries to rest for 10-15 minutes so that juices begin to release.
For the Whipped Cream
1 c heavy cream, very cold
2 T confectioner's (powdered) sugar
1/2 vanilla extract
Combine all ingredients in the bowl of a standing mixer, which has preferably been in the fridge for a few minutes to make it nice and cold. Beat until stiff peaks form.
Assembly
Once cake layers have cooled, carefully slice each layer in half using a good bread knife or layer slicer. Cake will be very spongy, so slice slowly. Place one layer flat-side down on a serving plate or cake stand. Place berries flat side down over the cake, with the tips of the berries barely sticking out over the edge. Spread a layer of whipped cream over the berries, just enough to fill in the gaps between berries but without spreading down the sides. Whipped cream layer should cover the berries just enough so that the tops carry a thin layer. Add the next layer of cake, strawberries, and cream and continue. Once the top layer of cake is applied, spread the top with a generous coat of whipped cream. Top with a heap of berries and refrigerate until serving.
Serve either by slicing vertically (which is precarious), or by lifting each layer of cake onto a plate.