Pasta with Sun-Dried Tomato Cream Sauce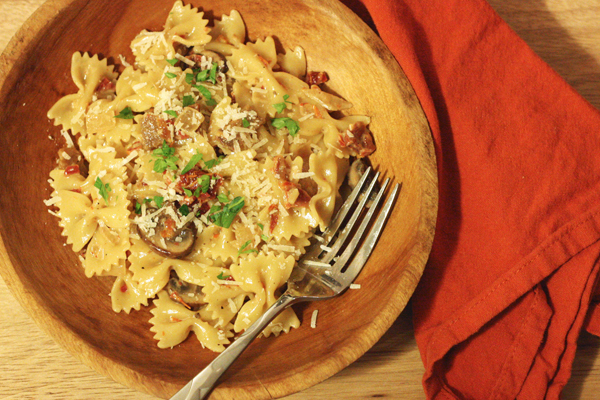 There are things I daydream about. Sometimes, they are kitchen things.
In these kitchen daydreams, the sauce pan I need is never at the back of the cabinet. All my spice bottles are the same shape, same size, same color, and they're all labeled in the same font. Sunshine floods across my countertops and splashes to the floor, filling the room with light. My knives are always sharp, but I never cut my fingers. Avocados grow locally. Also cashews and cocoa beans and grapefruits.
Le sigh.
Some dreams stay that way. But other dreams? Pasta-and-mushrooms-tossed-in-sun-dried-tomato-cream-sauce dreams? Oh yeah. They're COMING TRUE.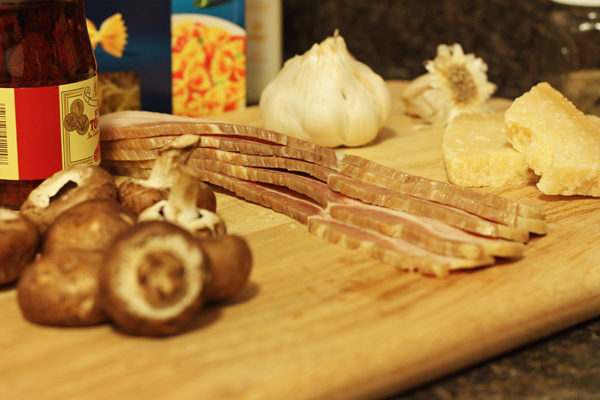 This pasta is zingy. It's dotted with crispy bacon and caramelized onions and tender mushrooms and pungent cheese.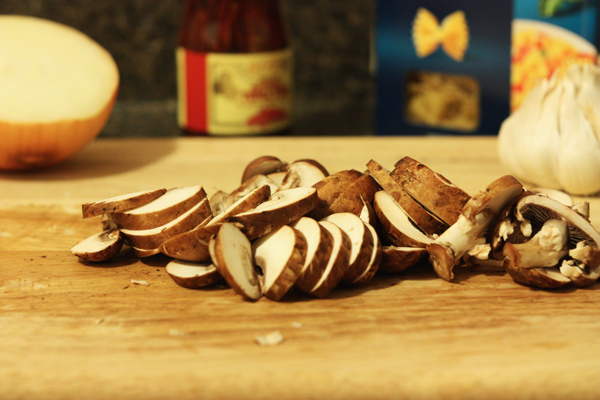 I've found myself cooking with mushrooms more and more lately. I always thought I didn't like them, but suddenly, they're on my grocery list every week. Weird how that happens sometimes.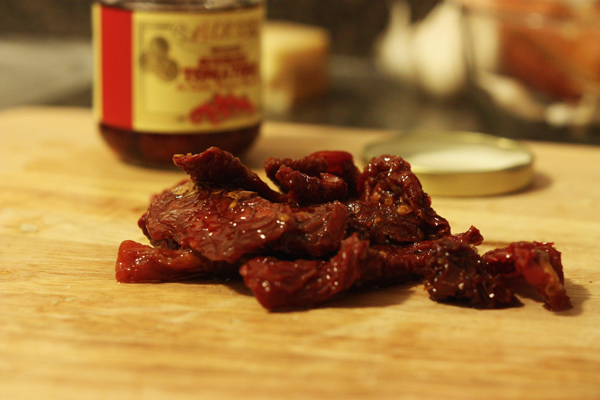 Sun-dried tomatoes, on the other hand, are new to me. These ones are packed in oil, but I'm curious to try it again with the dehydrated ones I occasionally see for sale at the farmers market. Or better yet, I could dry my own!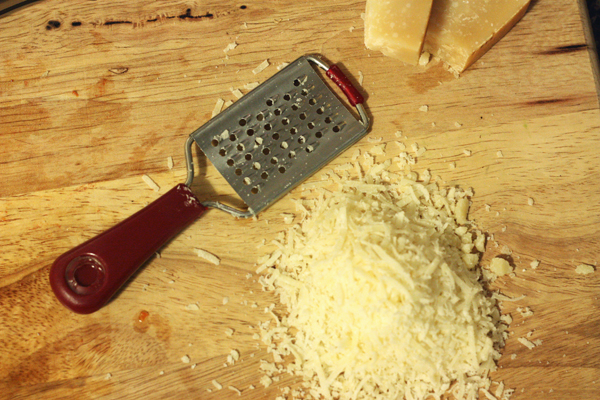 The dish comes together with a little cream, some milk, and nice little pile of parmesan. It's not a sauce for swimming. In fact, it's really there to bring everything together rather than to drown the pasta.
It's pretty simple, pretty quick, and as cream sauce pastas go, it's pretty light. Also, it's pretty pretty.
Told ya. Dream come true.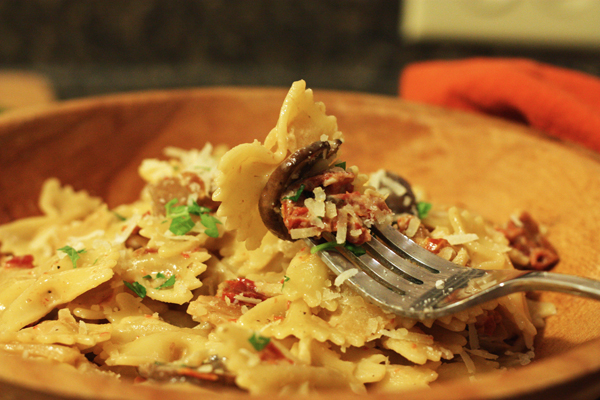 Pasta with Sun-Dried Tomato Cream Sauce
Adapted from Epicurious
5 slices bacon, chopped into 1/2″ pieces
1/2 large onion, diced, about 1 1/2 cups
4 cloves garlic, minced
1 1/2 c mushrooms, sliced
1/4 tsp salt
1/4 black pepper
1/2 c oil-packed sundried tomatoes, drained and chopped into small pieces
1/2 c cream
3/4 c milk
1 pound bowtie pasta
3/4 c parmesan cheese, finely grated
In a large frying pan, cook bacon until lightly browned and mostly crisp. Remove to a plate lined with paper towel using a slotted spoon. Pour off the majority of the bacon grease, leaving just enough in the pan to coat the bottom with a very thin layer. Add onion, garlic, and mushrooms to the frying pan and sauté until onions are tender and beginning to caramelize, about 7-10 minutes.
While this is cooking, bring a pot of salted water to a boil and add pasta.
Once onions have begun to caramelize, add salt, pepper, tomatoes, cream, milk to the frying pan and reduce heat to low. Simmer for 3-5 minutes to thicken sauce slightly, then remove from heat.
When pasta is done, scoop out about 1 cup of pasta water and set aside. Drain pasta and return to pot. Pour sauce and grated cheese over pasta and mix well, adding pasta water a little at a time to achieve desired consistency.
Sprinkle with additional parmesan cheese and fresh parsley.