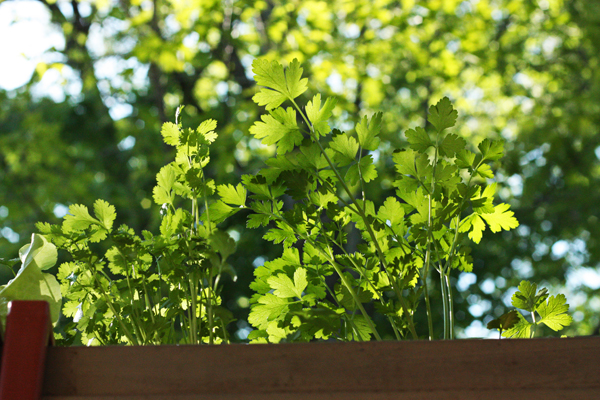 When we moved to North Carolina, I had some plans for our apartment on which I was unwilling to budge:
1. I would obtain a dining table and chairs.
2. I would paint some wall, any wall, some pretty color other than white.
3. I would grow some food on my dang porch.
Quick trips to Ikea and Home Depot made it easy to accomplish the first two goals, but it took me a couple of months to figure out the best way to complete the third. For one thing, I still, still, after two years of low-sun apartments in DC, struggled to get direct beams to my balcony for more than a few hours a day. To complicate matters further, the lovely lattices on our porch railings broke up what little sun that did reach the balcony: an excellent situation for lounging on the porch without getting too hot, but not so great for keeping plants alive.
Containers on the railings had to be the key. But alas! Every style I could find at stores in my area was designed with a bolt or a screw or some other attachment mechanism I'm sure our property managers would not appreciate.
But then.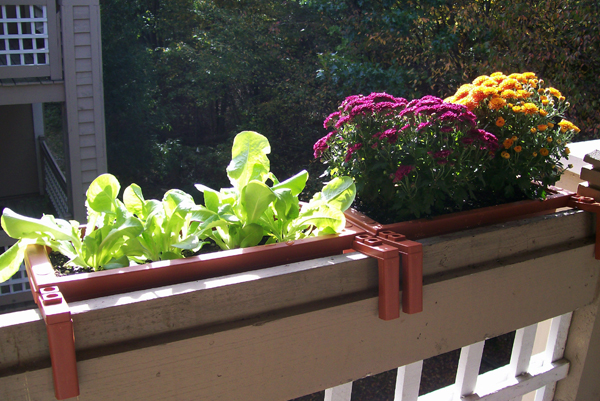 I found them online! Two feet wide, six inches deep, and adjustable to whatever width of balcony railing you want to hang them on.  I bought some lettuce, some mums (to feel fancy!), and plopped 'em into some soil. By the tim spring rolled around, well, I had expanded my little fleet to the size it was when I first introduced this hodge-podge little garden last April.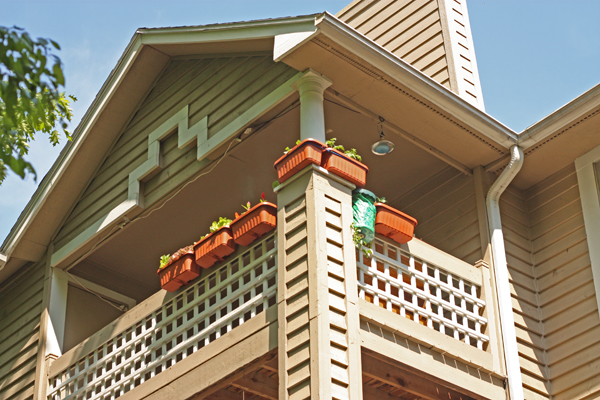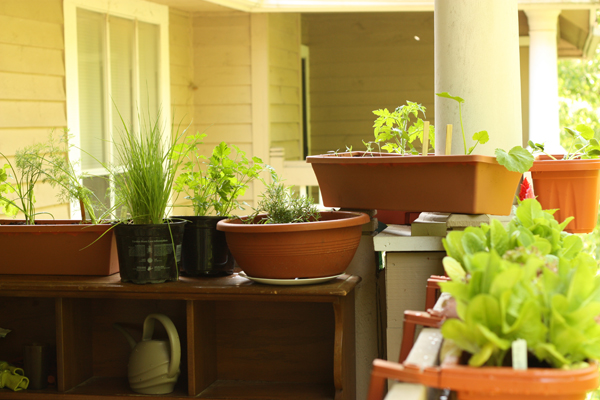 I had high hopes, lots of seedlings, and a waaaaay too small watering can. But at the time, it was the only option in front of me for growing food, so I took my chances and hoped that something would grow.
Oh what a little time and a little experience can teach. It wasn't long before I discovered I had a couple of problems dooming my tiny garden.
Not Enough Sun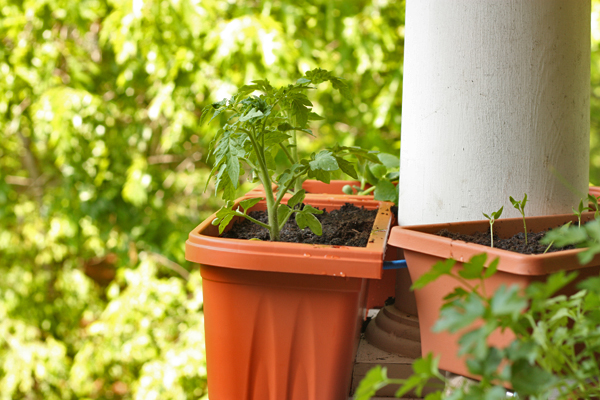 No matter how I sliced it, no matter how precariously I perched containers on the corner pillar and bungee-corded them in place, on the best of days my plants were getting four hours of sun. Which was great for lettuce and tolerable for herbs, but not at all acceptable for sun-thirsty plants like peppers and tomatoes.
Not Enough Space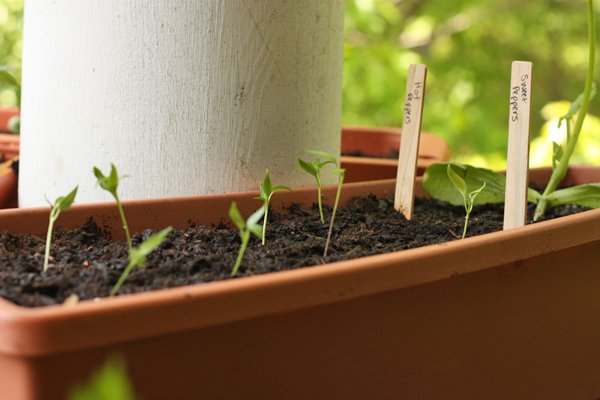 It's hysterical to me now that I planted a zucchini in a 5″ pot. I confess, I was utterly naive about the size to which a zucchini grows. Having now spent one summer growing a zucchini in my community garden plot, I realize that the plant had no hope of fruiting. See the seedling on the right up above? Yeah, this was my community garden zucchini after just a couple of weeks in the ground: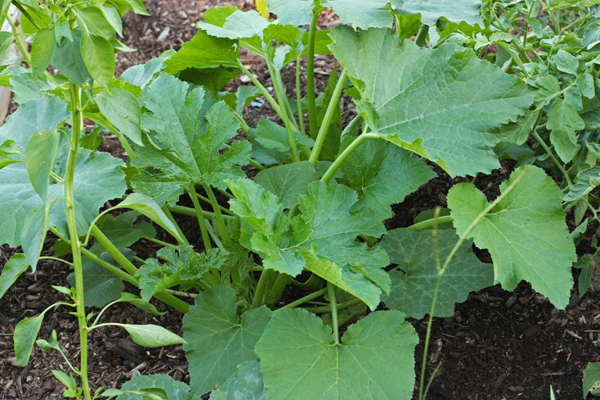 Yikes. Talk about a "what was I thinking?!" moment?
So this year, I approached my little balcony garden with a little less vigor and a little more knowledge.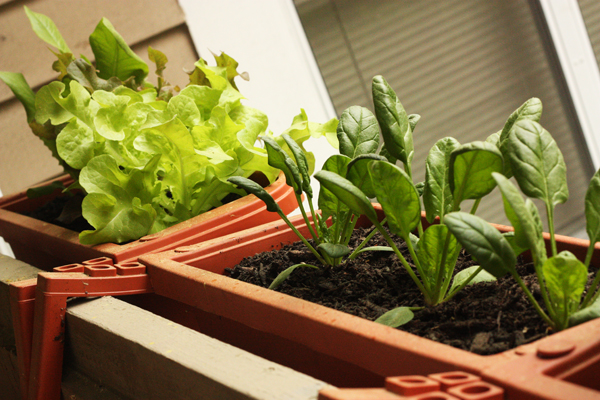 The only successful plants I had from my little containers last year were greens and herbs, so I just decided to stick with those. Lettuce grows happily with only a half day of sun, and it's handy to have some parsley growing on the porch for spontaneous cooking projects.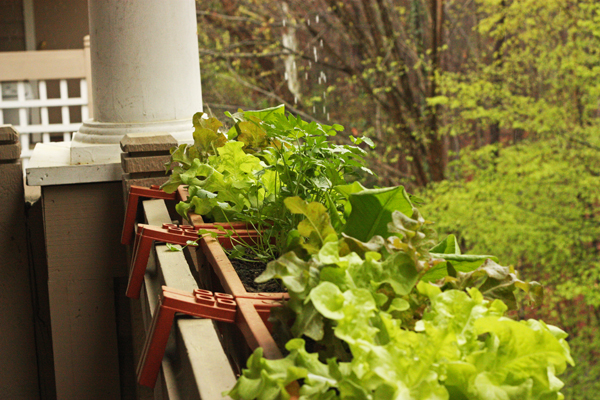 I feel so fortunate that I lucked into a community garden before the space-starved, sun-starved plants met their ends. At this point,  I could honestly get by with out growing anything on the porch at all these days. But these little troughs of soil are important to me. They help remind me that even with small amounts of sun and unfavorable planting conditions, it is possible for me to grow my own food. Those of us living in apartments and in cities need not be intimidated by the fact that we don't live on acres of fertile land with plows and shovels and barns at our disposal. You can sow seeds in any patch of soil or sunlight you might have access to; you'll be amazed at the harvest you'll reap.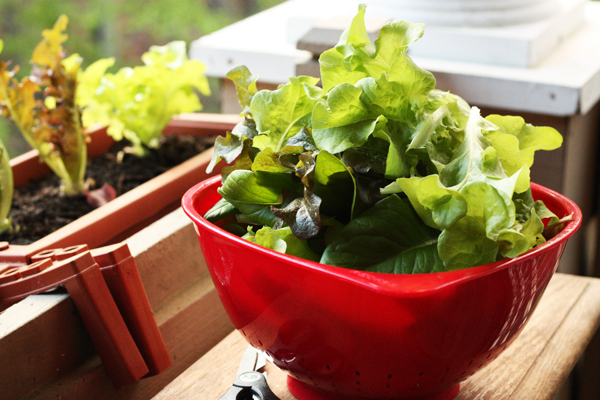 And I wanna help you get started! I'm giving away one set of these great little containers (which are flat on the bottom so they can also be used in a windowsill or on a porch) to someone who wants to grow something of their own. They won't grow any huge veggies, but they are fantastic for growing greens, flowers, and herbs.
Note: The manufacturers of these containers have no idea who I am. I just really like their containers, want to share, and am feeling generous.
How to Enter CLOSED
Leave a comment on this post answering the question:
What are three things that you wish you could grow for yourself ? Or, if you already have a garden of your own, what are the homegrown veggies you never want to buy from the store again?
Leave your answer by 11:59pm EST on Sunday, April 29. Winner will be announced on Monday! (So sorry to my international readers, I can only ship within the US – shipping is so expensive these days!)
In the meantime, I'll enjoy some time in my own little porch garden. Good luck everyone!