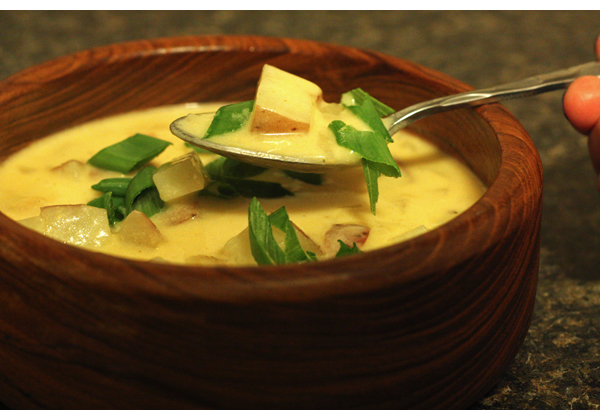 Yesterday was dreary. And lazy. I got up at 11:30 and did approximately nothing until 4:30. Nothing. It. Was. Glorious. Lazy days like this come rarely. I can normally talk myself into doing something moderately productive, even on the weekends: errands, cooking projects, editing photos, planting seeds, writing posts. But yesterday, for five surprising hours, nothing.
I crave soup on days like yesterday. Something warm, something filling, something that simmer and bubbles on the stove while the gray sky presses down outside. I have some old standbys, yes, but my friend Sara brought this one to my attention a while back, and let me tell you: it's perfect for a dreary, lazy day because it's super easy and comfort food to the max.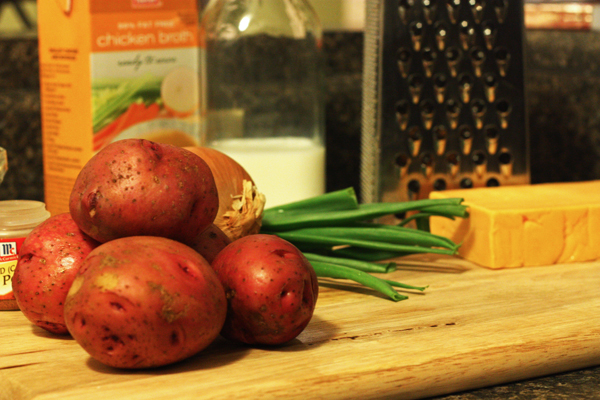 There's really not much to it. Potatoes, some nice sharp cheddar, milk, chicken broth (which could easily be swapped out for vegetable broth, I imagine), a little onion, some seasoning, and pretty little scallions for a garnish.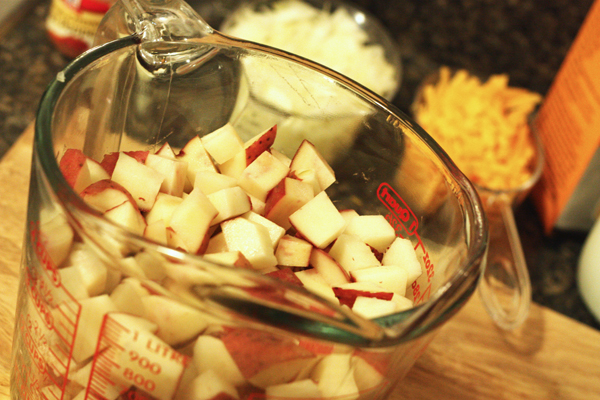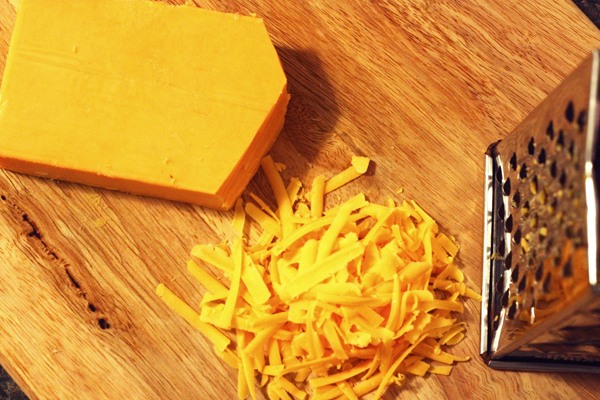 Soooo comfort food? Check. Now how does it help with the lazy part? Well, once the potatoes and onion are chopped and the cheese is grated, this is so fast and so low maintenance.
In fact it's so easy, I just really don't think there's anything more to say about it.
Today, it's back to work, but I'm daydreaming of the next lazy day that finds it's way into my schedule.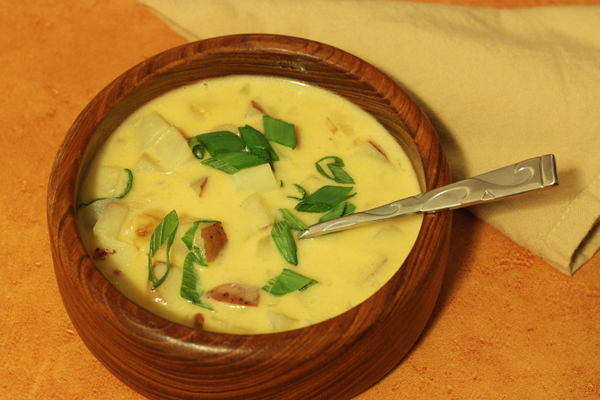 Potato Cheddar Soup
Adapted from Cooking Light
Makes about 5 cups
1 T butter
1 c onion, diced
2 1/2 T all-purpose flour
3 c red potato, cubed into 1/2″ inch pieces
1 1/4 c milk
1 1/4 c chicken broth
1/2 c water
1/8 tsp salt (more to taste if you're using low-sodium broth)
1/8 tsp black pepper
1 c sharp cheddar cheese, shredded
1/8 tsp cayenne pepper
1/4 tsp garlic powder
2-3 scallions (greens only), chopped as a garnish
In a medium sauce pan, melt butter over medium heat. Add onion and saute until tender. Add flour and stir until evenly combined. Add potato, milk, chicken broth, water, salt, and pepper and mix well. Bring pot to a boil. Cover and reduce heat to low. Simmer for 10 minutes or until potatoes are tender. Remove pan from heat and immediately add cayenne, garlic, and cheddar. Stir briskly until cheese is melted. Adjust seasoning as desired.
When serving, top with a sprinkle of scallions.