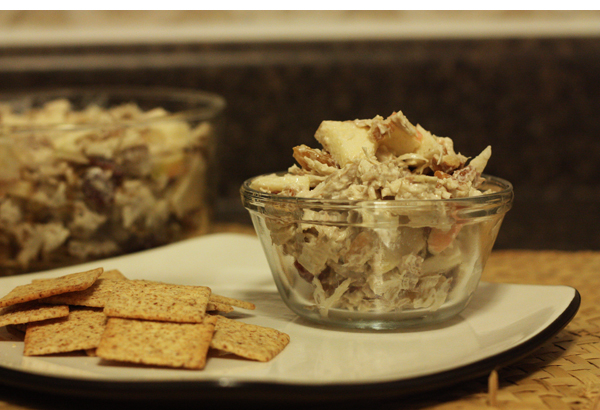 Let's take a minute to talk about real life.
Some days, there is time to make fresh pasta. Fancy desserts. Elaborate multi-course meals.
Most days though, it's all I can do to get out the door in the morning toting a breakfast and lunch, and on show days, dinner, so that I can avoid the oh-so-tempting bounties of college food available at work. Especially in January, when fresh food is somewhat difficult to come by and most of my cravings are for something warm and filling.
But I've found an answer. An answer to the winter blues, the I-don't-feel-like-cooking doldrums, and the whoa-we-have-so-much-leftover-turkey-from-the-holidays reality in my freezer.
Sierra's turkey salad.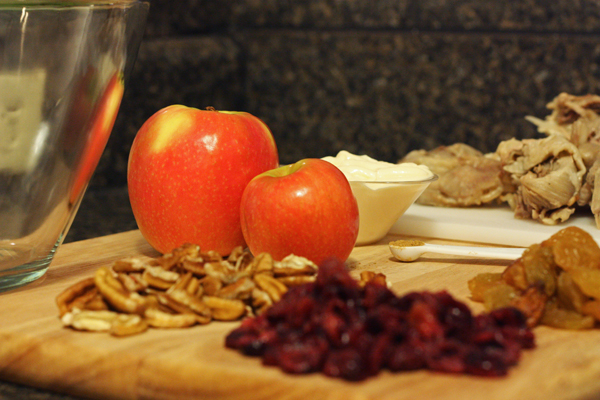 I know I'm probably way late catching this train. I've never really been a fan of chicken salads and won't come within ten feet of tuna salads, so I suppose I thought turkey salad would be equally unpleasant. I. Was. Wrong.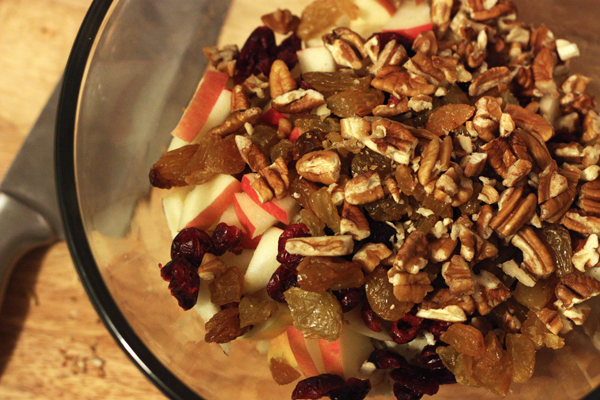 Accompanied by fresh apples, dried cranberries and golden raisins, and some roughly chopped pecans, this may now be my new favorite way to eat turkey. It comes together quickly, tastes amazing, and is filling in even small quantities.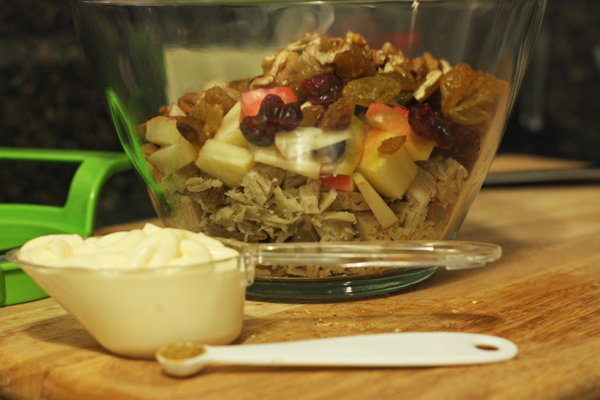 And you can mix it up, too. I think Sierra used almonds in hers. I tried my first batch with chopped celery, but raw celery is quite hated for someone else in this apartment, so I'll leave it out from now on. You could probably also spice it up with some cayenne if you favor a zingy salad. Your food, your call.
And look how pretty! This is how turkey salad looks when it gets dressed up to go to a party. Complete with paparazzi, apparently.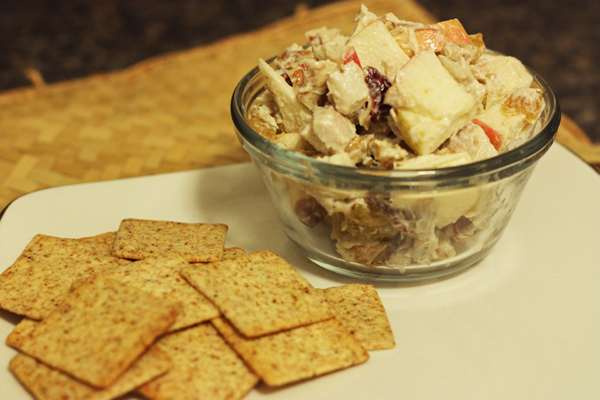 Luckily for me, it looks pretty good in work clothes, too!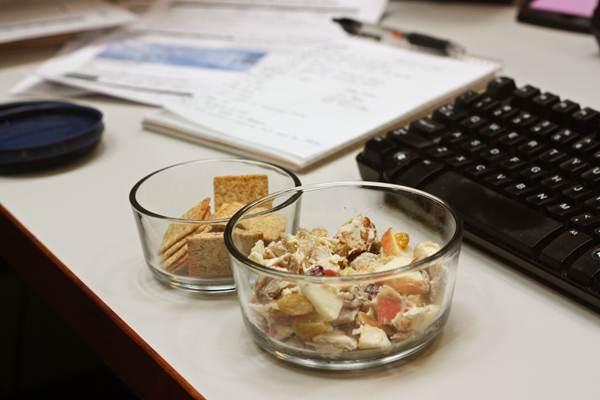 I'm always on the hunt for seasonal but delicious recipes to make during the winter. This year, I'm looking to you for ideas! As incentive, I'm sending half a dozen Hot Chocolate Sticks to one random person who contributes an idea to my winter recipe catalog. You get sticks, I get recipes, it's a great deal.
How to Enter to Win Hot Chocolate Sticks CLOSED

1. Leave a comment on this post describing one of your favorite winter recipes.
OR
2. Like 30 Pounds of Apples on Facebook (early adopters, you'll have to leave a comment to throw your hat in the game!)
Enter by Sunday night at 11:59pm… winner will be announced Monday (someone's case of the Mondays fly right out the door.)
Good luck!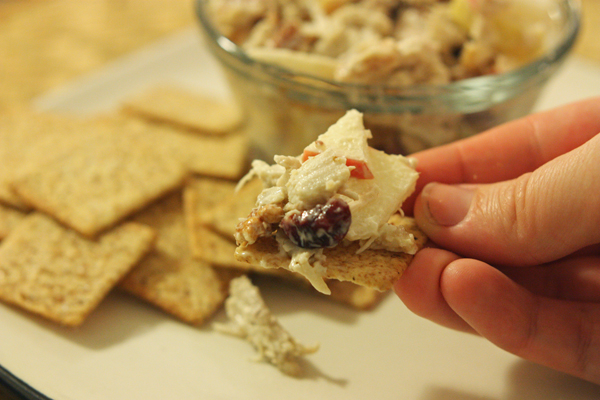 Sierra's Turkey Salad
Adapted from Sierra. And Captain Obvious.
Makes 4-5 cups
2 c cooked turkey, torn or cut into 1/2″ pieces
1 medium apple, sliced into 1/2″ pieces
1/3 c dried cranberries
1/3 c golden raisins
1/3 c chopped pecans
1/2 c scant mayonnaise
1/2 tsp cumin
Combine all ingredients in a medium bowl and mix well. Adjust seasoning as desired. Serve with wheat crackers or bread. Take it to work for lunch and everyone else will be jealous.