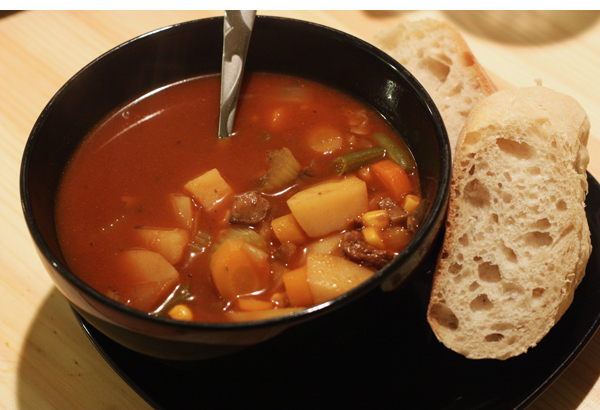 I've been making a lot of soup lately. I crave it when it gets cold, when it gets cloudy, or when I just want to eat the embodiment of warmth and comfort.
Do you know the story of Stone Soup? An old folk tale that varies from culture to culture, the story centers around a traveler who arrives in a small village seeking food. At every door he is turned away as the villagers attempt to protect their meager pantries. The traveler then asks, quite simply for a stone and a kettle so that he might prepare a delicious soup.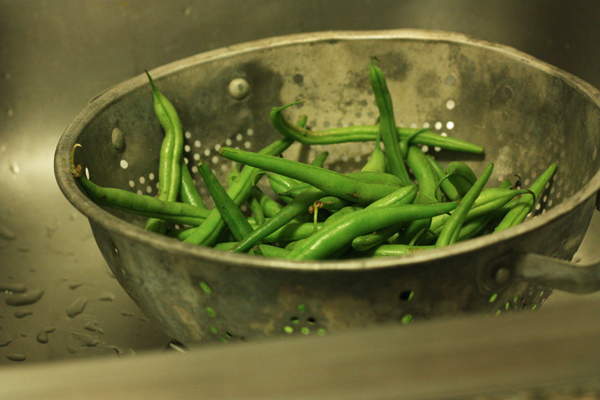 Curious, the villagers slowly emerge from their homes and begin to offer small ingredients that will improve the soup: a bunch of carrots, an ear of corn, some grains of pepper. In no time at all, a hearty, filling soup feeds not only the traveler but the entire village, and the modest contribution of each villager yields an excellent meal for everyone.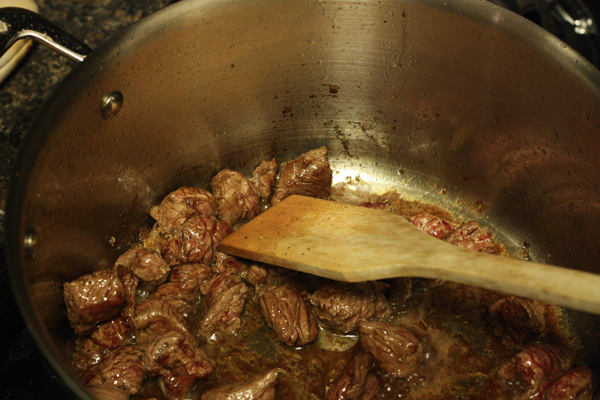 We used to celebrate this tale of generosity at my childhood church once a year at a Stone Soup Sunday potluck, and to this day, veggie-filled meaty soups remind me of the story. And though this particular soup was not built with ingredients from my neighbors (and a rock in the bottom of the pot), it was still warm and comforting and everything I want soup to be.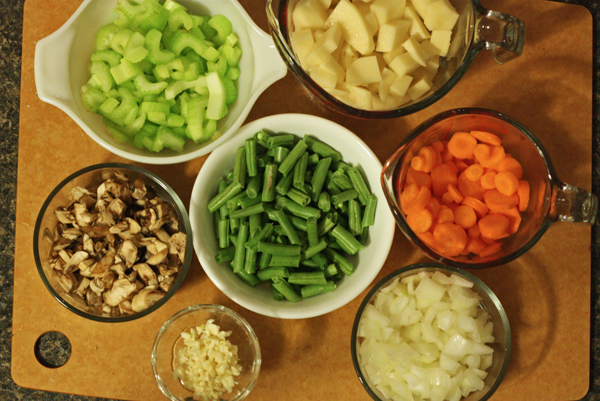 Including days and days of warm-and-comforting-and-everything-I-want-soup-to-be leftovers. Hallelujah.
What is your favorite soup? I'm looking for more to try…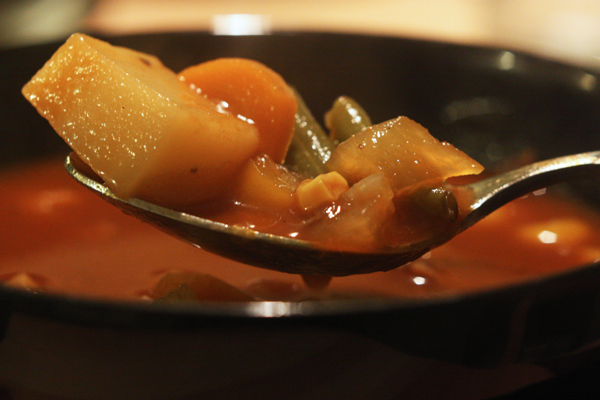 Vegetable Beef Soup
Loosely based on this recipe from All Recipes

1 1/2 c carrots
1 1/2 c mushrooms
2 c celery
1 1/2 c green beans
1 1/2 c onion
4 c potatoes
3 cloves garlic
1 can corn, drained
1 lb chuck steak, chopped into bite-size chunks
1 T oil
2 T worchestershire sauce
1/2 tsp black pepper
1/2 tps ground mustard
1/4 tsp oregano
1/4 tsp thyme
2 bay leaves
1/2 c tomato paste
8 C beef broth
salt & pepper to taste
asiago cheese rind (optional)
Heat oil in a large pot, no smaller than 6 quarts. Add chopped chuck steak to pan and season lightly with salt & pepper. Add worchestershire sauce and cook until meat is browned. Add onions and garlic and saute until softened.
Add all remaining ingredients EXCEPT mushrooms and stir throughly. Cover and increase heat to bring to a boil. Reduce heat slightly and boil for 30 minutes or until potatoes are tender. Taste and adjust seasoning as needed. Add mushrooms and cheese rind (if using) and boil for 5 minutes more.
Remove from heat and let rest for 5 minutes before serving, removing the remaining rind and the bay leaves if you can find them. Serve with yummy bread!