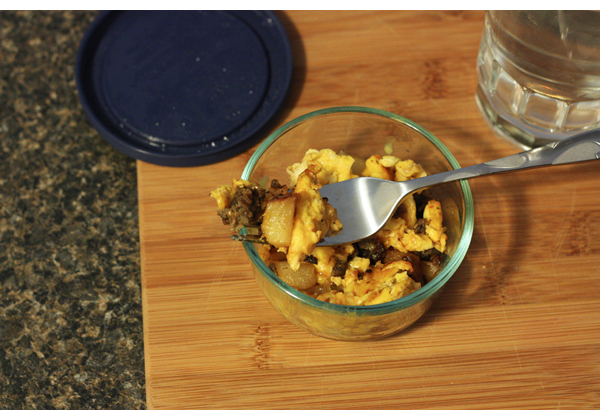 Once upon a time, in a time not so long ago, a boy and a girl dreamed of eating hot, homemade breakfast every day. They did not hate the yummy but mundane breakfasts they had grown accustomed to, but as the season grew colder, the yogurt and oatmeal of summer days excited them less and less.
One day, while replenishing their stores at ye olde supermarket, the boy decided to see what treasures were held in the depths of the frozen breakfast aisle.
"Alas!" said the boy, upon gazing at the scroll of ingredients, "Even the scribes don't know these words!" Indeed, the script upon the package seemed to suggest the meal was more chemical than food.
Suddenly, the girl had an idea.
"What if, instead of wasting all this packaging and filling our bellies with low quality food, we make our own frozen breakfasts?"
The boy's eyes lit up at the thought, and they escaped the chilly aisles before succumbing to the tempting packages within.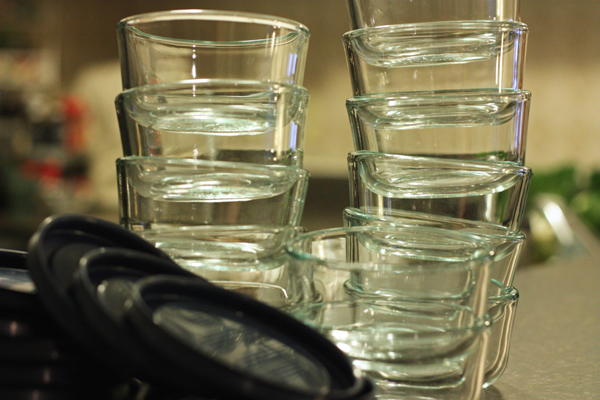 The first step, they knew, was to procure some containers that were just the right size. So they rode their chariot to the Pyrex outlet to round up a dozen 1-cup containers, each one made of glass and accompanied by an airtight lid. They were safe for the freezer, the microwave, and their incredible dish-washing machine. A perfect find!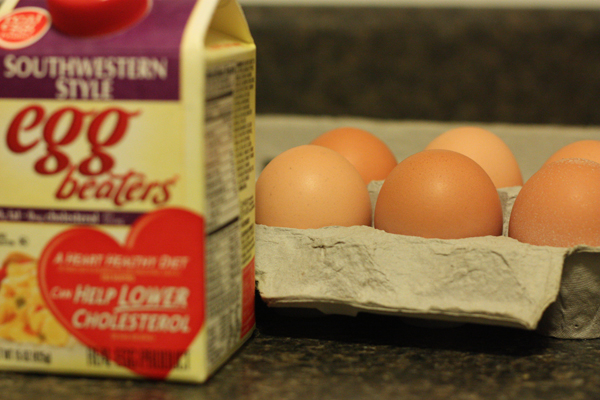 Next, the girl made a trip to the weekly gathering of farmers to collect onions, potatoes, sausage, and eggs so that they might create the perfect breakfast. This way, their breakfast could not only be hot and homemade, but also would support the produce of local farmers and ranchers. Except for the boy's preference of Egg Beaters, which she used in his half of the breakfasts, she succeeded in finding everything else she needed and began the trek home.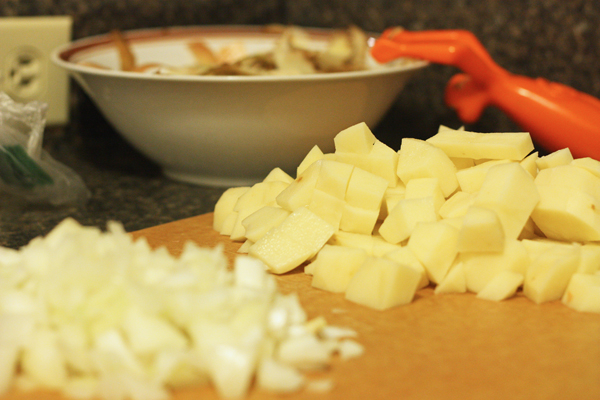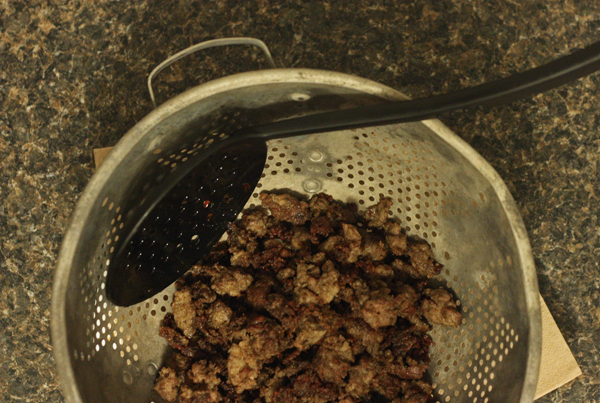 Finally, it was time to cook. The girl pulled out her trusty frying pans, cutting board, and chefs knife and set to building the feast.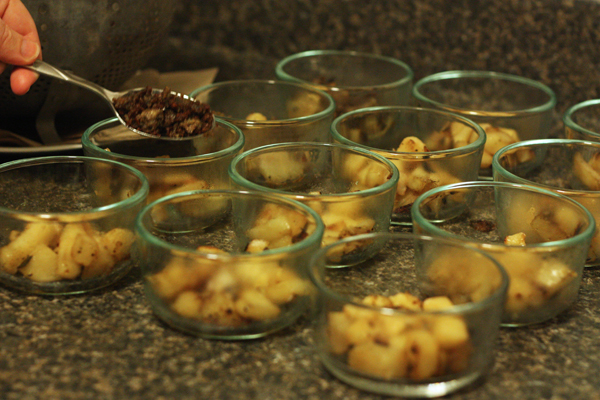 Each container was tenderly constructed, and it was just a short time later that the cups were complete.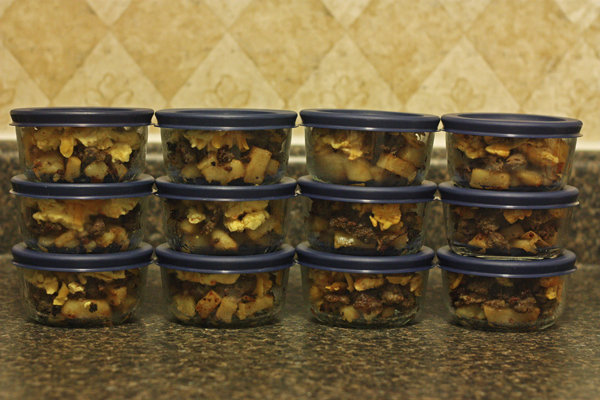 The girl carefully stacked the cups in their own frozen chamber. And with just a couple of hours every couple of weeks, their stock could be replenished easily to match their every breakfast wish! Bacon instead of sausage? Crumbled biscuit instead of potatoes? Extra eggs? The possibilities were endless.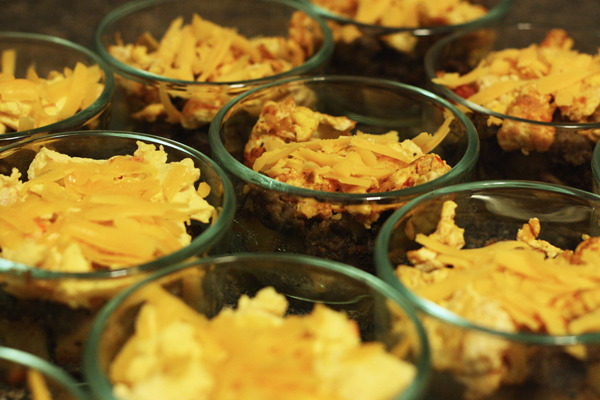 The boy and the girl could now satisfy their every craving for a warm and filling breakfast without having to tolerate myriad preservatives and chemicals unknown.
And they ate breakfast happily ever after.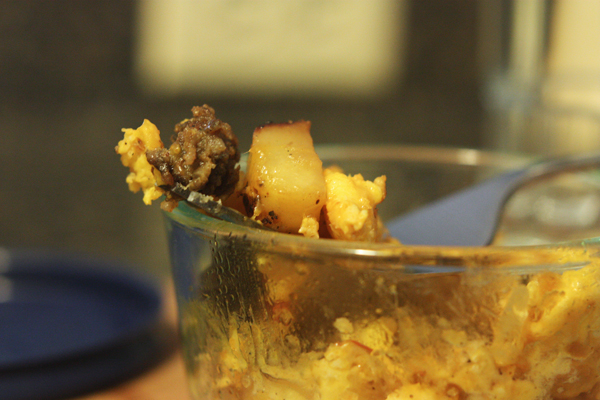 Breakfast Cups
Makes 12 portions, each about 3/4 cup of breakfast-y goodness
1 batch Breakfast Potatoes
1 lb ground sausage
6 eggs (or 3 eggs & 1/2 bottle of egg beaters if you're at my house)
1 c medium cheddar cheese, grated
3 T salsa
black pepper and seasoned salt
Set out 12 small, freezer safe containers, each one about 1 cup in size. Prepare a batch of Breakfast potatoes and set aside. In a medium frying pan, cook sausage until cooked through and lightly browned, being sure to crumble the sausage into small bits. Drain off grease and pour sausage into a colander over paper towels to drain further. Set aside. Scramble eggs (or egg beaters) the way you like them! I scramble mine in a bit of butter, seasoned with seasoned salt & black pepper, followed by some medium salsa for a little kick.
Divide potatoes evenly across your containers, followed by sausage, and finally doing the same with the eggs. Top each with a bit of cheddar cheese. Place lids on containers and press out as much air as possible.
Store in the fridge for up to a week or in the freezer for a couple of months (not that they'll last that long). If frozen, remove lid and microwave for 60-90 seconds to reheat. Refrigerated cups will need about 30 seconds.