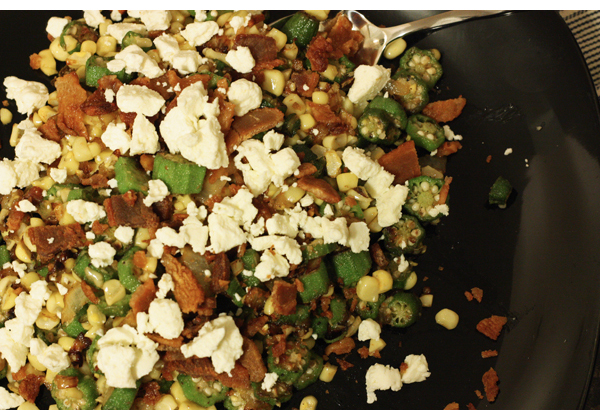 It's Labor Day.
Both the unofficial end of summer and the unofficial start of my favorite season, it heralds new school years, last summer hoorahs, and whispers of the beautiful autumn to come.
I haven't quite felt that first breath of fall though. Yes, fall squash and small pumpkins are beginning to appear at the farmers market and the sun is setting noticeably earlier, and the campus at Duke is crowded once more now that the full student body has returned. But it's hot. And still quite sticky. And still quite green.
But do you know what I'm talking about? That moment when you feel the spark of the season, any season really. I get it before the holiday season too, when something shifts either in nature or in me (or both, more likely), when I say yes, the season is changing. And also before the spring, a first warm day, watching naked brown trees burst into brilliant green or delicate blossoms seemingly overnight.
Any day now, I think fall will arrive for me. In the meantime, this dish is a fantastic way to celebrate late summer produce and puts a whole new spin on one of my favorite vegetables.
The Durham Farmers Market often features the recipes of local chefs on Saturday mornings, but for some reason I hardly ever find myself there at the right time. A couple weeks ago though, I arrived just as the cooking began, and her key ingredient? Okra! The final product was dolled out in paper cups to the hungry crowd, and after two bites I knew I had to make some for myself.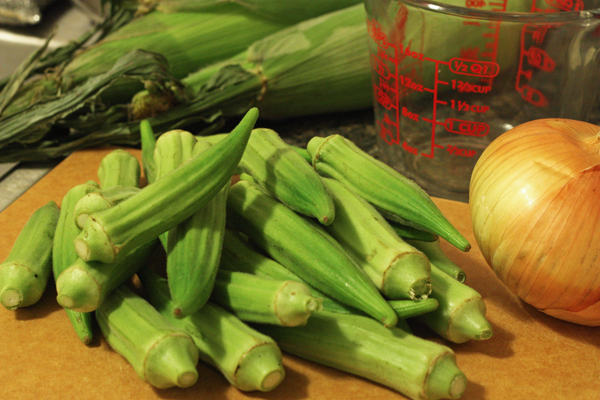 This is really a great way to send off the summer featuring entirely local ingredients (well, minus the salt and pepper). Okra is in it's prime, corn is still stacked in precarious heaps at the market every week, and I've stocked up on storage onions for the next few months.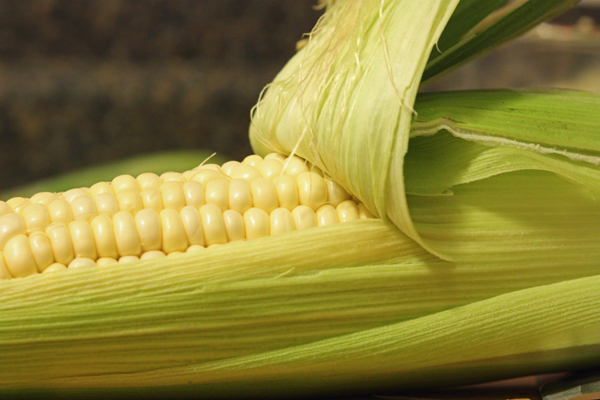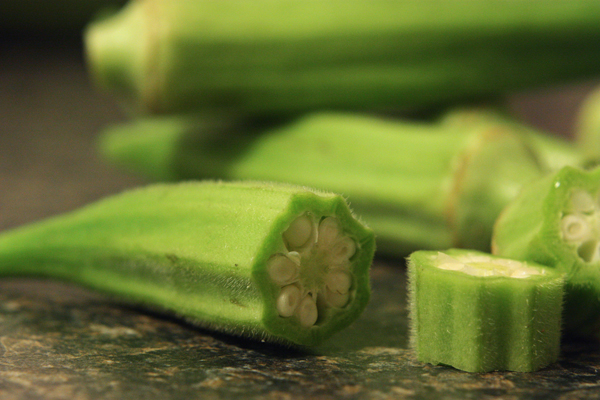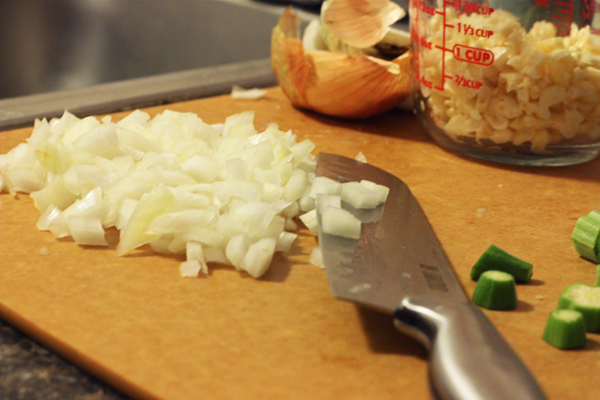 Add to those veggies some locally raised bacon and fresh goat chèvre, and you're good to go. Obviously you can buy these ingredients at the grocery store, but if you've been reading for a while, you've probably noticed that any meal where so many ingredients can be sourced locally is definitely a meal for me.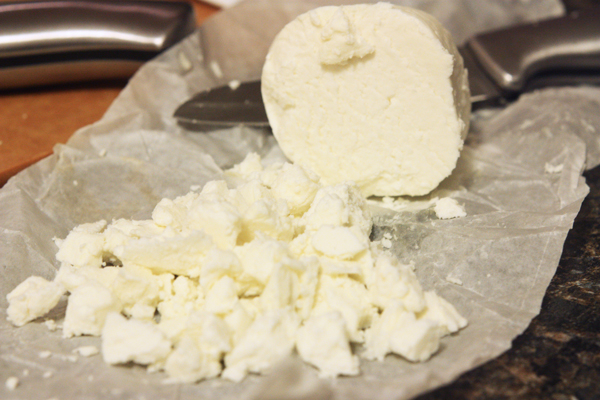 Though I know quite well the flavors of all of these ingredients on their own, this dish is unlike any I have ever tasted. It taste both fresh and hearty, light and rich, and it's multitude of textures make for an intriguing eating experience all on their own.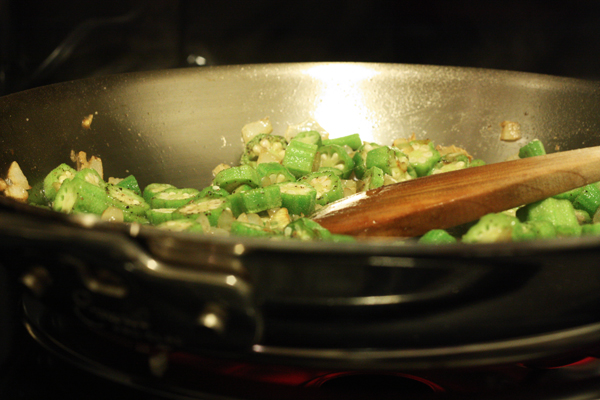 I must confess, there was one thing about this dish that freaked me out a little bit: after cooking the bacon and removing it from the pan, you leave the grease in the pan. All of it. To be fair, it's only the grease from two pieces of bacon, but it's sort of been ingrained in me to always always always always pour off bacon grease.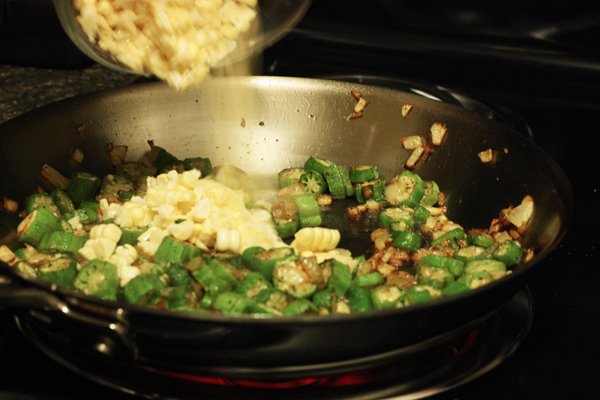 But this southern dee-light makes use of the grease instead of adding oil for the sauté. And who am I to defy this ridiculously southern dish its due? When in Rome, I suppose…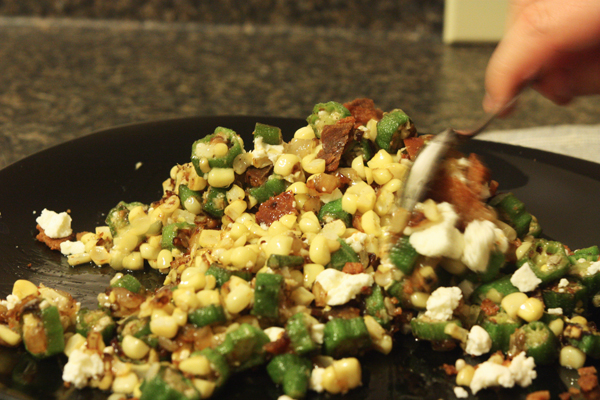 This dish is probably intended as a side, and it can easily be used as one. It also, however, makes quite an awesome meal for one.
In fact, I think I may treat myself to it again on this lovely day off. I had thought maybe I would go in to work for a couple of hours, but that might defeat the point of what Labor Day is supposed to celebrate. A day of reprieve to those who work hard in this country to hone their crafts, to provide myriad services, to teach our children, to build our roads, to enforce our laws, to grow our food, and countless other duties.
Happy Labor Day, fellow workers. I'm grateful for what you do. Enjoy your day off if you get one… this one's for you!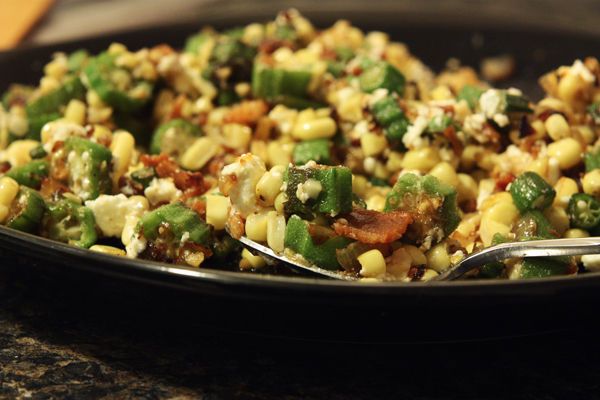 Okra & Corn Sauté
Adapted slightly from Durham Spirits Co.
2 slices bacon
1/2 T unsalted butter
1/2 large white or yellow onion,diced
2 cups okra, sliced in half inch pieces
1 ear fresh corn, kernels cut from the cob
1/8 tsp black pepper
pinch of kosher salt
1/4 c chèvre, crumbled
Chop okra & onions, cut kernels from the corn cob and crumble chèvre so that all ingredients are ready to be added when needed. Over medium heat, cook bacon in a medium-sized frying pan until fat is rendered. Remove bacon to a cutting board and set aside. Leave bacon grease in the pan.
Add butter and onions and sauté until translucent. Add okra, salt, and pepper and sauté for 5-7 minutes. While okra is cooking, chop up bacon into pieces about 1/2 inch in size. Add corn kernels to the frying pan and cook for 2-3 minutes.
Pour mixture onto a serving plate and top with chopped bacon and crumbled chèvre. Let dish set for 2-3 minutes, then stir to incorporate the bacon and cheese. Serve immediately.
Serves 3-4 as a side, or 1 as a meal