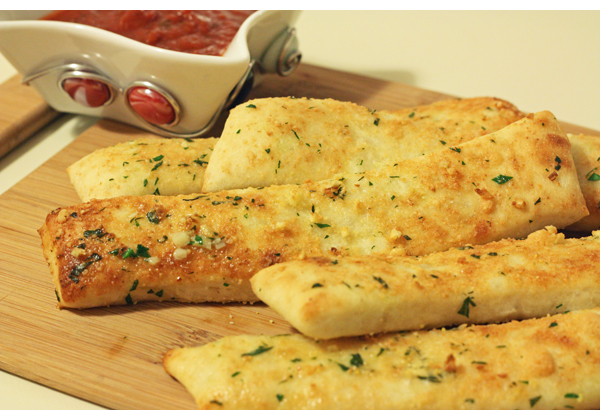 Whoa.
My whirlwind summer trip to the cool, dry Colorado air has come to a close (more on that soon, promise), and after a flight delay snafu that left me stranded in a Dulles Airport hotel, I have been thrust back into what will prove to be a frightfully busy month at work.
Probably one of those months when dinner sometimes ends up consisting of a weird combination of miscellaneous ingredients combined from the pantry to come up with something tasty. And fast.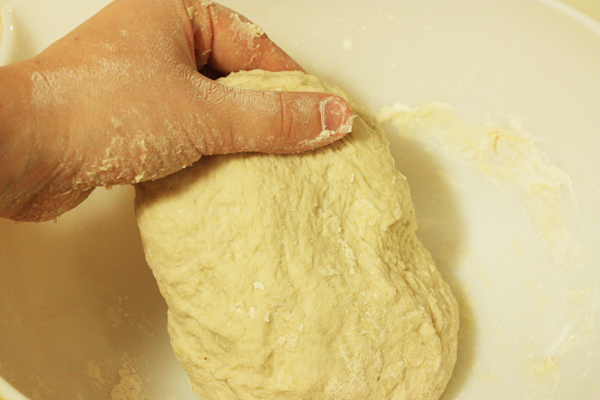 To be sure, homemade breadsticks aren't exactly a bag of chips and an orange juice in terms of simplicity, but they are much more fun, and a whole lotta delicious. And on a busy night after work a couple of weeks ago, they were exactly the cure to my salty-bready-pizza-y craving I arrived home with. I'm guessing it will be reprised in the next few weeks.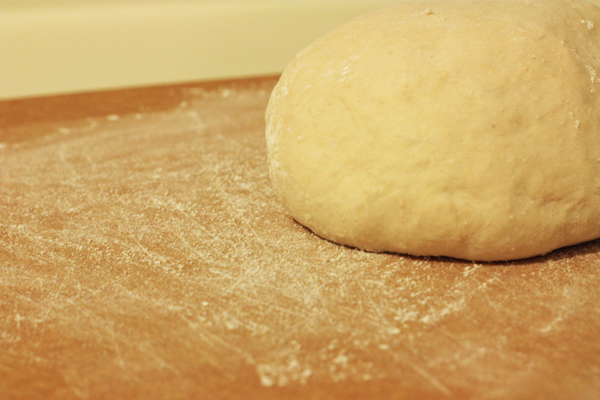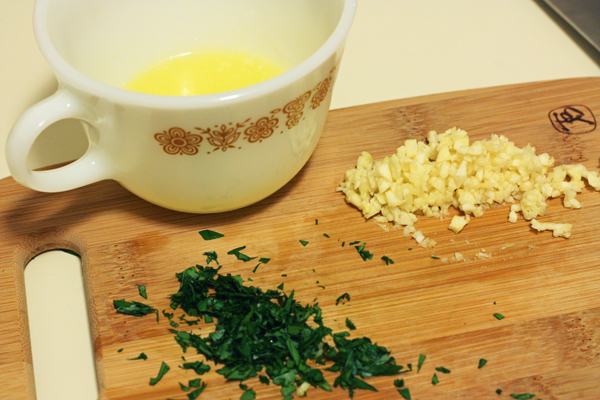 Seriously, what is it about breadsticks that is SO appealing? I mean yes, they are warm, savory, slightly crispy, covered in garlic and butter…
Reason enough for you? Yeah, me too.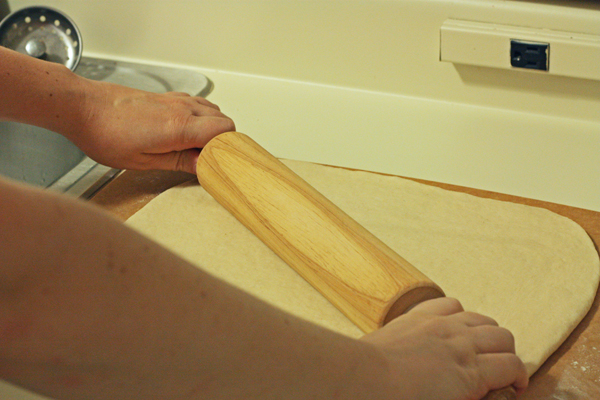 I like making big fancy dinners. I love exploring new recipes, taking on challenging dishes just for the fun of it.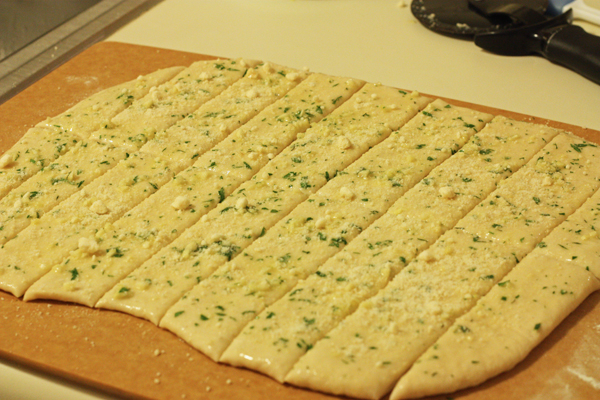 But I also LOVE discovering quick, easy, totally satisfying dishes that I can throw together without a trip to the grocery store or a tedious block of time in the kitchen.
And it doesn't just have to be an emergency dinner! This recipe easily makes enough breadsticks to serve several as an appetizer, but I warn you: they are HIGHLY addictive. It's entirely possible you won't want to share.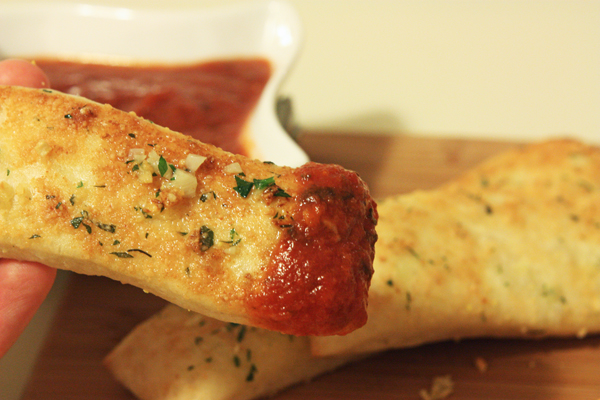 Emergency Garlic Breadsticks
2 1/2 c all-purpose flour
1 T dry yeast
1/8 c white sugar
1 tsp. salt
1 tsp garlic powder
1 c warm water
2 T butter
2-3 cloves garlic, minced
1 T dried parsley
parmesan cheese, for sprinkling
Preheat oven to 400°. Sift together flour, yeast, sugar, salt, & garlic powder. Add water and stir until dough is formed. Roll out dough  in a rectangular shape that is 1/2″ thick. Grease a cookie sheet (or use a pizza stone) and sprinkle generously with corn meal. Move dough to the cookie sheet (it will be easier to do this before you apply the seasoning). Reshape dough if necessary.
In a small dish or pot, melt butter and stir in minced garlic and parsley. Brush generously over entire surface of dough. Cut dough into sticks of your desired width and length. Sprinkle parmesan cheese and bake for 10-15 minutes or until breadsticks are golden brown. Remove from oven and brush with a bit more melted butter if desired. Pull sticks apart and serve with pasta sauce.