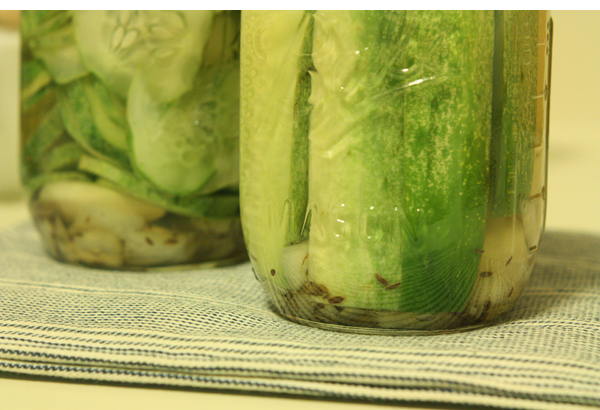 Pickles.
Remember the giant whole pickles? I used to buy them in elementary school in the snack line at recess, plucked straight from a vat of brine by the school cook and deftly wrapped in a flimsy paper napkin.  Only fifty cents! Add to that a Sunny D or a zebra cake. Then to the tire swings!!
Those were the days. Minus kids making fun of my glasses and my last name.
Nine-year olds.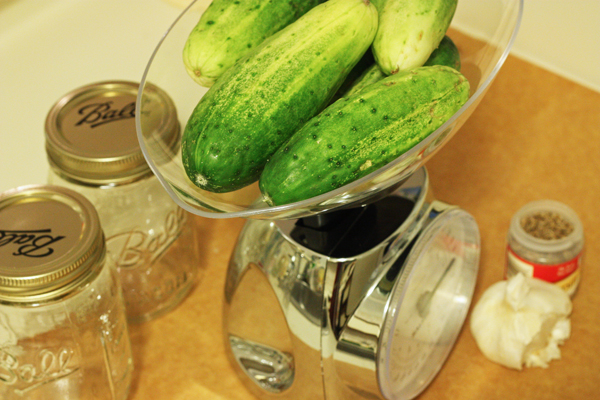 I've always known that pickles are a relatively easy canning project, but I had never actually made them until last weekend. This particular method is easier than I could have possibly imagined.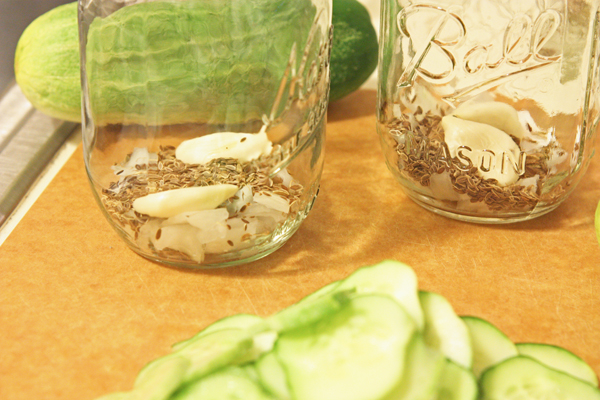 This recipe hails from an excellent site I follow called Food in Jars. Marisa, the blogger and canner extraordinaire, recently started a series she calls "Urban Preserving" where she downsizes and simplifies canning recipes to make them more accessible to those of us who may not (yet) have canning kettles, storage cellars, or hundreds of jars waiting in the wings.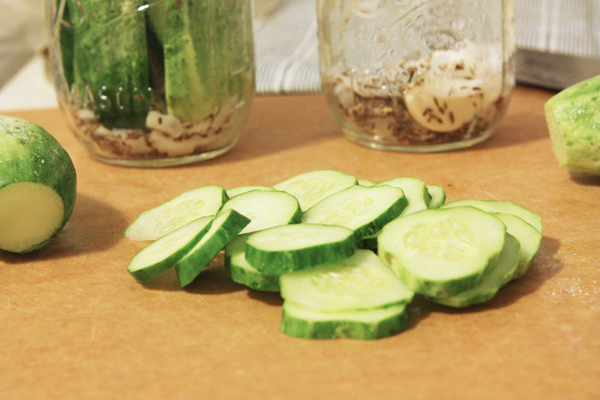 The great thing about this recipe is that it can be expanded or reduced to whatever quantity of cucumbers you have. I made  my first batch with some carefully selected cucumbers from the farmers market, but three days later walked out of my community garden with an arm load of cucumbers from a neighboring gardener who had more than he could use. Since I am more likely to eat pickles than raw cukes, I made a second batch and ended up with another few jars. Oh well. If too many pickles is the biggest problem I have, I'm doing okay.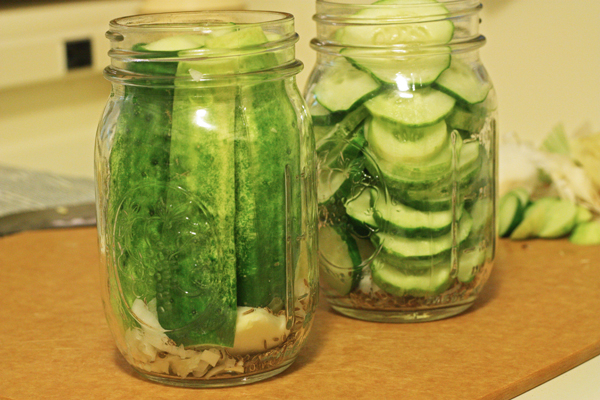 I wanted to experiment with different pickles shapes, so I tried both spears and hamburger chips. Both shapes take the brine easily and are quite delicious, but I think I like the hamburger chips a teensy bit more. Try whatever shape makes you happy.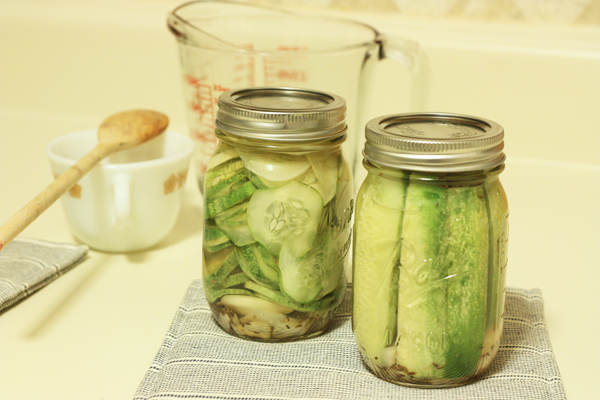 This particular recipe is not designed for shelf storage, but the two-jar batch won't take up much real estate in your refrigerator. Plus, they won't be there long anyway. Crisp, fresh, and just a little bit spicy, I steal one from the jar almost every time I open my fridge.
Once your jars are ready and your cukes are sliced, a brine is boiled briefly before it is poured into the jars. After 2-3 days of curing in the fridge, you'll have your very own homemade pickles. Just like that.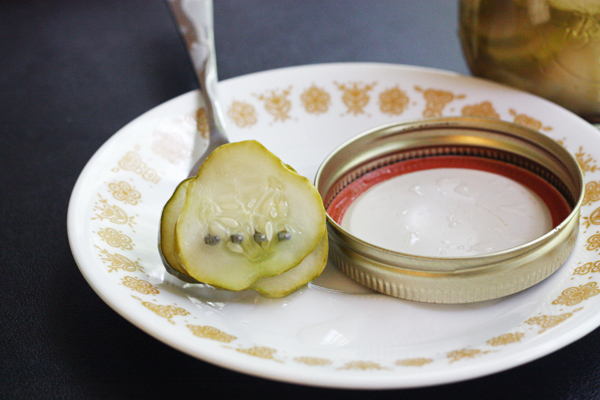 Refrigerator Garlic Dill Pickles
Adapted slightly from Food in Jars
Makes 2 pints
A note about storage: The original recipe indicates that these pickles will keep for about a month in the fridge. I haven't had mine that long yet, but I'm hoping to keep one jar to see how long the pickles actually remain crunchy. Several comments on that original recipe indicate that refrigerator pickles can last 3-4 months. We'll see what happens.
1 1/2 pounds of pickling cucumbers (about 4-6 cucumbers)
4 cloves garlic, peeled
1/4 c white onion, chopped
2 tsp dill seed
3/4 c + 2 T apple cider vinegar
3/4 c + 2 T filtered water
2 tsp sea salt
Clean two pint jars with new flat lids. In each jar, place two cloves garlic, half of the onion (about 2 T), and 1 tsp dill seed. Slice off the ends of each cucumber, as this will help keep the pickles crisp after the brine is added. For hamburger slices, slice cucumbers about into chips about 1/8″ wide. Or, slice cucumbers into spears if you prefer. Pack cucumbers into jars tightly but without crushing the cucumbers, leaving about 1/2″ of space between the cukes and the top edge of the jar. Place jars near the stove on potholders.
In a medium sauce pan over high heat, combine vinegar, water and salt. Stir until salt is dissolved. Once the mixture comes to a full rolling boil, remove it from the heat and pour immediately into the jars, leaving about 1/4″ of space at the top of each jar and ensuring that all cucumbers are covered. Place lids tightly onto jars and allow to cool to room temperature. Once cool, pickles should be moved to the refrigerator to cure for 2-3 days.