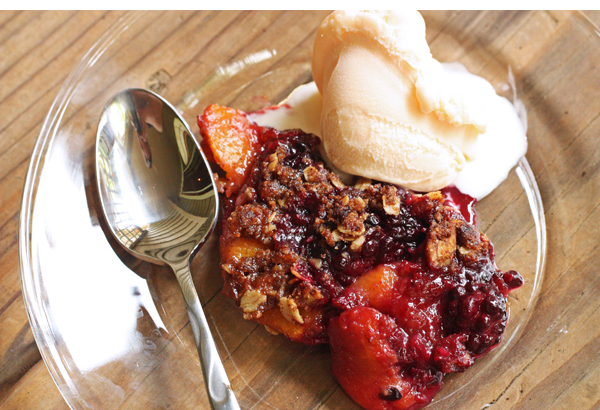 Oh, happy day. Happy glorious day, I've arrived in Colorado! And I'm about to go off the grid.
Four days waaaay up in the Rocky Mountains with no phone service, no interwebs, not even electricity except for three hours every evening.
I cannot wait. There's nothing quite as refreshing as few days without a single moment looking at a screen.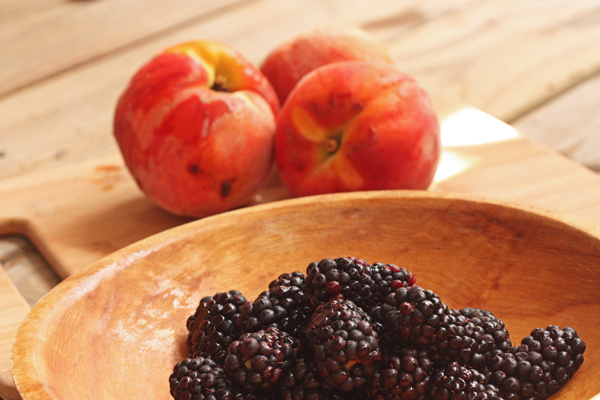 But! I did want to leave you with a summery dessert to savor during this heat wave. Using two fruits that simply scream "SUMMER!!" (can you hear them?), it comes together quickly and easily and most importantly, it doesn't require too much oven time. I know, I know, hot dessert during a heat wave?? Just wait, the heaping scoop of vanilla ice cream melting on top of it makes it worth the 20 minutes your oven will be on.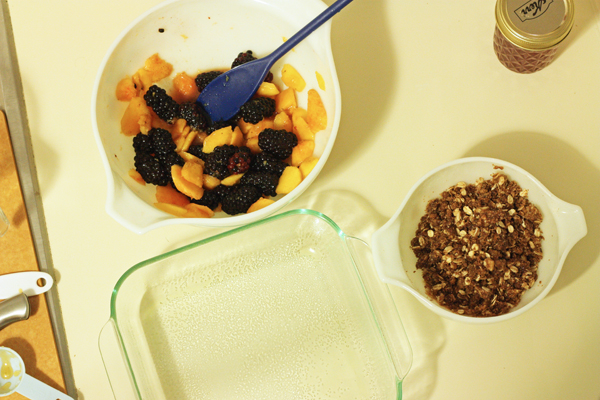 Sidebar: I don't know if this is more like a crisp or more like a crumble. Which is why I renamed it. Crumblecrisp. I think if I was a character in Harry Potter that would be my last name. Matilda Crumblecrisp. Or something. Maybe she owns a bakery with a magical oven that doesn't heat up the house.
This dessert finds just the right balance between tart & sweet, between fruity & crispy, between hot & cold. Plus it's so pretty! As they cook, the golden peaches stain to a luscious orange with the help of the heated purple berries.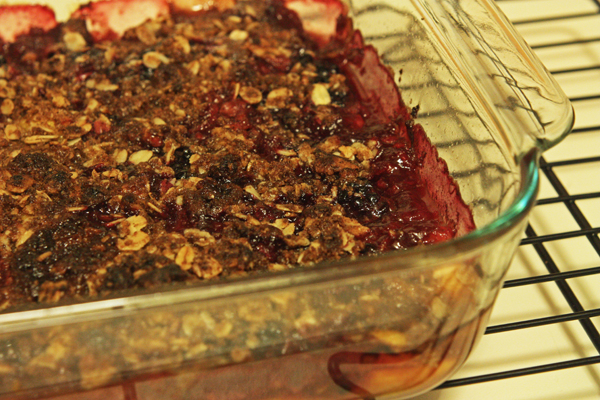 Pop this sucker out of the oven and scoop a spoonful onto a pretty little plate coupled with the absolutely necessary vanilla ice cream, and you're in for a race against the rapidly melting ice cream. It won't be long before the whole dang pan is going…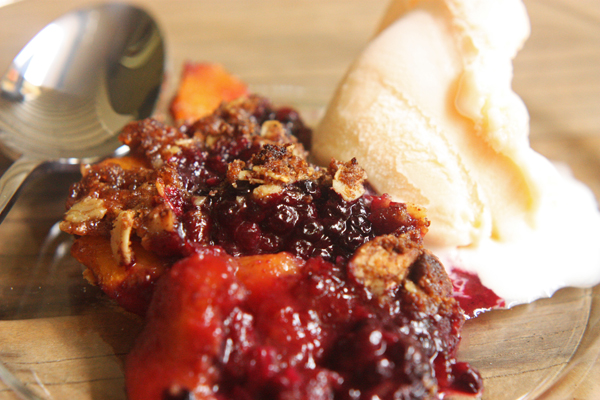 …going…
…gone.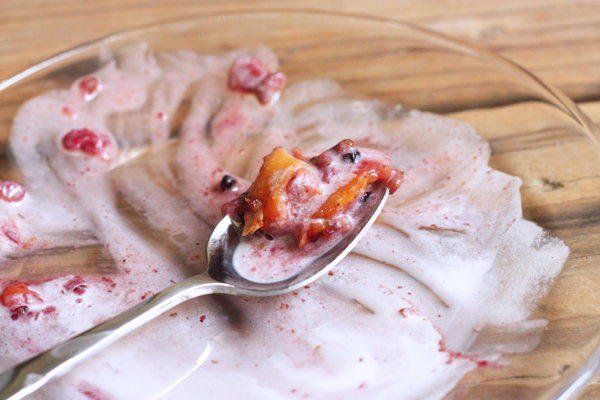 See you in a few days!
Blackberry Peach Crumblecrisp
Adapted from Epicurious
1 1/2 c fresh blackberries
1 1/2 c fresh peaches, peeled & sliced
2 T orange juice
1 tsp vanilla extract
1/3 c whole wheat flour
1/3 c rolled (old-fashioned) oats
1/4 c brown sugar
2 T canola oil
1 T honey
1 1/2 tsp cinnamon
scant 1/4 tsp nutmeg
Preheat oven to 375 ºF and grease an 8″x8″ baking dish. In a medium mixing bowl, combine blackberries, peaches, orange juice, and vanilla. Mix well. Fruits will begin to juice, and this is fine.
In another bowl, combine remaining ingredients. Mix together using your hands or a fork until a crumbly texture is achieved.
Spread fruit mixture over the bottom of the baking dish. The blackberries have a tendency to clump, so feel free to place them evenly around the dish. Sprinkle crumble mixture evenly over the fruit. Bake for 15-20 minutes or until the fruit is bubbly and the crumble topping is crisp.
Remove from oven and allow to cool on a rack for 5 minutes. Serve with a dollop of vanilla ice cream.