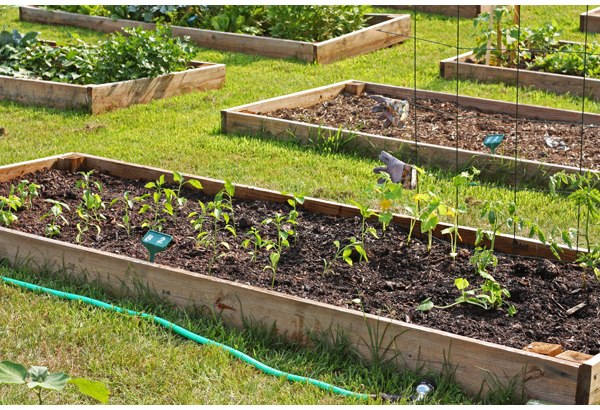 Three weeks ago, I finally gained access to a few square feet of earth to grow some of my own food.
Buuuuuuut then I spent the next 15 days traveling, working extra shifts, and spending time with my parents on their visit to the Tar Heel State.
Last weekend, though, I finally knew I'd have an afternoon to plant!
I just had to decide what to plant.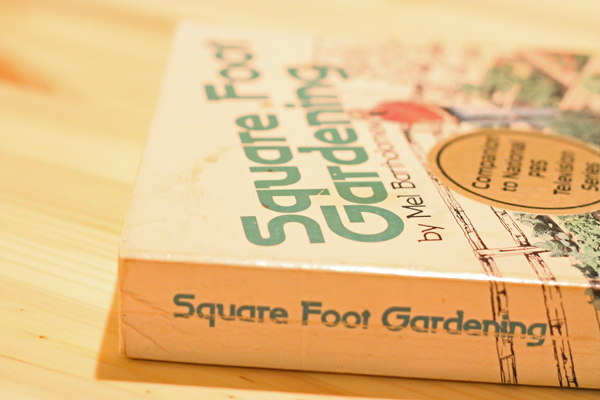 The first step, before any little green things could start growing my my 10'x4′ plot, was to make a plan. Brad chuckled that my obsession with organization was to blame for this, but it's actually both important and common to plan out the garden well before any seeds or plants are obtained. Traditionally, gardens are planted in long rows with furrows in between for watering, which works very well for large plots but doesn't really benefit a gardener with just a few square feet. So I borrowed a book from my dad called Square Food Gardening, by Mel Bartholomew.  Square Foot Gardening is a guide for organizing these smaller spaces to maximize the available soil without packing plants in too closely and limiting their growth.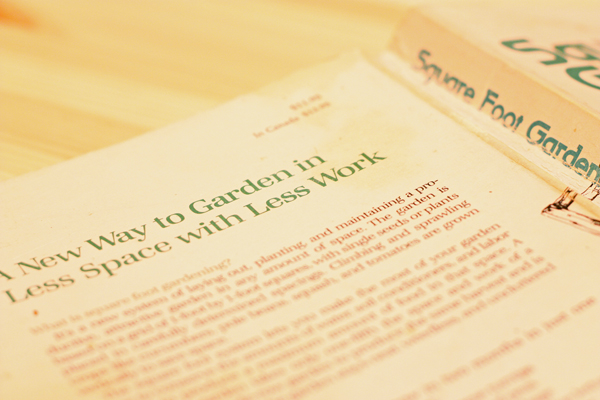 Next, I found a very useful page on the North Carolina Cooperative Extension website with a year-round calendar of the best timing for seeding, transplanting, and harvesting all manner of vegetables. I wonder if I'll ever get used to living in a place where there is more than one option for planting: in Colorado, gardens are planted as late in the spring as possible, and then fingers are crossed in hopes against a surprise freeze. I made a list of the recommended varieties for a June planting and made my rounds at the farmers market nursery vendors.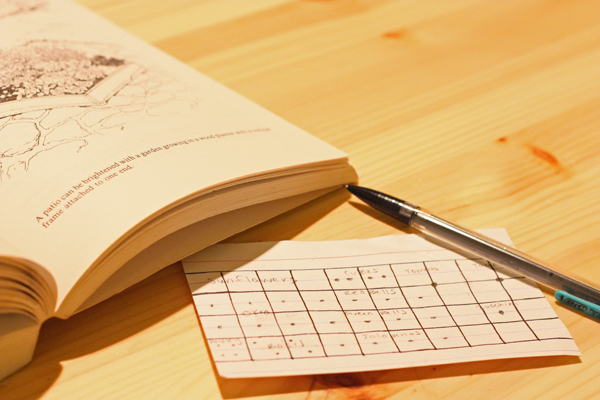 Then I mapped out (literally, see the notecard?) every square foot of my little garden. Maybe Brad's right about that being a little obsessive. Anyway, wanna know what made the cut?
Tomatoes, cucumbers, zucchini, red & green bell peppers, jalapeños, basil, parsley, okra, and for fun, sunflowers!
Since mid-June is actually rather late for the North Carolina planting season, I went with mostly transplants rather than direct seeding and opted for plants that tend to like really hot weather. The sunflowers I'm trying from seed, mostly as an experiment to see if I can actually get them to grow to maturity. If it works, I should have a crop of gorgeous, mixed-color sunflowers just in time for autumn.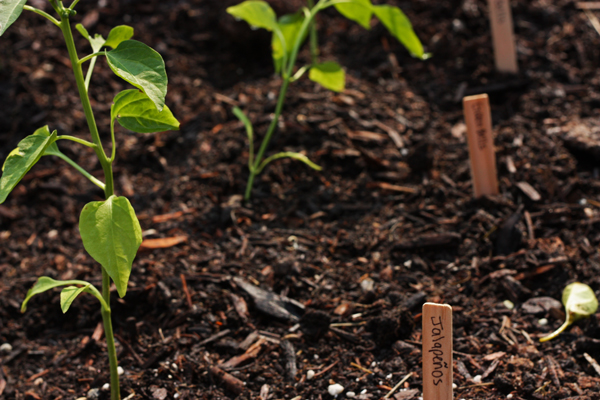 So here we go! These little plants are now depending on me, my watering schedule, and the sun to stay alive. I'm trying to remind myself that this is the first garden I've attempted to grow by myself, and I'm likely to make many bonehead mistakes this summer. There will be tragedies. Plants will die, bugs will attack, and weeds will sprout. But I think there will also be victories. Ripe vegetables. Beautiful blooms. Whatever happens, I'm thrilled I have the chance to learn.