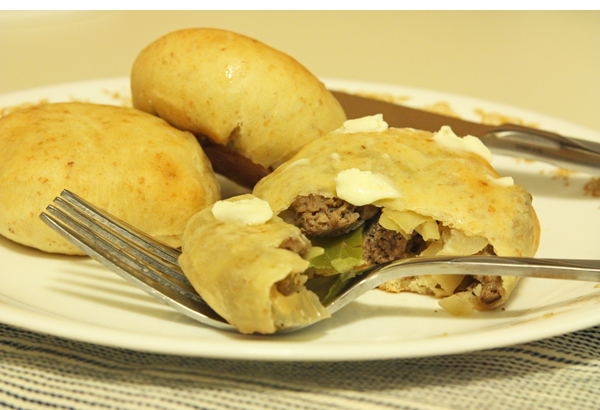 At all of the various jobs I have held in the last several years, I've packed my lunch almost every day.
Sometimes I take leftovers, sometimes a sandwich, sometimes a bizarre assortment of whatever I can grab from the fridge or pantry in the morning as I'm rushing to leave my apartment and make it to work on time.
Bierocks, however, make fairly regular appearances on my lunch menu, and they also tend to illicit the most curiosity from my colleagues.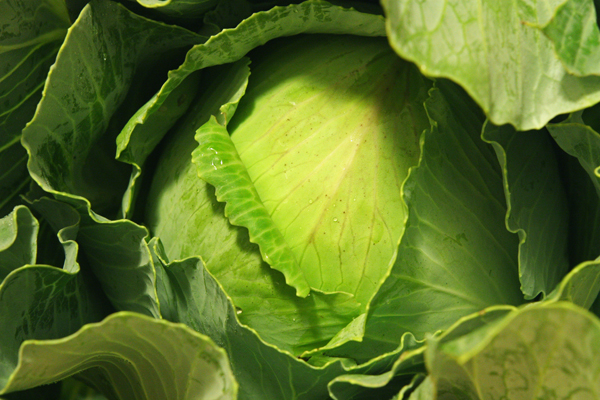 You're probably asking yourself the same question my colleagues did: what the heck is a bierock? As a kid, I interpreted them as German egg rolls. That was… incorrect. So I did a little research: pretty much everyone seems to agree that they are "meat turnovers" originally from Eastern Europe, most likely Germany or Russia. The recipe  I modified is titled "German-Austrian Bierocks", so who knows. They are definitely NOT fancy; in fact, they're about as close to peasant food as you can get. I mean, they are basically little pouches of simple bread dough filled with cabbage, onion, and ground beef.
But each little wonder is warm, savory, and filling: right in line with what I usually crave for lunch. Better still, bierocks freeze amazingly well, and since each batch makes almost four dozen of them, they are perfect for days when I need to pack lunch quickly but don't have anything else prepared. Homemade frozen meals without all the packaging and bizarre preservatives. Brilliant!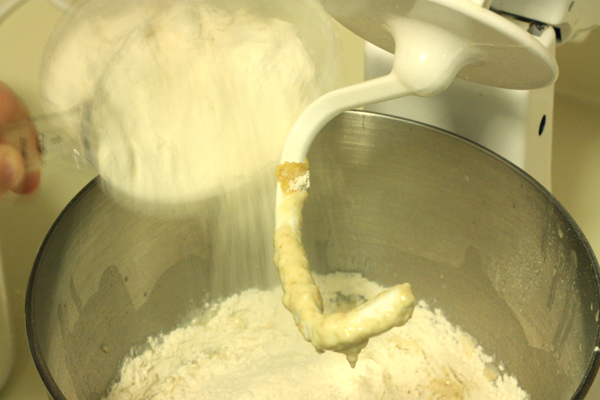 I think you should make some. They're tasty! But, they are a bit of a process, so think of this more as a food preservation project than making an evening meal. I rarely actually eat a single one of these the same day I make them.
The first step in making bierocks is to make a nice, savory bread or roll dough.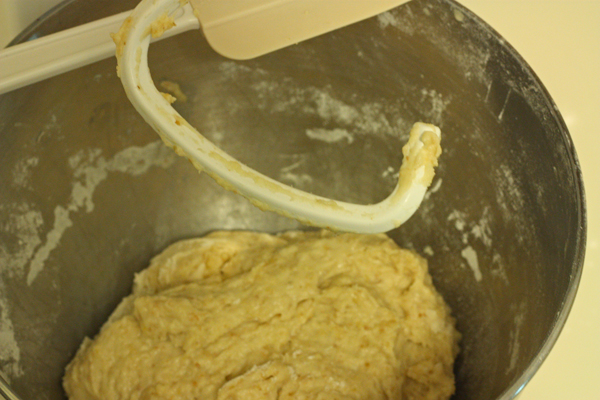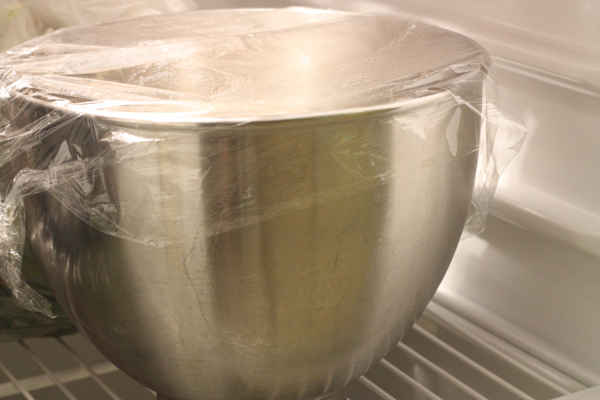 Oddly, the bierock recipe I inherited doesn't actually include instructions or ingredients for the dough that surrounds the hearty heaps of filling. The dough I use is a refrigerator dough that can be made up to five days in advance. It requires minimal kneading, and it makes just enough dough to use up the filling.
Which brings us to phase two: filling!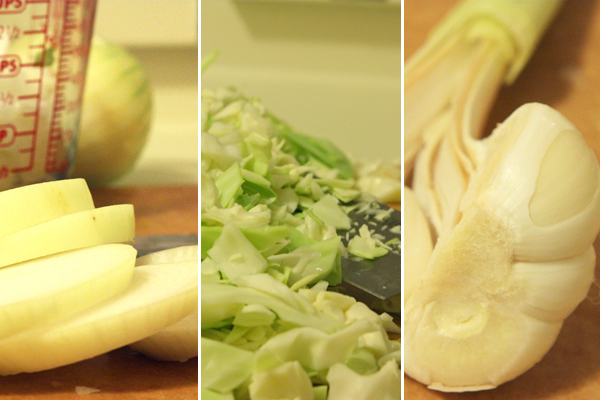 Feel free to be creative with the filling. Season it however you want. But whatever you do, make sure you use a large pan. The biggest one you have. The cabbage will cook down, I assure you, but it has a lot of bulk when it's raw, and you will need to stir the mixture. Plan ahead.
I would have posted a picture of the filling, but let's face it… there's just not many ways to make a bowl full of limp cabbage look that interesting.
Moving on.
Construction! The fun part!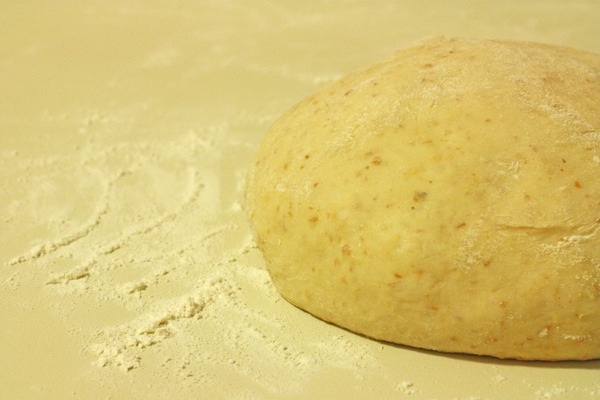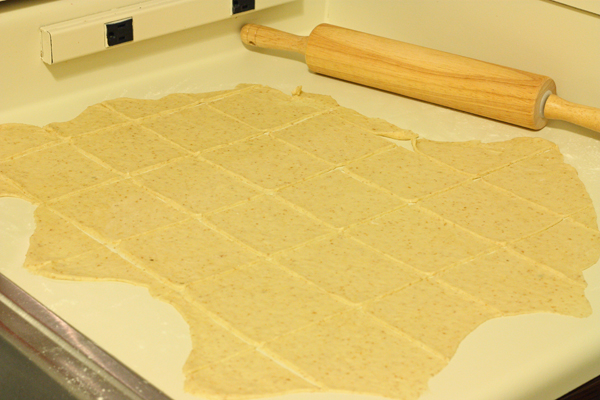 Every time I make bierocks I always panic when I roll out the first batch of dough. I'm not going to have enough. I'm going to run out of dough and have a heaping bowl of filling leftover. Will I need to make more? HELP!
It's not a pretty moment. I want to help you avoid one like it, so don't panic, just roll the dough out as thin as you can. Mine is less than an 1/8″ thick.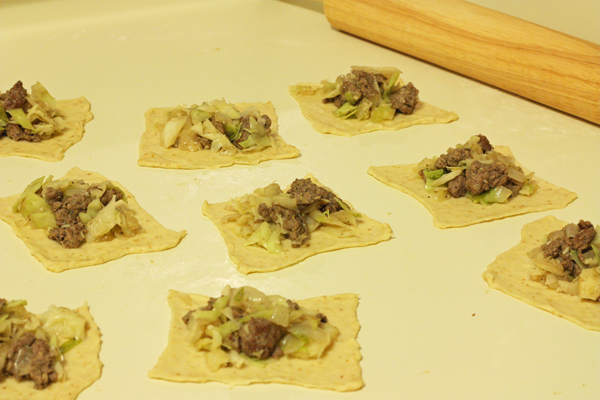 One by one, you'll construct your little bierocks. It will take some time. If you have a TV and can see it from the kitchen, pop in a movie. I watched Wall-E. It was awesome, as usual.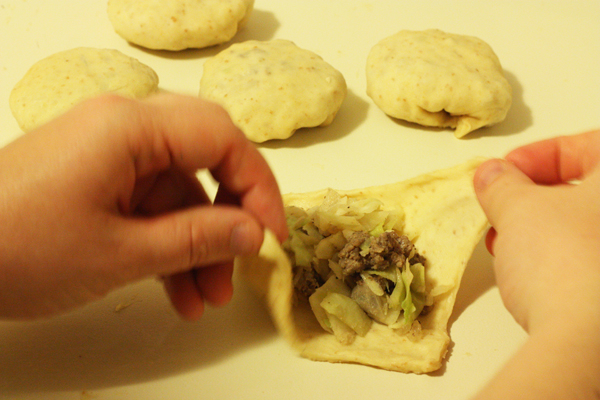 Once the bierocks are built, just pop 'em in the oven and voila! Lunch for weeks!
Is this a time-intensive project? Yes. Does it take a little finesse to construct each bierock? Yes.
Are they totally and completely worth the effort?
Um, yes. Try some, a reap the rewards. Enjoy!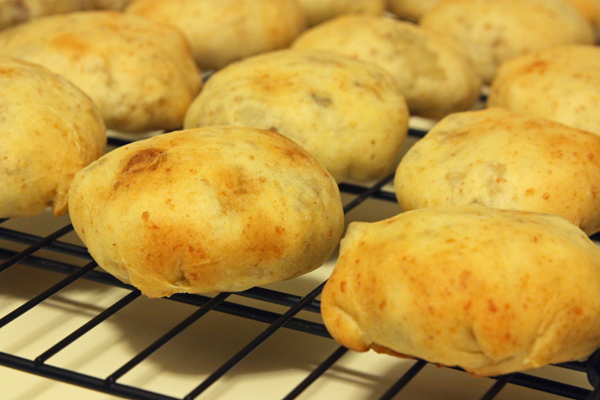 Bierocks
Adapted from two different recipes from my Grandma Emma
Makes 40-45 bierocks
For the Dough
1/3 c canola oil
1/2 T salt
3/4 c warm water
1 packet dry yeast dissolved in 1/4 warm water (this is in addition to the 3/4 water already called for)
2 T white sugar
1/4 c wheat germ
1 egg
3+ c all purpose flour
Dissolve yeast in 1/4 c warm water and set aside. In a large mixing bowl, combine oil, salt, warm water, yeast mixture, sugar, wheat germ, and egg until thoroughly mixed. Add flour one cup at a time, stirring after each addition. Dough should be moist but not too sticky. Add additional flour a little bit at a time if needed. Cover bowl with plastic wrap and place in the refrigerator for at least two hours before using.
The dough can remain in the fridge for up to five days, so it's fine to make this a day in advance.
For the Filling
1-2 T oil
1 lb ground beef or turkey
4-5 c chopped onion (2-3 medium onions)
7-8 c chopped cabbage (1 small head)
1 head garlic, peeled and minced
1 tsp salt
1 tsp black pepper
1 T Worcestershire sauce
In the largest saute pan you have, heat oil over medium heat. Add ground meat, half of the salt, and half of the pepper and brown. Once the meat is fully cooked through, add the garlic, onion, remaining salt & pepper, and Worcestershire sauce. Cook until onions begin to caramelize. Add cabbage and stir. Cover pan and simmer until cabbage is soft. Empty the filling mixture into a colander in the sink. Let the mixture drain and cool while you prepare the dough for bierock construction.
Constructing Bierocks
Grease or line with parchment paper at least two large cookie sheets. Divide dough into two halves. Return one half to the mixing bowl and cover. On a floured surface, lightly knead the first half of dough until it is floured enough that it won't stick heavily to the surface. Roll the dough out so that dough is 1/8 – 1/4 inch thick. Gently slice the dough into squares 3-4 inches long on each side. Outer edges and incomplete squares can be removed and returned to the remaining dough to be rolled out in the next batch.
When filling mixture has cooled to room temperature, sample it and adjust seasoning to taste. Peel one square at a time from the floured surface and gently stretch, returning it to the surface on the opposite side of the square. Add 3-4 tablespoons of filling to the dough square. Bring two opposing corners of the dough together over the filling and press corners together. Repeat with the remaining corners and ensure that there are no holes in the dough, adding additional filling if desired through the final corner prior to completing the seal. Place bierock onto the cookie sheet seal-side down. Continue making bierocks with all d0ugh and filling. If dough is rolled thinly enough, you should run out of filling right before you run out of dough.
Bake at 350 ºF for 18-22 minutes or until tops of bierocks are golden-brown. Remove to a cooling rack.
If serving immediately, brush with butter before serving. If freezing for storage, place bierocks on a cookie sheet and freeze until solid. Then, transfer bierocks to a freezer safe bag or container.