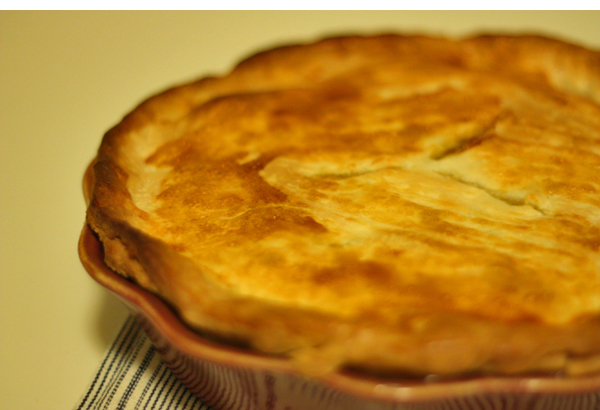 Okay, before I dive into this one, I need a favor. I have a bit of bloggie housekeeping to take care of, and it's a bit embarrassing. Long story short, I recently installed a plug-in affecting the feed that I didn't realize I needed when I initially launched the site. Sooooo if you have subscribed to the RSS feed, I would very much appreciate it if you would unsubscribe… and then resubscribe again and refresh the reader. Live and learn, I suppose. I appreciate your help!
Now to the tasty business.
This may be a staple comfort food for some of you, but I don't think I ever had chicken pot pie until Brad insisted I try some of the Marie Callender one he had one night in college.  I was… not particularly wowed.
This recipe changed all that. I my original intent  in seeking out this recipe was as a surprise look-I-made-you-one-of-your-favorite-meals-ever dinner after Brad's first round of law school exams. The look on his face when I finally let him out of the study (wouldn't be a very good surprise if he could see what I was making, would it?) was like a six-year old's at Christmas.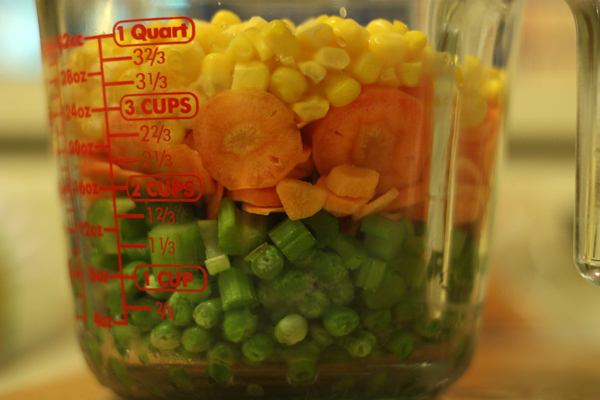 The original recipe I found for this claimed to make one 9-inch pie. With the adjustments I made, I have ended up with TWO 9-inch pies both times I've made it, which yields delicious homemade lunch for the next few days.  Tasty lunch, too. Also, it's very flexible to veggie preference. Prefer potato over corn? Broccoli over peas? Both or either would probably be delicious. I like the crunch offered by the celery and the carrots, so I definitely recommend leaving them in if you're gonna play mix-and-match, but it's your pie, do what you like. Within reason…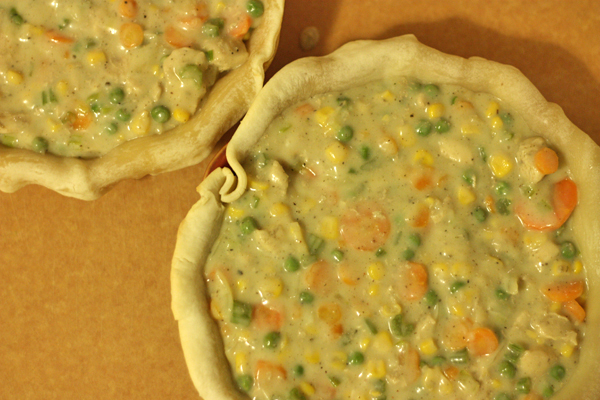 A word of caution: the filling (in its deliciousness) will look REALLY runny. Like, cream soup runny. Resist the temptation to set aside some of the gravy. I tried that the first time, and I only ended up adding it back on top as a drizzle when it was time to eat. Once you slice into the pie, it's amazing how quickly all that liquid seems to disappear with a chance to cool, so keep the liquid when you're filling the pies.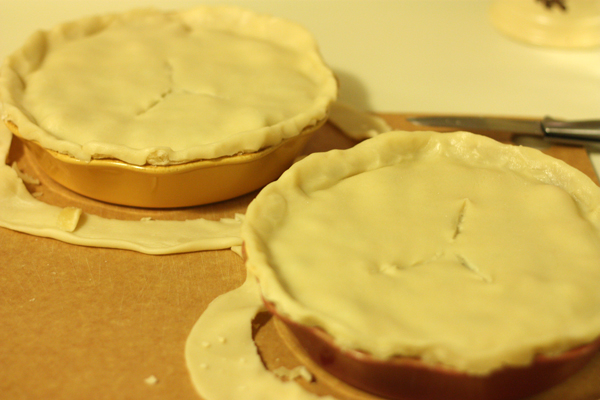 Also, learning to make my own pie crusts is definitely on my lists of things to do. But it's not done yet. So these are from the store. I'm over it.
Pop these babies in the oven, and 35 minutes later, you'll be staring at dinner. It is good to let it rest for 10-15 minutes to let the gravy set up a bit, though the first slice out of the pie plate is still going to be quite runny. A sixth of the pie makes a great meal for me. Brad wants… a bit more on his plate.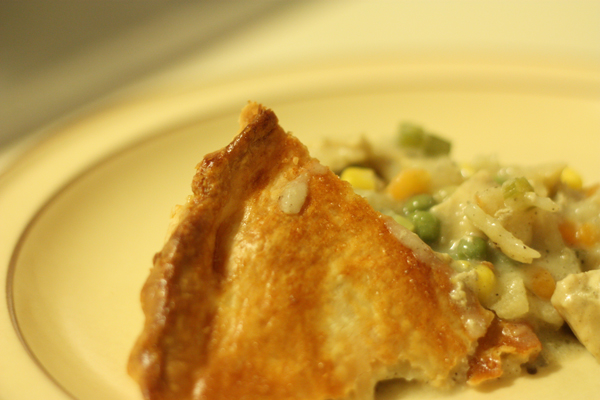 Chicken Pot Pie
Adapted from Allrecipes
Makes two 9-inch pot pies
This recipe does take a couple of hours from start to finish, but the many leftovers we get out of that time makes it totally worth it. However, if days of leftovers aren't your thing, and if you don't live with a chicken pot pie vacuum like Brad, halving this recipe for a single pie might be a good choice for you.
Veggie Mixture
4 c veggies (I recommend peas, celery, carrots, corn)
1 lb chicken breast, chopped
1 tsp poultry seasoning
½ tsp garlic powder
chicken stock, enough to cover the veggies/chicken in a pot
Gravy
½ c butter
1 c onion, diced
½ c flour
½ tsp salt
½ tsp pepper
½ tsp garlic powder
¼ tsp poultry seasoning
1 c milk
2 c chicken stock, reserved from veggies/chicken
Crusts
Two packages of refrigerated pie crusts, or enough of your favorite homemade pie crust to make two 9-inch covered pies
Chop all veggies for the filling (not the peas, for obvious reasons) and the chicken and dump them all into a large pot. Pour in enough chicken stock to cover the veggies and chicken. Add poultry seasoning and garlic powder and stir. Cover and bring to a boil, then boil uncovered for 8-10 minutes or until chicken is cooked through. Drain in a colander over a bowl to save the liquid. Return veggies/chicken mixture to the pot and set aside.
Melt butter on medium-low heat in a medium sauce pan. While butter melts, chop onions. Once butter begins to bubble, add onions and sauté until onions are tender. Stir in flour, salt, pepper, garlic, and poultry seasoning and stir until combined. Slowly add milk and 2 cups of the broth you reserved. Stir until smooth. Sauce will begin to thicken. Simmer until sauce resembles a thick gravy, then remove from heat and set aside.
Place pie crusts in bottom of slightly greased 9-inch pie plates. Brush the lower crusts with lightly whipped egg white and heat in the oven for 3-4 minutes to cook the crusts slightly. Pour gravy into the pot with the veggies and chicken and stir until combined. This is that moment when you'll try to talk yourself into keeping some of the gravy aside… don't listen to that little voice, pour it all in! Remove crusts from oven and add filling to each. Drape top crust over the pie and seal the edges with your fingertips. Make 3-5 slices in the crusts to allow venting, then brush the crusts with egg white. Bake at 400 ºF for 35 minutes or until crusts are golden brown. Remove from oven and let pies sit for 10 minutes before cutting pies into sixths. Serve. Eat. Melt with happiness.