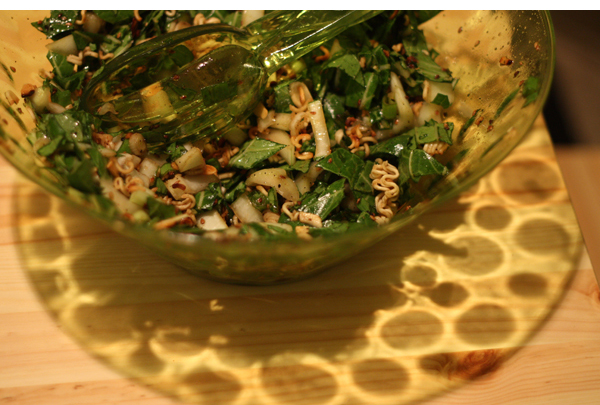 Mmmmm spring. The time when my cravings for cool, green salads kicks into full gear. Lucky for me, the tables at the farmer's market are bowing under the weight of every kind of lettuce, cabbage, chard, and shoot I could possibly want. In fact, here, we are lucky to have two major growing seasons for leafy greens, as well as a fair amount all winter. It's fabulous.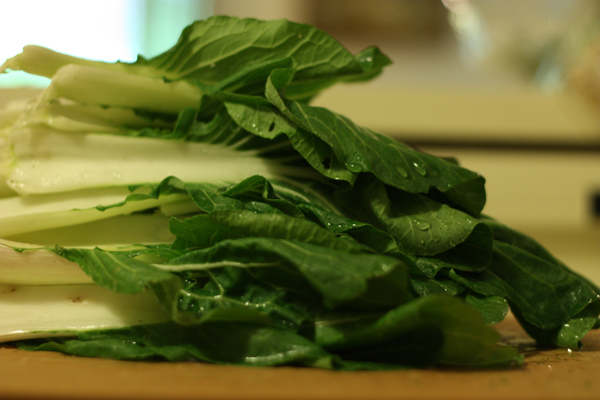 Bok choy is actually a pretty new leafy green for me, introduced to me in this recipe from Brad's mother on their visit last fall. For some reason, I've made it with lasagne both times we've had it. It makes a great side for pasta.
Sidebar: if you don't already know who Brad is, I should probably bring you in the loop since he'll probably be mentioned a lot here. I really hate the word "boyfriend" (for some reason I always think of giggling tweens when I say it) but it's a challenge to find an accurate word for what he is to me. Domestic partner? Significant other? Un-wed spouse? Romantic roommate? Best best friend? Anyway, you get the point.
I digress. The bok choy.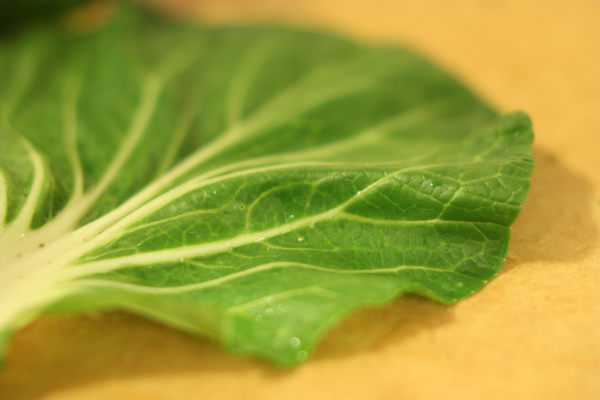 Ah, yes. These leaves could seriously be ambassadors of all things leafy. Represent, Leafy Goodness.
If you are having trouble finding it, bok choy apparently dons several alternate spellings: pak choi, bok choi, pak choy, and chinese cabbage. Both the leaves and the stalks offer a fresh crunch. Add to that the sauté of almonds, ramen noodles, and sesame seeds, and you're in for a lot of texture. Mysteriously, this salad still remains relatively crunchy as next-day leftovers, a definite plus.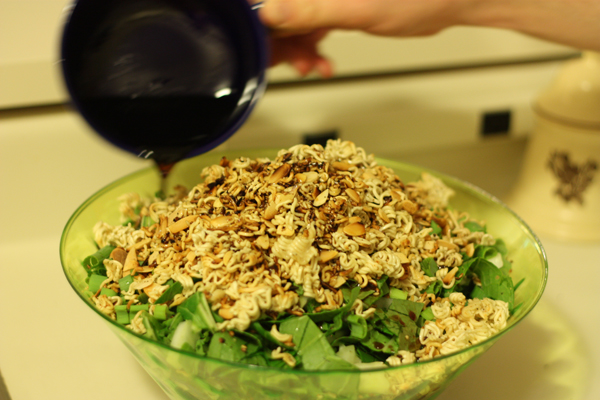 This salad is basically constructed in three parts: dressing, greens & scallions, crunchy starchy business, and dressing. I recommend preparing them in that order so your dressing has time to cool before you toss everything together.
Go on, try it! You'll be glad you did.
Crunchy Bok Choy Salad
Adapted from Mindy T.
Dressing
3 T soy sauce
1/2 c sugar
1/4 c rice vinegar
1/2 c oil
Combine all dressing ingredients in a small sauce pan over medium-low heat. Bring to a boil, stirring occasionally. Boil for exactly one minute. Remove from heat and place in refrigerator to cool.
Greens
1-2 heads bok choy, roughly chopped
4-5 full scallion stalks, chopped
Separate bok choy stalks and wash. Chop into bite-size pieces. Repeat with the scallions. Drain in a colander and spin or towel off extra water. Store in refrigerator until ready to serve.
Crunchiness
1-2 T oil (for sauté)
2 packages ramen noodles, broken up (Do NOT use the seasoning. Unless you want salad that tastes that chicken soup. Bad news.)
1/2 c sliced almonds
1 oz sesame seeds
1/2 T garlic powder
Heat oil in a fry pan or sauté pan. Combine ingredients in pan and stir occasionally. Cook until noodles and almonds begin to brown. Remove from heat to a room temperature bowl to prevent burning.
Combine dressing, greens, and crunchiness right before you are ready to serve.