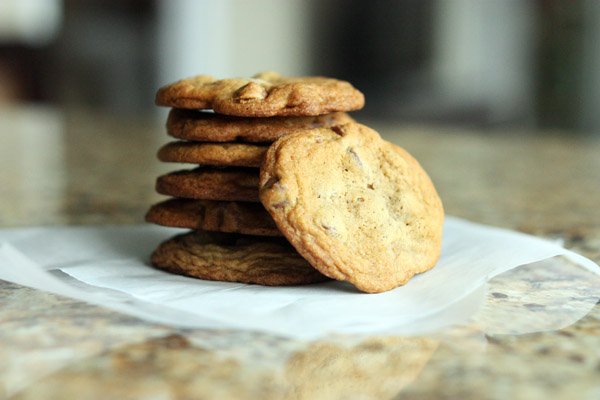 Friends, I have a confession.
A lot of the recipes I post on this blog are ones that I cook quite often. Lots of dinners, side dishes, breakfasts, and even desserts that you've seen in the last three years make regular appearances in my kitchen or in the kitchen's of friends and family when I'm visiting. It's actually pretty convenient to have my very own personal recipe book at my fingertips in any kitchen, grocery store, or farmers market that has data or free wifi.
But I've been holding out on you. I haven't shared with you one of the treats I cook most often, a recipe that I know so well I haven't looked at the recipe card in years, a recipe that continues to be Brad's most-requested dessert.
My mom's chocolate chip cookies.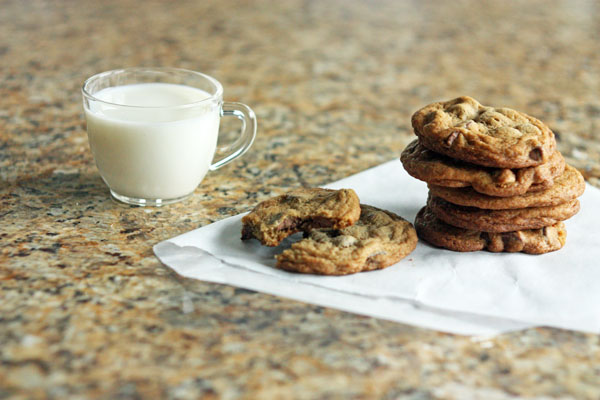 My mom has been baking these cookies since long before I was born, and truth be told, they've gained rather a lot of fame at the staff meetings, potlucks, and holiday gatherings in her little corner of Southwest Colorado. This is also one of my mom's memorized recipes, complete with a snappy little mnemonic jingle that I learned growing up and use to this day to remember the order of ingredients.
So why wasn't this recipe at the top of my list to share when I started this blog? I've shared numerous other treasured recipes from my childhood: Almond Toffee, Lasagne, Favorite Party Mix, to name a few.
Here's the truth. Most of my life, my mom used butter-flavored Crisco for her magical chocolate chip cookies. And while I had tried using butter and liked the results, it just felt odd to make such a vast departure from her recipe and then post it as "hers". Irrational? Probably. But it held me back. I was writing a blog about eating less-processed, locally sourced ingredients. Butter-flavored Crisco is none of those things.
But then, a few months ago, my mom informed me that she had switched to butter for her cookies. Liberation! Now I could honor this, my "Mom's recipe", without the mysterious yellow shortening. I'm so excited to finally share these with you. Read on »