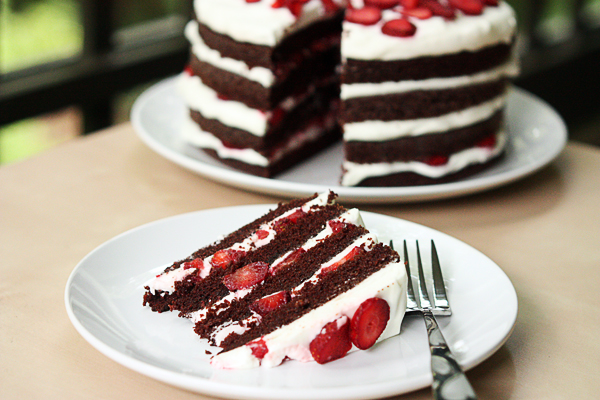 A little over two months ago (gah, has it already been that long?) one of Brad's friends from law school invited us over for a dinner with him and his wife, and we were asked to bring dessert. I had a busy week at work, so Brad volunteered to make our contribution. How kind of him to volunteer to prepare a dish to represent us at a dinner with his friends, yes?
*twitch* *baking-control-twitch*
It really was very nice of him. But you see I have this slight love of baking cakes, and the night before the dinner, I my control-freak-baking-nature took hold. I wanted to make something easy, tasty, and pretty, and I wanted to make it now.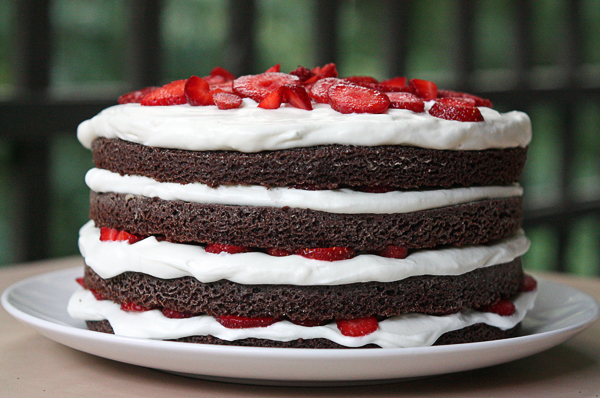 This cake, you guys, is all of the above.
To be honest, I put this combo together the weekend before when testing a final batch of recipes for Scott & Crystal's wedding cake. Enrobed in Swiss Meringue Buttercream, this chocolate cake with strawberries and whipped cream was a favorite and made it into the ceremony cake.
But it's far too good to reserve only for wedding cake. This version is doable in less than 2 hours and doesn't require the effort of icing the exterior. The cream and berries are icing enough, and it makes a stunning, seasonal dessert for dinner parties, summer barbecues, or birthdays.