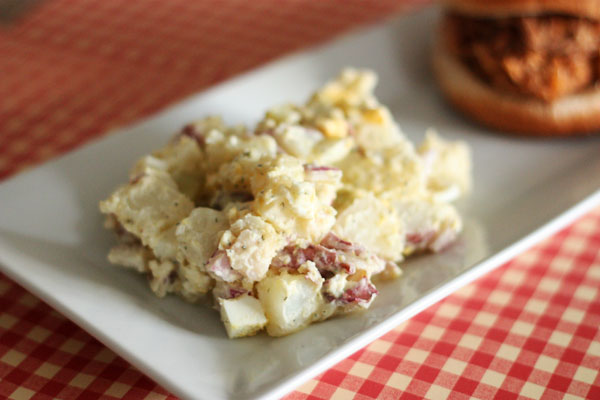 I'm such a sucker for seasons. Each fall, I revel in the last blasts of colorful leaves before they fall to the ground and the first brisk morning that requires a jacket and boots. When winter arrives, the first snowfall leaves me breathless at its beauty. Then, as the days lengthen and spring erupts out of every bulb and tree bud, I wonder how I ever functioned without it. I swear, as appealing as climates like San Diego sometimes feel, I really don't know what I'd do without the anticipation and satisfaction provided by shifting seasons.
At the moment, I'm clamoring for summer. For late evening walks in short-sleeved tees and sunlight after 8pm and COOKOUTS and mini golf. This weekend, after several days of positively gorgeous weather that hinted at the season to come, I quite simply couldn't take it anymore and I pretended it had arrived right in my own kitchen by whipping up a batch of barbecue pulled pork and a simple, delightful potato salad that tastes just like summer.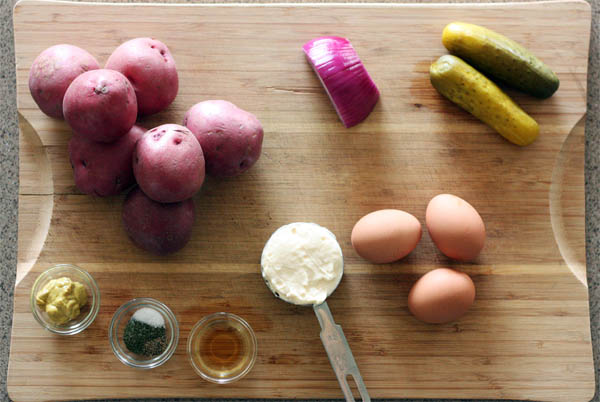 I freakin' love potato salad, and this one checks all the boxes I look for in a ideal scoop. Smooth chunks of potato still in their skins, a tangy assortment of crunchy mix-ins, cool and crisp, and most importantly, LIGHTLY DRESSED. I'm not interested in swimming through an ocean of mustard-flavored mayonnaise to uncover the 2-3 pieces of potato that may be hidden within, thank you very much. Most importantly, this salad is composed of pretty basic ingredients that I almost always have on hand and comes together fairly quickly.