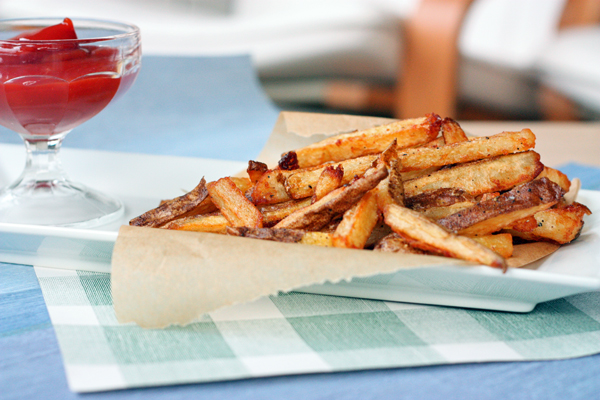 Every once in a while, I come across a recipe for a homemade version of a dish that I've previously classified as "will-never-be-made-as-well-at-home" that blows my mind. It's the culinary equivalent of an explorer uncovering an ancient temple, a researcher finding stunning results, an eager learner having their first philosophical epiphany. I've felt this on a number of things I've shared with you here: yogurt, fresh mozzarella, handmade pasta, beef jerky… all products that, a few years ago, I never would have considered being possible.
Such was my opinion with french fries. I always heard other people talk about making them, but I was firmly convinced that they couldn't possibly be as good as fries I could get from my local burger joint. I'd learned that the best fries are cooked twice: once to actually cook the potato so the inside of the fry is light and smooth, and again to give that light-and-smoothness a crisp outer shell. There was no way I could be bothered to hand-cut my own fries, purchase large quantities of oil, possibly a deep-frier, and then cook TWICE a side dish that I could have exactly perfect in 10 minutes from a dozen restaurants near by.
Folks, I have never been so wrong.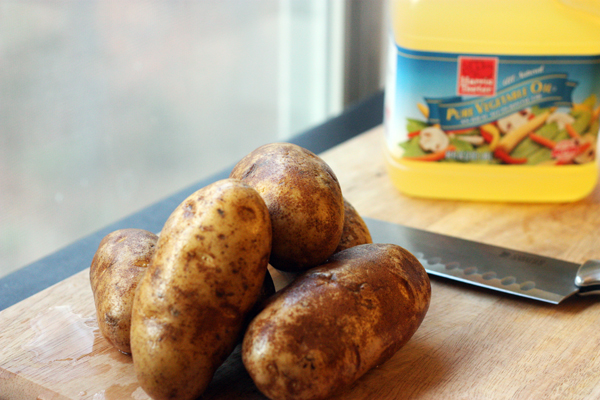 This method, which I've repeated already and plan to again, is SO easy and SO satisfying. No special equipment is required beyond what I'll wager you already have in your kitchen. The ingredients are simple and few. And let me repeat: it is breathtakingly easy.