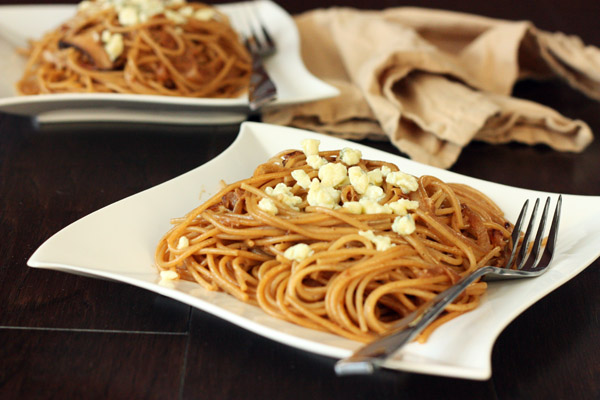 Have you noticed that onion and mushroom pizzas are all the rage these days? It seems that every pizza parlour around now features a caramelized onion pizza topped with mushrooms and pungent gorgonzola cheese. And who can blame them? The rich, sultry flavors of these three ingredients make for an surprising and exciting change from red- or white-sauced pizzas.
But we're not here to talk about pizza. In fact, it was the glut of all these pizzas popping up on menus that made me wonder how the same flavors would work when painted on a different canvas… say, perhaps, a knot of whole wheat pasta?
Caramelized onions are, in my book, one of life's greatest pleasures. From topping crostinis to starring in homemade onion dip, they enrich almost everything they encounter. I've been known to eat them plain, with no cares about the odorific consequences that might ensue. As I expected, they make an excellent base for this pasta sauce.