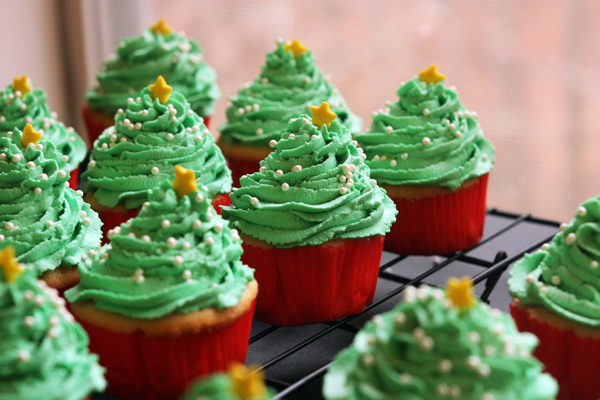 As we move into the final days before Christmas, I imagine that your holiday baking agendas are already full. That's cool. Mine certainly was for my holiday party. Every year, I like to make a mix of old, traditional Horvath holiday favorites and new recipes. One of my favorites from this season are these possibly-overly-cutesy-but-outrageously-delicious vanilla Christmas tree cupcakes.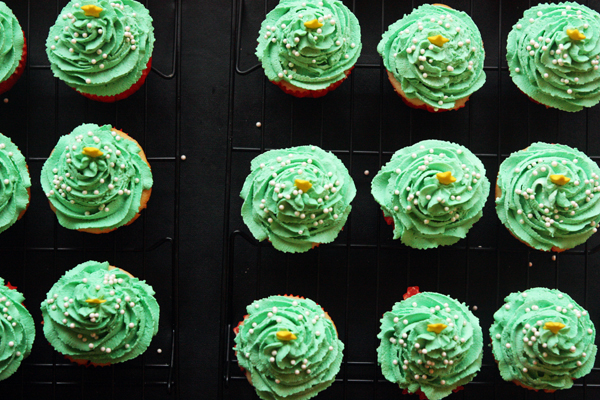 The reallybeautiful thing about this recipe is that it doesn't have to happen at Christmas AT ALL. It's simply a vanilla cupcake with whipped cream icing, and therefore is appropriate in all scenarios in the universe. What, you say, another vanilla cupcake? Doesn't the world have enough of those?
No.
Never.
And these vanilla cupcakes are a step above any I've had before. They are the softest, fluffiest, smoothest, vanilla-y-est cupcakes, and the clouds of simple whipped cream atop them offer just the right touch. What makes these cupcakes better than anything else? A secret ingredient: whipped cream, folded into the batter ITSELF, in addition to the icing that will finish these little bites of heaven.