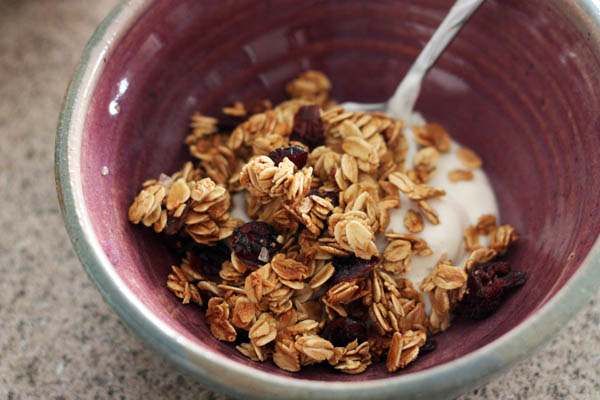 Hi.
I'm finally clearing out the dust bunnies and cobwebs from my little food blog, which has been somewhat abandoned on a shelf for a while while my job has been the focus of my creative energy. The last six months have been exhilarating, exhausting, and exciting, but as a result, I've felt culinarily dead inside. I've been in triage mode: cooking only the fastest and easiest recipes in my arsenal (that is, when I cooked at all) and focusing on meals that made lots of leftovers so I only needed to cook every few days. Finally though, the muse is slowly re-awakening. I am interested once more in trying out new recipes, and more importantly, taking twice as long to make them so I can take pictures of the process to share with you.
But I'm not jumping back into the deep end, exactly. What I needed was some granola, and when I felt pretty meh about the options available in the cereal aisle, I grabbed a canister of oats ran for it, deciding I'd figure something out when I got home. And thanks to my sister's excellent Christmas present, I found the answer pretty quickly: a ridiculously easy granola recipe with only three ingredients. I decided to add a fourth, but only because I had some cranberries in the pantry.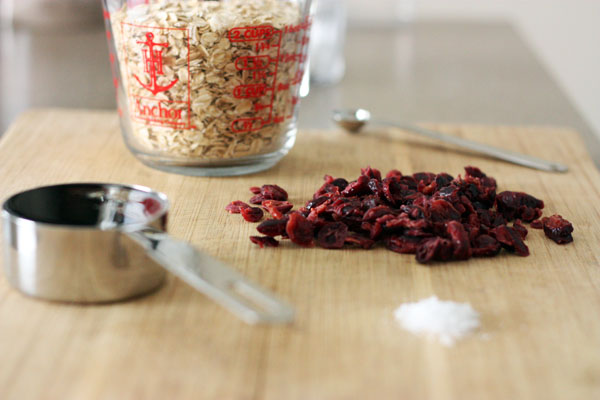 I've made granola before, and I'll be honest, there are a few reasons I don't make it very often. First, I go through phases with yogurt, so it's not something that strikes my fancy very often. Second, it's kind of a hassle to round up all the ingredients. So this recipe, with only oats, salt, and maple syrup, sounded too good to be true. BUT IT ISN'T.