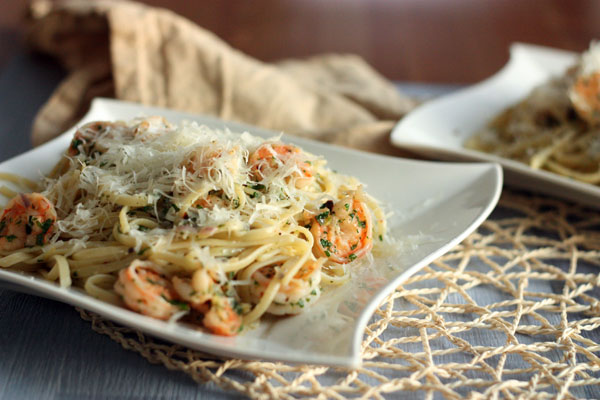 This may not come as much of a surprise. But, when I go on vacation, one of my favorite activities is seeking out and buying whatever edible bounty hails from my destination. And I'm not just talking the best local restaurants: if I can swing it, I try to bring back enough to stock my pantry and freezer. From Phoenix, I toted back a bag of the most splendid grapefruits. From Maryland, a trunk full of apples, pumpkins, and cider. From Wisconsin, a backpack full of cheese, accompanied by an ice pack which thankfully was not confiscated at the airport.
And from our recent weekend getaway to the Grand Strand beaches of South Carolina, I brought back a few pounds of fresh-caught shrimp.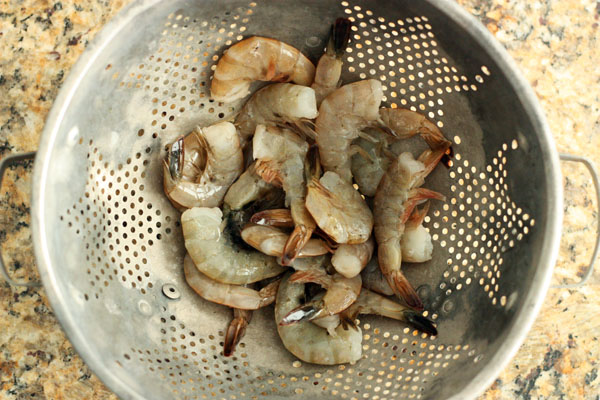 Having grown up in a rather land-locked state, I never had many opportunities to enjoy fresh seafood. Shrimp was always something I liked to eat, but I mostly knew it only in its breaded, popcorn form, or cold and pink around the shores of a cocktail sauce reservoir. With this rare opportunity to buy it right from the waters of the Atlantic, I wanted to try a dish I've been thinking about ever since I was served something similar at a friend's after their own return from their beach house in the Outer Banks: a pasta dish studded with shrimp and lightly coated with a buttery, flavorful sauce.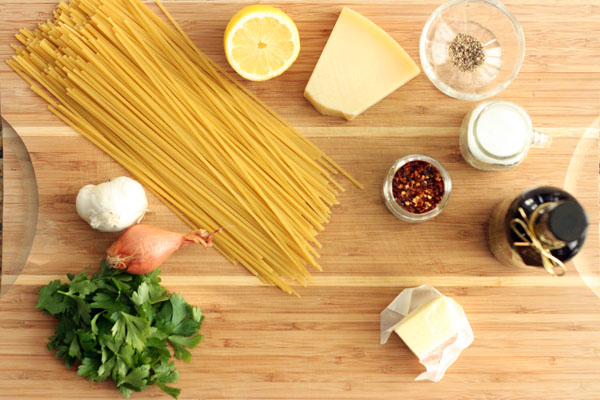 The longest part of making this dish is, BY FAR, preparing all the ingredients. There aren't many, but between peeling and chopping the garlic and shallot, finely chopping the parsley, grating lemon peel and parmesan, and peeling and deveining the shrimp, you'll want to allow yourself at least 30-40 minutes to prep. However, you can knock the time down significantly if you buy shrimp that is already peeled and deveined. Your call!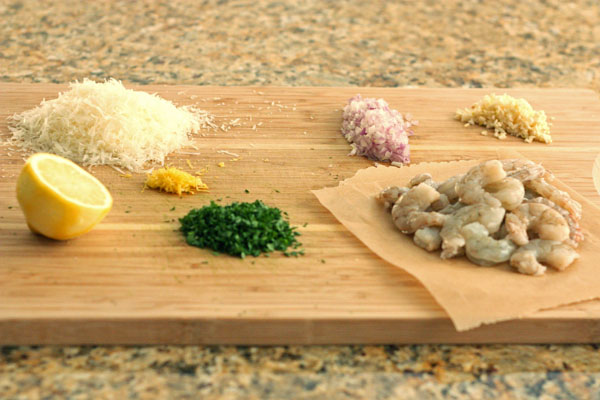 With all the ingredients prepared and the pasta water boiling, it will now be less than ten minutes until you're eating dinner. While the pasta cooks, you'll put together the sauce and cook the shrimp very quickly. But no stress! Super easy.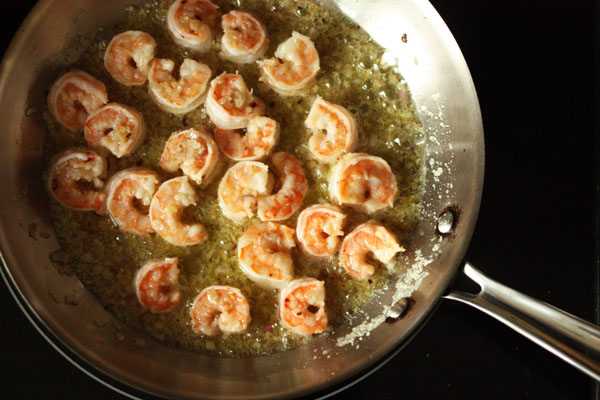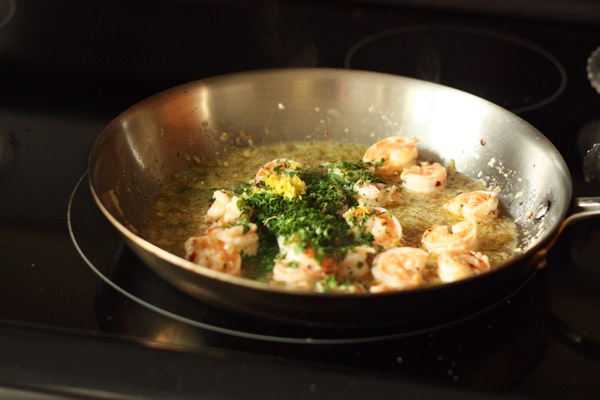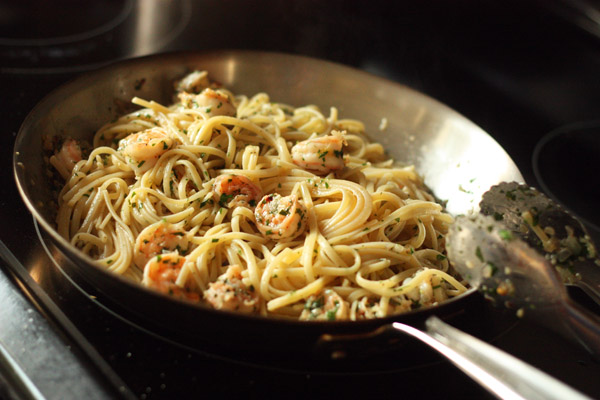 Once the shrimp are cooked just until they are opaque (not much longer or they'll get super rubbery) and the pasta is al denté, just toss them together for a match made in heaven. The shrimp is tender and flavorful, accented by a bit of lemon and parsley. And the linguine is an excellent base for the buttery, garlic-y sauce with just a little kick from the red pepper flakes.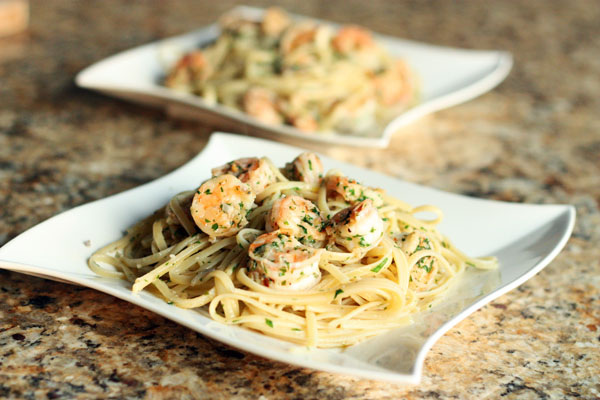 Topped with a bit of parmesan cheese, it makes me wish I could buy fresh shrimp all the time. You can definitely make this with frozen shrimp (and I most certainly will be) but wouldn't it be more fun to just move to the beach where you can buy it fresh daily?
Anyone with me? I can be packed in five!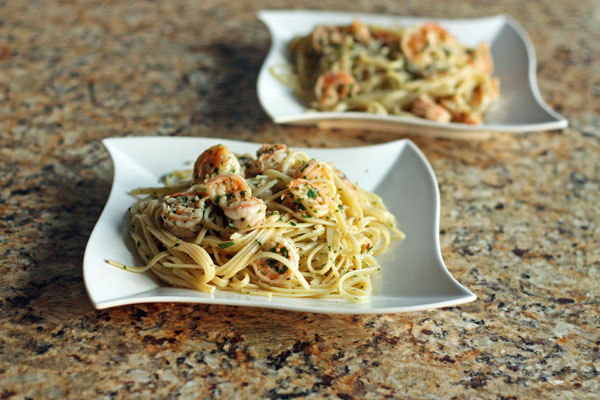 Shrimp Scampi Linguine
Adapted from Ina Garten
Serves 2
1/2 pound linguine
3 T unsalted butter
2 T olive oil
3 cloves garlic, minced
1 shallot, minced
1/4 tsp red pepper flakes
1/2 pound shrimp, peeled and deveined
3/4 tsp salt
1/2 tsp freshly ground black pepper
1 tsp freshly grated lemon zest
1 1/2 T fresh lemon juice (a big squeeze or two from half a lemon)
3 T finely chopped fresh flat-leaf parsley
1/2 c freshly grated parmesan cheese, loosely packed
Mince garlic and shallot, grate lemon zest and cheese, and chop parsley before you begin cooking. Bring a pot of salted water to a boil. While the water comes to a boil, peel and devein the shrimp and set aside.
Place a medium-sized frying pan over medium heat. Melt butter and olive oil and allow to bubble slightly. At this time, your water should be boiling: add the pasta and cook to al denté. Once the butter and olive oil have begun to bubble, add the garlic, shallots, and red pepper flakes and sauté for 1-2 minutes, stirring frequently so the garlic does not burn. Add the shrimp, salt, and pepper to the frying pan and sauté for 3-4 minutes until shrimp is pink and opaque on both sides. Remove the frying pan from the heat and add the lemon zest, lemon juice, and parsley. Toss well and adjust seasoning to taste.
Drain the linguine in a colander and add it to the shrimp mixture. Toss to coat all pasta.
Scoop pasta and shrimp onto dinner plates and top generously with parmesan cheese.