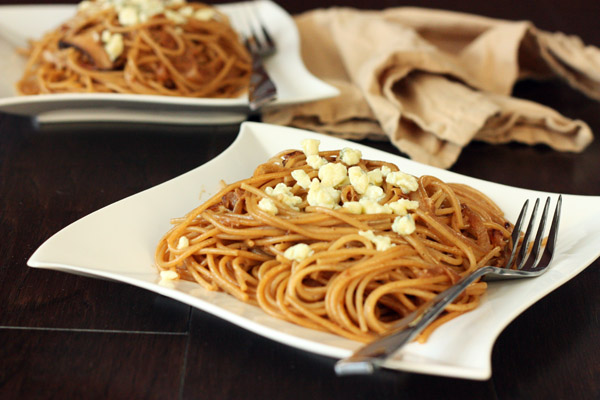 Have you noticed that onion and mushroom pizzas are all the rage these days? It seems that every pizza parlour around now features a caramelized onion pizza topped with mushrooms and pungent gorgonzola cheese. And who can blame them? The rich, sultry flavors of these three ingredients make for an surprising and exciting change from red- or white-sauced pizzas.
But we're not here to talk about pizza. In fact, it was the glut of all these pizzas popping up on menus that made me wonder how the same flavors would work when painted on a different canvas… say, perhaps, a knot of whole wheat pasta?
Caramelized onions are, in my book, one of life's greatest pleasures. From topping crostinis to starring in homemade onion dip, they enrich almost everything they encounter. I've been known to eat them plain, with no cares about the odorific consequences that might ensue. As I expected, they make an excellent base for this pasta sauce.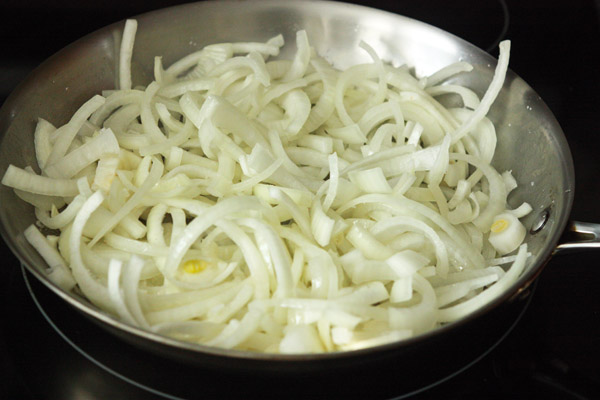 The only challenge to making them? It's really easy to burn the crap out of them, and you could find yourself scraping blackened onions from your frying pan if you don't keep your patience. The key to making a great batch of caramelized onions is, quite simply, patience. Over low heat for at least 30 minutes, your onions will convert from crunchy white spears to a textured slurry of reddish-brown caramelized goodness.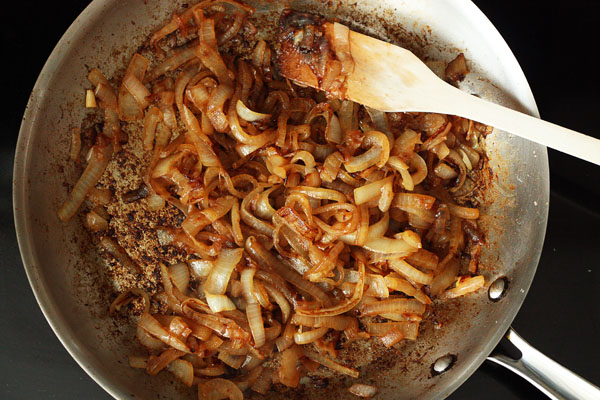 Mushrooms, on the other hand, need to cook for only a couple of minutes, so I added those to the pan after the onions were completely cooked. Shiitake mushrooms are in season in Ohio, so I used a precious batch of those. You could easily sub in creminis or button mushrooms.
A bit of cream, some balsamic vinegar, and black pepper are finally added to transform this sauté into a sauce.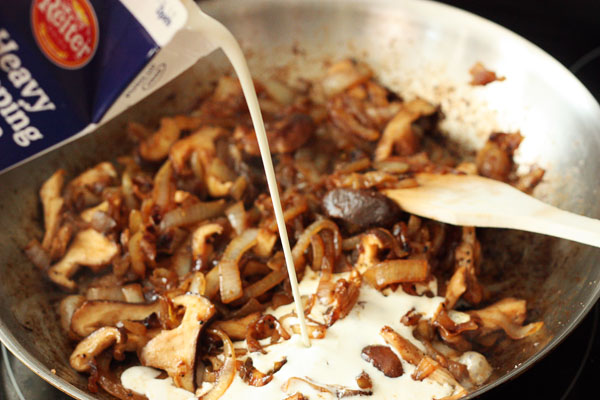 For the pasta, I opted for a whole wheat spaghetti. Most of the time, I prefer to use regular pasta, but I do greatly love spaghetti with a little bit of extra depth. It's an easy switch to make, and Brad and I have been eating our spaghetti whole wheat for several years. Penne, on the other hand, not so much, I find that the whole wheat varieties taste more similar to toilet paper tubes than pasta.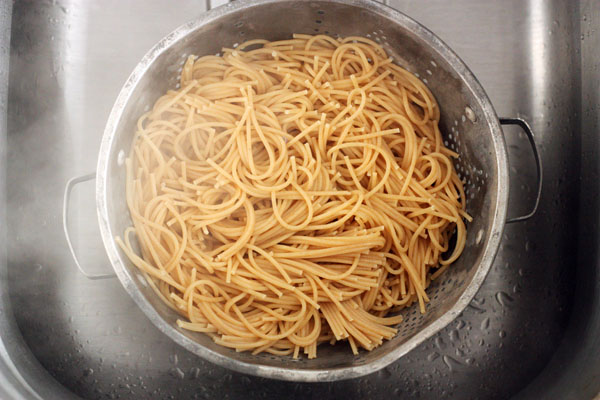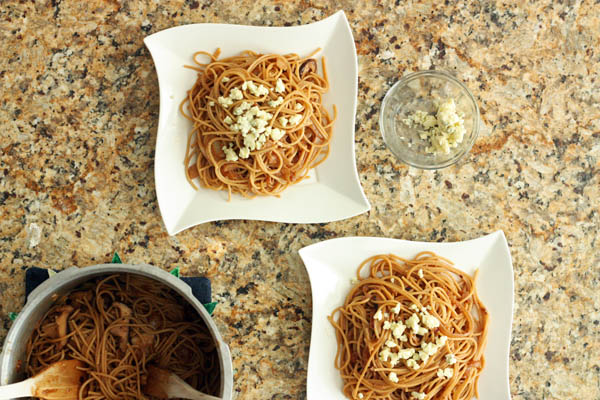 But I digress. Mixed together, the color from the onions and mushrooms darkens the pasta for an attractive dish that tastes incredible. For a little extra something, gorgonzola crumbles can be added to the top, though I urge you to tread lightly: it's a very strong cheese, and a little goes a long way.
I can see why pizza joints are hustling to get onion and mushroom pizzas onto their menus, but after putting this together, I think pasta restaurants should follow their lead.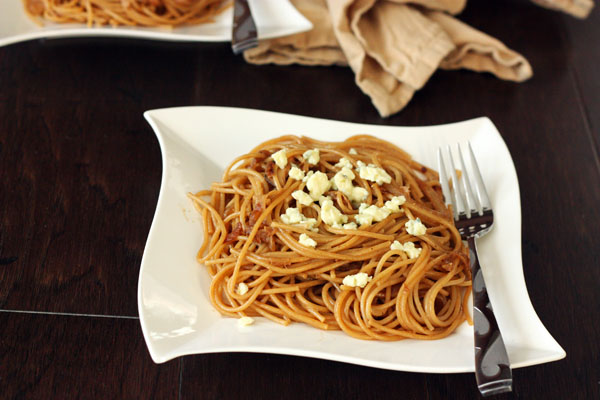 Spaghetti with Caramelized Onions & Mushrooms
Serves 4-6
3 T unsalted butter, divided
2 large yellow onions
1 tsp salt
4 oz mushrooms, any variety, chopped
1/2 tsp freshly ground black pepper
1 T balsamic vinegar
1/2 c heavy cream
1 lb whole wheat spaghetti
1/2 c gorgonzola cheese crumble
Peel the onions, then chop them into quarters. Slice the onions so that the pieces form crescent-shaped strips about 3″ long. Melt 2 tablespoons of butter in a large frying pan over medium heat. Once butter has melted, add the onions and salt and toss well. Cook onions over medium for about 30 minutes, stirring often to caramelize all the onions.
When the onions have been cooking for about 10 minutes, bring a large pot of salted water to a boil. Add the spaghetti and cook to al dente.
As the spaghetti cooks and the onions are mostly caramelized, move the onions to one side of the frying pan and add the last tablespoon of butter to the cleared side of the pan. Add the chopped mushrooms to the pan and sauté for 2-3 minutes. Mix the mushrooms into the onions and add pepper and balsamic vinegar. Add the cream and reduce heat to low, stirring well to incorporate all the cream.
Drain the pasta into a colander, reserving about 1 cup of the pasta water. Return the pasta to the pot and pour the onion mixture into the pot on top of the pasta. Add about 1/2 a cup of the reserved pasta water and mix well until thoroughly combined, adding more pasta water if necessary. Adjust seasoning to taste.
Plate the spaghetti and add a few gorgonzola crumbles as a garnish.