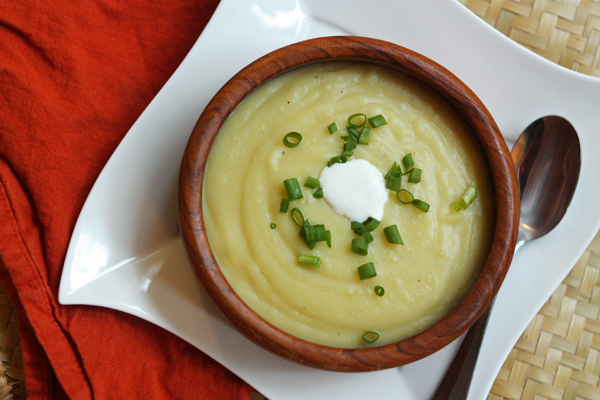 Happy December, friends! I feel like the super-late date of Thanksgiving has caused December to sneak up on me even more rapidly than usual. For me, December usually equates to a significant uptick in baking, candy-making, and gift-crafting that keeps me in the kitchen late into the night breaking up toffee and tying ribbon around pretty little boxes of mulling spices before packing them gently in bubble wrap and shipping them to friends and family across the continent.
And as much as I might like to convince myself that I can survive on party mix, mini cheesecakes, and pomegranate salsa, I work really hard to make sure I also have some real food in my fridge to sustain me. Something, warm, easy to prepare after late nights of baking, and filling enough to get through the busy days. To keep cooking to a minimum, I often turn to soups.
I had a bit of a soup explosion last fall and posted A LOT of them on the site: Butternut Squash Soup, my Favorite Chili, Sweet Potato Soup, Colorado Cape Cod Chowder, and more. This year I've been repeating many of those soups, but I did discover a simple potato leek soup recipe that I HAD to share with you.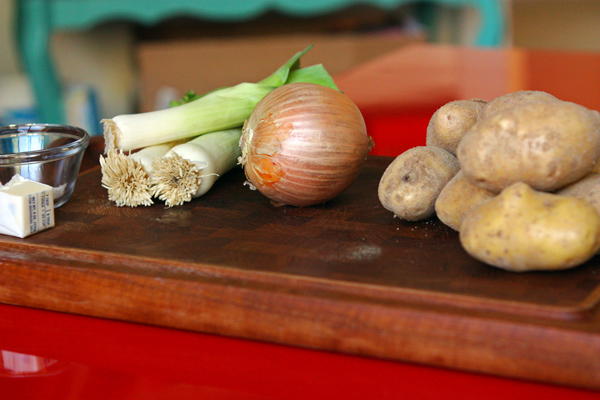 Like so many soups, this one has fairly humble components: potatoes, leeks, and an onion make up the base, and a little butter, salt, pepper, and cream bring it all together.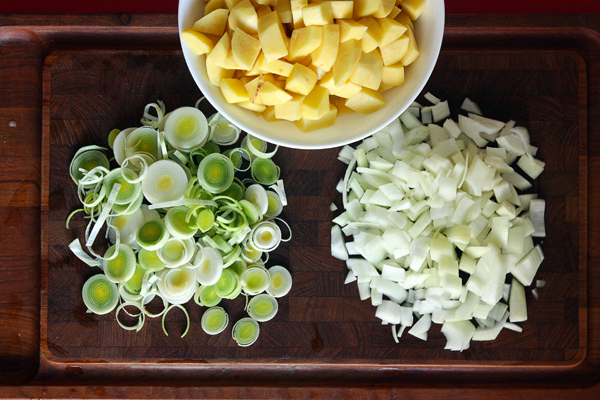 The potatoes and onions get a rough chop, and the leeks should be cut in slivered rounds, then rinsed to remove any dirt hiding between the layers. If you've not cooked with leeks before — I hadn't until a year or so ago — I highly recommend them. They are sweet and bright, rather like a green onion in flavor, and the play so nicely with the potatoes and onions that I didn't even use chicken stock at risk of masking their flavor.
Once everything is chopped, it all heaps into a pot for a little less than an hour to cook to softness.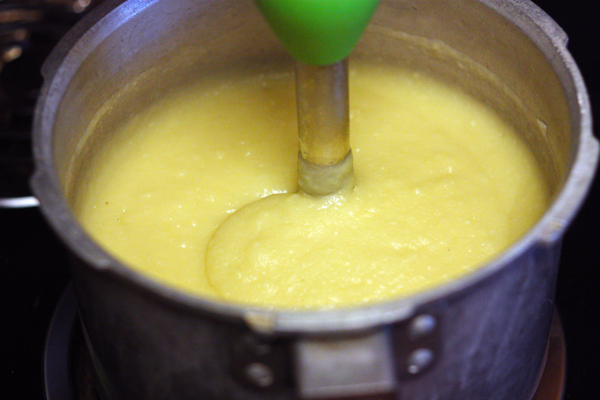 Then, in keeping with my favorite soup tradition, it's all whirled together with an immersion blender. You can also work in batches using a food processor if you don't have an immersion blender.
Once it is seasoned to taste, the soup is very thick: you may feel the need to add more water or even some milk to loosen it up a bit. But I rather like it thick, as it is almost almost like eating mashed potatoes for lunch every day for a week. Not a bad thing, in my book.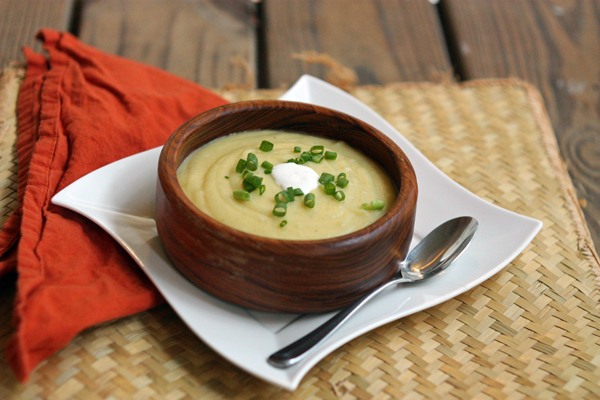 Potato Leek Soup
Adapted from The Pleasures of Cooking for One
Makes 4-6 meal servings, 8-10 sides
2 T butter
3-4 leeks
1 medium onion
about 3 pounds yellow potatoes
6 cups water
1 tsp black pepper
1 T kosher salt
1/4 c heavy cream
sour cream to garnish
green onions to garnish
Trim the dark green tops off the leeks. Chop up the white and light green parts of the leeks and place them in a bowl of water. This will allow any dirt to fall to the bottom; the leeks will float at the top. Remove the leeks to colander and set aside. Peel and chop the onion and potatoes.
Melt the butter in a large pot over medium-low heat. Add the onions and sauté for about 5 minutes until they have softened. Add the leeks and potatoes and allow them to sweat for another 5 minutes, stirring frequently. Add the water, the pepper, and about half of the salt and bring to a boil. Cook at a low boil for about 40 minutes, covered with a lid that is slightly askew. Once the potatoes are very tender, remove from the heat. Use an immersion blender to puree the soup. You can also transfer in batches to a food processor if you don't have an immersion blender. If the soup is too thick for your liking, add a bit more hot water.
Stir in the cream and taste, add more salt as needed. Serve hot, garnished with a dollop of sour cream and a sprinkle of chopped green onion.
This soup reheats very well and makes excellent leftovers.