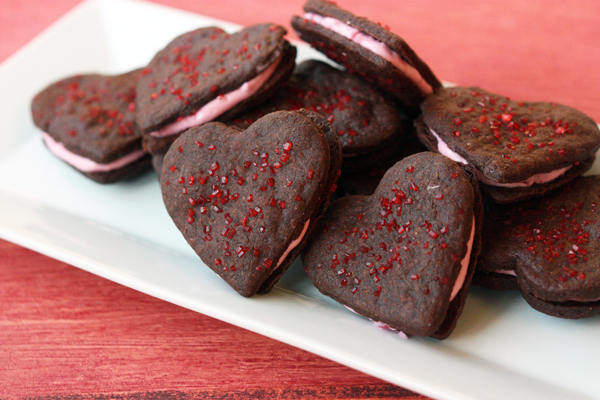 I've never been a particularly voracious celebrator of Valentine's Day. Perhaps I spent too many years as a single teenage girl, pining for the magic of rom com love and commiserating with fellow single teenage girls about the fairy tale love affairs we surely were soon to have. I supposed that Valentine's Day for those lucky ladies in relationships were whimsically romantic and that I was sure to celebrate this holiday with fervor when I, someday, became an un-single lady.
What's interesting is that, once I did find a smart lad to be my companion, I virtually stopped caring about Valentine's Day all together. Those romantic candle-lit dinners at tables with red rose centerpieces were wildly extravagant for college students on a budget (and I was probably in rehearsal anyway). The idea of receiving gushy Valentine's gifts, which seemed so appealing when I was younger, seemed borderline silly. You're more likely to find Brad and I ordering pizza in and laughing ourselves to tears watching funny YouTube videos this Thursday night. And you know what? I wouldn't want it any other way.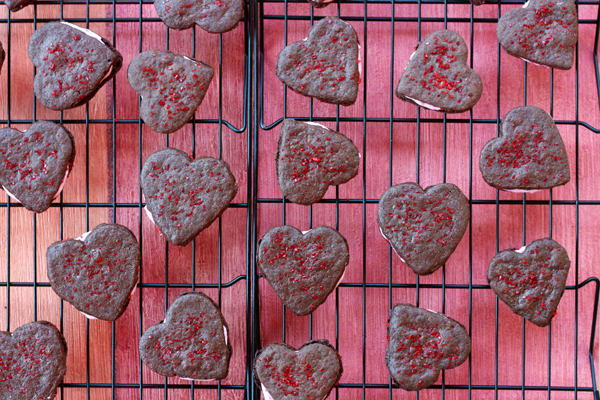 What I do love about Valentine's Day is the opportunity it offers me to bake pink, chocolatey, heart-shaped little treats to share with the people around me. These cookie sandwiches have it all. Crisp, deeply chocolate cookies sprinkled with course red sugar press together around a layer of creamy icing studded with raspberries. And despite their showy appearance, they are incredibly easy to make.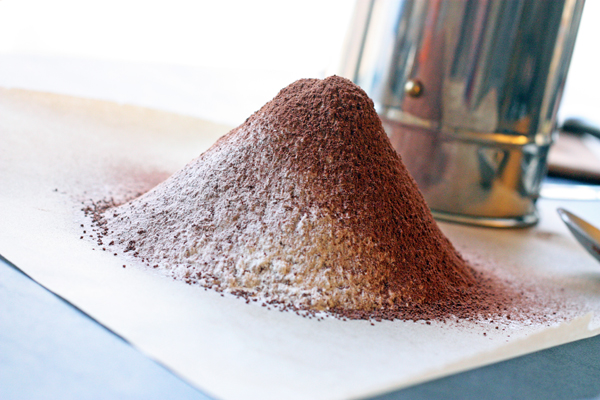 We start by making the crisp, chocolate cookies. I've been eyeballing this recipe from Smitten Kitchen since she posted it a couple weeks ago. In addition to cocoa, these chocolate sables contain a whole bar of rich, dark chocolate.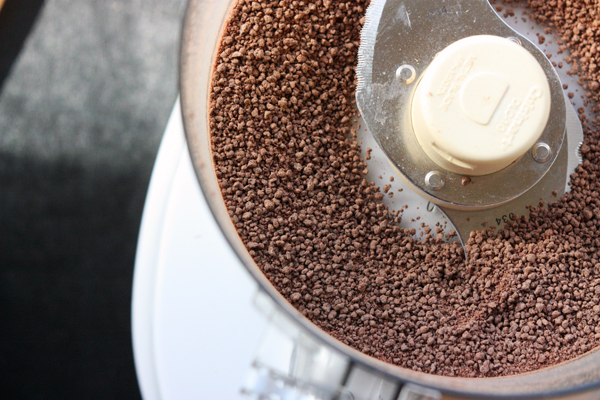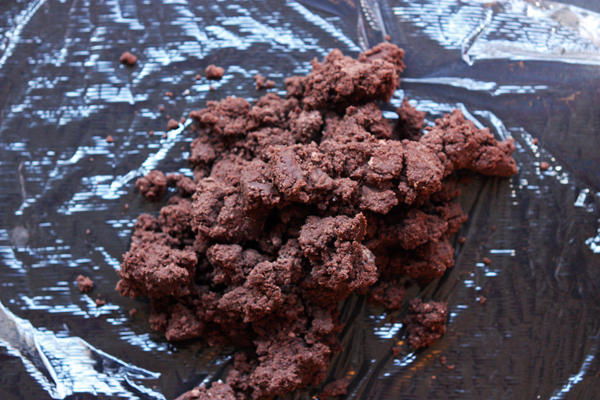 This dough is a little more delicate than, say, sugar cookie dough. However, it holds its shape nicely during baking, even without re-chilling the dough before it goes in the oven. For obvious holiday reasons, I chose to shape my cookies into little hearts, but any small cookie cutter shape will do.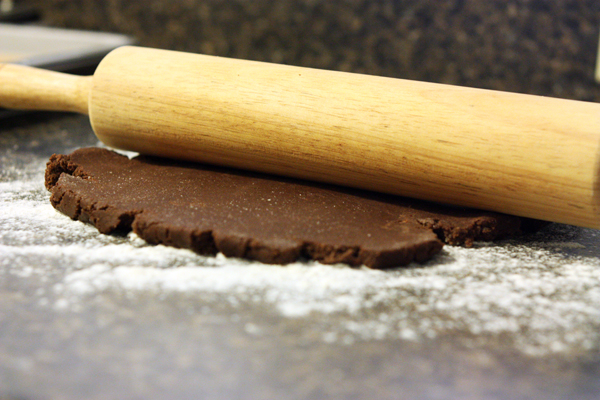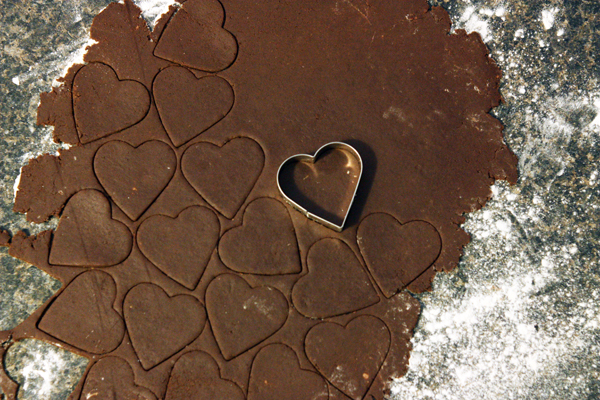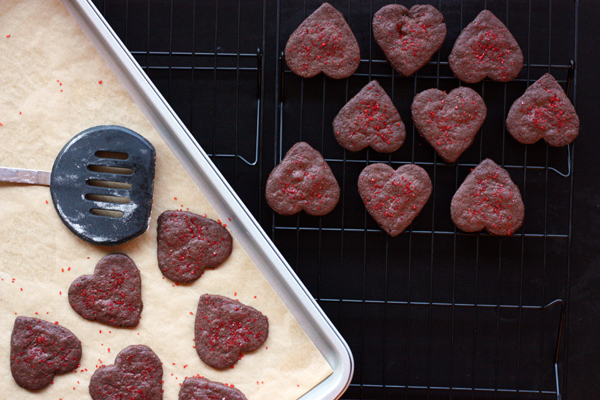 In the midst of chilling dough and cooking sheets of cookies, you can quickly whip up the filling. It's based on a cream cheese icing I use for Carrot Cupcakes, and I can't get enough of it. I still had some raspberries frozen from the summer, and they lend both a tart fruitiness and a stunning pink shade to this creamy icing.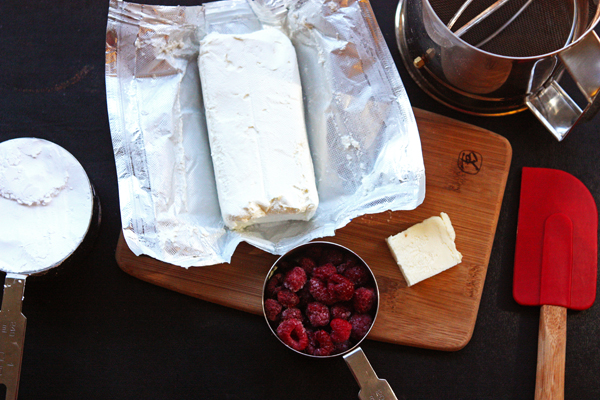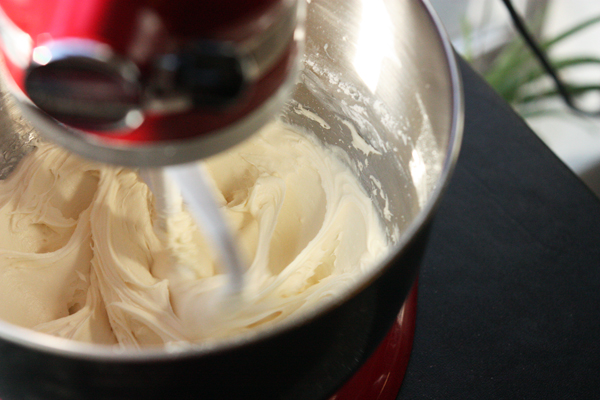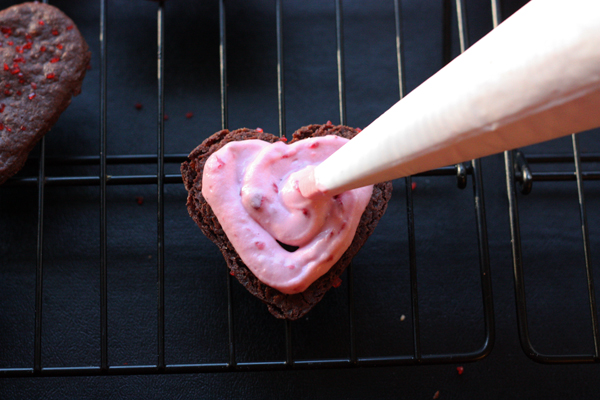 I ended up with extra icing, but I don't foresee any problems putting it to good use for other snacking. Perhaps even a second batch of cookies is in order.
These cookies are best served cold, with your favorite companion, and with a box of pizza and some YouTube videos.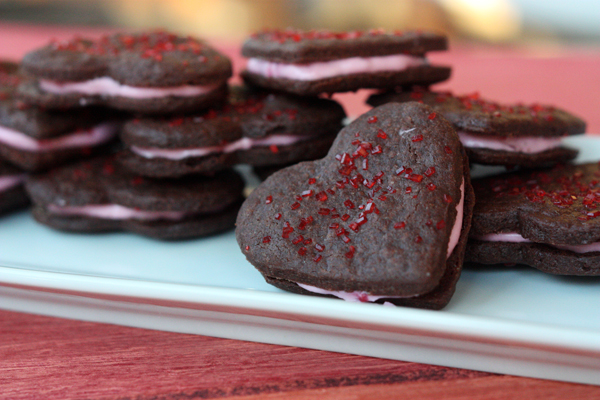 Chocolate & Raspberry Cream Cookie Sandwiches
Adapted liberally from Smitten Kitchen
3 oz semi-sweet chocolate
1 c all-purpose flour
1/3 c Dutch-process cocoa
1/4 tsp baking soda
1/2 c unsalted butter, room temperature
1/2 tsp sea salt
1/2 c granulated sugar
1 large egg yolk
3/4 tsp vanilla extract
course red sugar
8 oz cream cheese, at room temperature
2 T unsalted butter, at room temperature
1 c powdered sugar, sifted
1/2 c fresh or frozen raspberries
Break chocolate into chunks and place in the bowl of a food processor with the blade attachment. Pulse several times until chocolate resembles a powdery, coarse meal. Sift together flour, cocoa, and baking soda onto a sheet of parchment paper and set aside.
In the bowl of a standing mixer or in another large bowl, cream together butter, salt, and sugar until light and fluffy. Add egg yolk and vanilla extract and mix well. Scape down the sides of the bowl and add the ground chocolate and sifted cocoa mixture. Mix until a crumbly dough is formed, scraping down the sides of the bowl to incorporate all ingredients. Dump the dough onto a sheet of waxed paper and wrap tightly, which will help the dough to come together. Refrigerate for about 30 minutes to allow the dough to firm up a bit (not too much or it will be hard to roll).
While the dough is chilling, you can prepare the filling. Clean out the mixer bowl and beat cream cheese and butter on high speed for about 5 minutes until light and creamy. Add powdered sugar and beat for 5-8 more minutes on high. Reduce speed to low and add raspberries, blending until thoroughly combined. Place bowl in the refrigerator until the cookies have been baked.
Line 2-3 cookie sheets with parchment paper and preheat oven to 350°F. On a floured surface, roll dough out until it is about 1/8-inch thick. Roll it out slowly, as the dough will still be somewhat crumbly. Use your favorite cookie cutter to cut the dough into shapes and carefully lift each cookie to the lined cookie sheets, spacing them about an inch apart. Gather all dough scraps together and roll out again, continuing this process until all dough has been used. Sprinkle each cookie with some course red sugar.
Bake for 10 minutes, then remove cookie sheets from oven. Leave cookies on the trays for about 5 minutes, then carefully remove them to cooling racks and allow to cool completely.
Spoon filling into a piping bag (you can also use a sandwich bag with the corner trimmed off). Flip over one cookie and pipe a mound of filling onto it, making sure to keep the filling 1/4-inch away from the edge. Gently press another cookie on top until the filling squeezes to the edges. Repeat until all cookies have been used. You will have some leftover filling, which makes a wonderful dip for everything from graham crackers to apples.
Store cookies in an airtight container in the refrigerator.