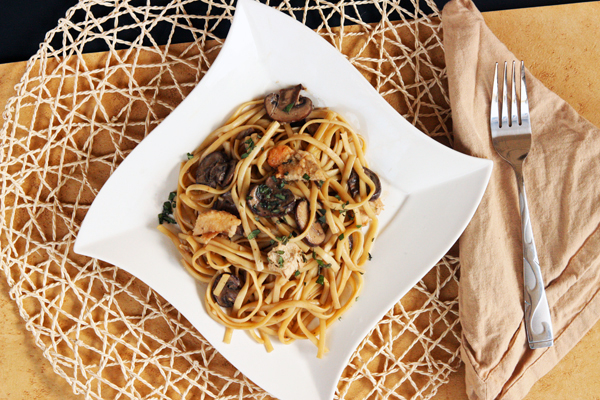 I've grown tired, lately, of regular pasta sauce. Not of pasta, mind you. I crave that all the time. But these days, every time I sit down to make or order a pasta dish, I try to find something that is not marinara or alfredo.
While traipsing about the internet, I ran across a recipe for chicken marsala, which I've eaten at restaurants but never cooked myself. The thick, tangy brown sauce, full of mushrooms and drizzled over chicken, looked wonderfully decadent, and I started wondering how it would taste on pasta. It seemed it might be just the breath of fresh pasta-sauce-air that I was looking for.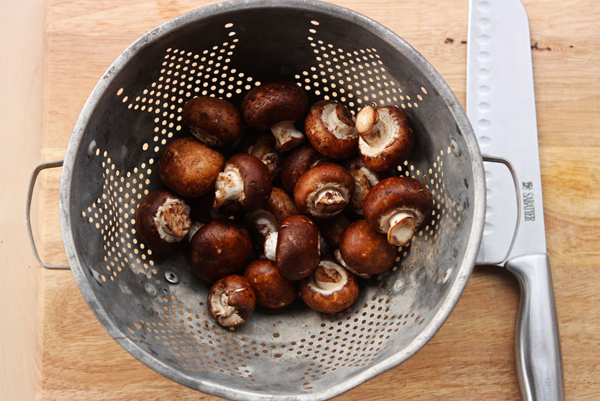 For those of you out there who love chicken marsala, you won't be surprised to hear that this dish starts with a large pile of mushrooms. You can use any variety you like, but I love using creminis. Even though they ultimately get drowned in brown sauce, they're just so dang pretty when you clean and chop them up, aren't they?
And the other half of chicken marsala? The chicken, of course! Chicken breasts are sliced in half to create thin, fast-cooking filets. I dredged mine in a mixture of flour and parmesan cheese to create a golden-brown, slightly crunchy coating.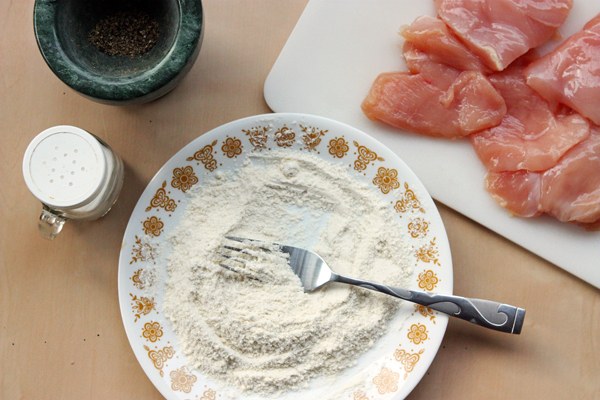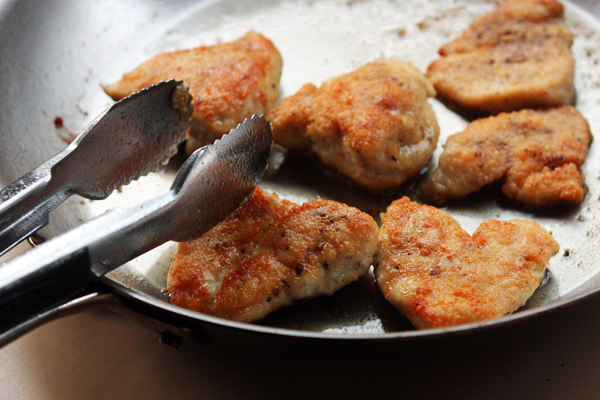 With a batch of chicken set aside on the cutting board and mushrooms sautéing away in a frying pan, its time for the most important element of this pasta: the sauce.
I confess: I stood, rather perplexed in the wine section of the grocery store for quite a while. Do I need sweet marsala? Dry? I ultimately selected one that didn't specify, and not being an avid wine aficionado, I honestly don't know what I ended up with. Though, the internet seems to conclude that sweet marsala is the correct wine to use for this sauce. For anyone who wants to know.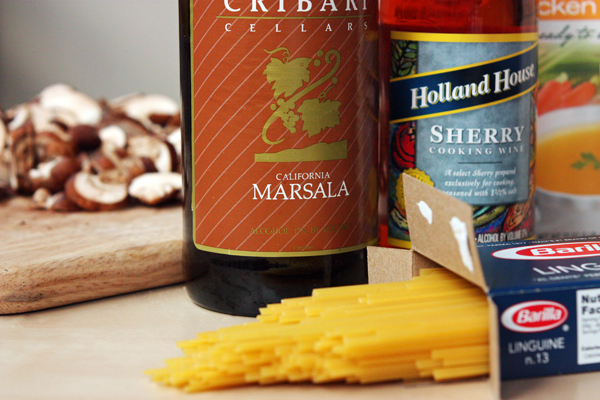 Once the sauce has thickened, the pasta has cooked, and the chicken has been chopped, everything is mixed back together in the pasta pot. The result is a surprising and refreshing pasta dish, speckled with mushrooms and crisp bites of chicken. And the best news, perhaps, is that it was VERY fast and very easy, coming together in about 30 minutes from start to finish. How exciting when a dinner experiment turns out as such a delight!
It may be a while yet before marinara makes it back on the menu.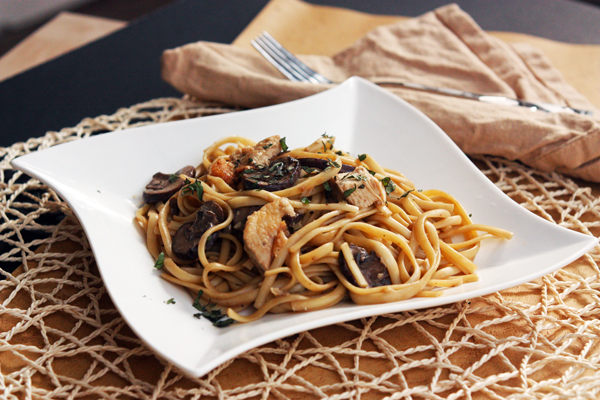 Pasta Marsala
Adapted from Savory Sweet Life
8 oz skinless boneless chicken breasts
salt & freshly ground black pepper
1/4 c all-purpose flour
1/4 c grated parmesan cheese
2 T canola oil
2 T unsalted butter
4 oz cremini or button mushrooms, washed and patted dry
1/4 tsp salt
1/4 tsp freshly ground black pepper
1/2 c marsala wine
1/4 c cooking sherry
1/2 c chicken stock
1/4 c heavy cream, at room temperature
2 tsp cornstarch
1 T water
1/2 pound linguine or other pasta
fresh oregano, chopped to garnish
Split the chicken breast through the middle so that you have thin filets. Sprinkle salt & pepper on both sides of chicken. On a small plate, combine flour and parmesan cheese and mix well with a fork. Dredge each piece of chicken in the flour mixture on both sides, ensuring the chicken is fully-coated.
Heat oil in a large frying pan or sauté pan over medium heat until oil glistens. While the oil is heating, slice the mushrooms and set aside. In addition, bring a pot of salted water to a boil.
Add chicken to the frying pan and cook until the first side is golden-brown. Flip each piece of chicken and cook until chicken is white all the way through and both sides are golden-brown. Remove chicken from the pan to a cutting board. If any oil is still pooling in the pan, soak it up with a paper towel and dispose.
Add butter to the pan and melt. Add mushrooms, salt, and pepper and stir well. Sauté for 5-7 minutes until mushrooms are releasing their juices and starting to darken, stirring occasionally. Add marsala, sherry, chicken stock, and cream and stir well. Allow liquid to reduce for 7-8 minutes, stirring often.
While the sauce is reducing, add dry pasta to the boiling water and cook to al dente. Once cooked, drain well and return to the pot with a lid until the sauce is done. Use the time while the pasta and sauce are cooking to cut the chicken into bite-size pieces.
Combine the cornstarch and water in a small glass and mix well. Once the liquid on the mushrooms has cooked for 7-8 minutes, add about the cornstarch mixture and stir constantly as the sauce thickens, usually about 2 minutes. If the sauce is still too thin, you can make a little more cornstarch slurry and add it a little bit at a time.
Add chicken, mushrooms, and sauce to the drained pasta and mix well. Serve garnished with chopped oregano.