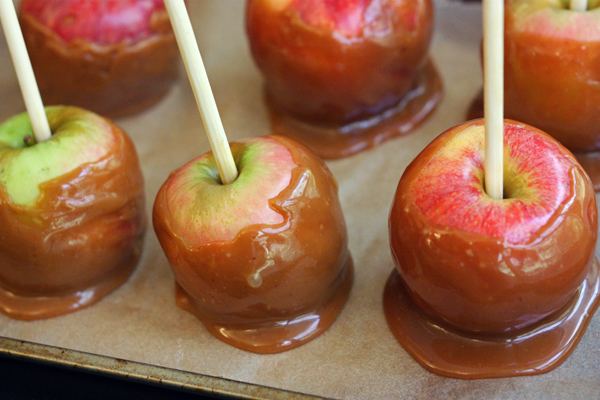 ATTENTION STORES EVERYWHERE:
I love Christmas, I really do. But I'm not ready for it. Not for candy canes and glittery pine cones and red ribbons on the ends of the aisle. I'm not ready for the ghost and goblin decor to be heaped haphazardly on a clearance rack by the checkout while pine boughs and Santa hats flood in from the back room. It's Halloween this week, thank you very much, it's Thanksgiving in a month, and there are several beautiful weeks of autumn between now and then.
And for you big-budget stores, I'm really not ready for jingle bells and dancing elves to adorn your circulars & commercials.
So in defiance of the ever-earlier Christmas season, I offer these treats that scream "Halloween!" loudly enough to drown out the dancing elves, at least for the next few days.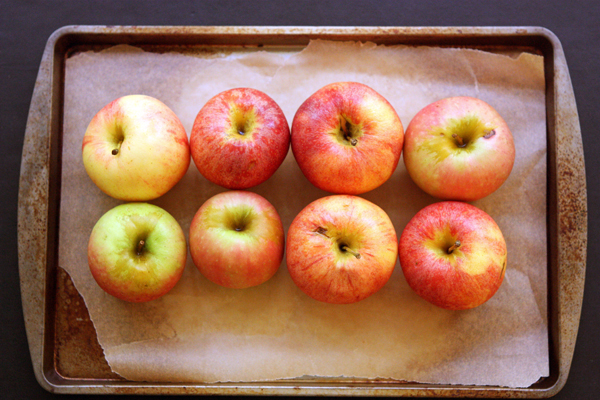 I speak, of course, of caramel apples. It's no wonder this treat is a classic: a tart, crisp apple enrobed in a sheen of chewy honey caramel is one of the greatest joys of fall. These apples are Pink Ladies, my favorite variety, and they hail from this year's annual apple-picking trip, which has become a cornerstone of every fall for me (my little blog is named after it!)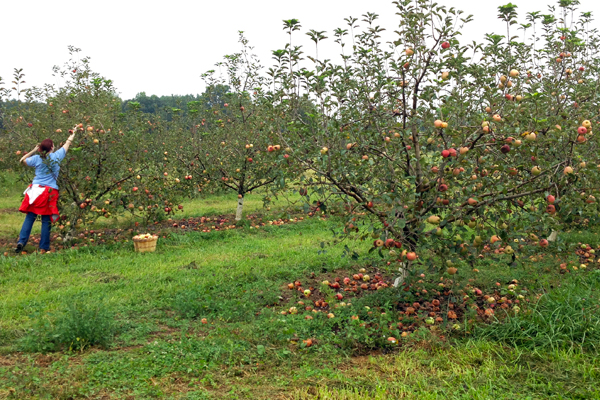 Photo from Monica B.
The goal is to acquire enough fruit to span the gap between the last blackberries of summer and the first strawberries of spring, so I pick as many as I can. This year, the limit was half a bushel, so I filled my basket to the brim. But I'm willing to use a few of these precious fruits for a batch of caramel apples.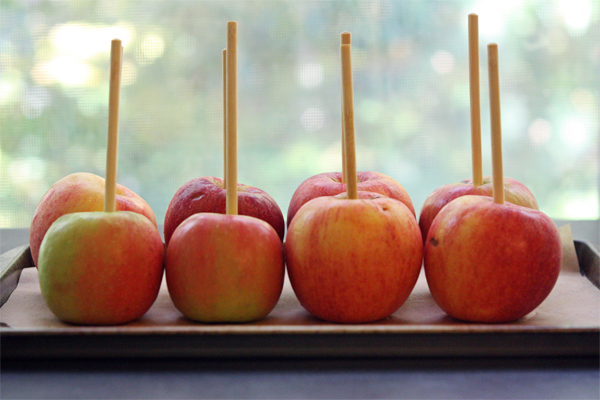 And what to dress them with? I enjoy caramels of all sorts,  but I really love honey caramel. With only cream, sea salt, and honey, it's a great way to celebrate local ingredients beyond even the apples.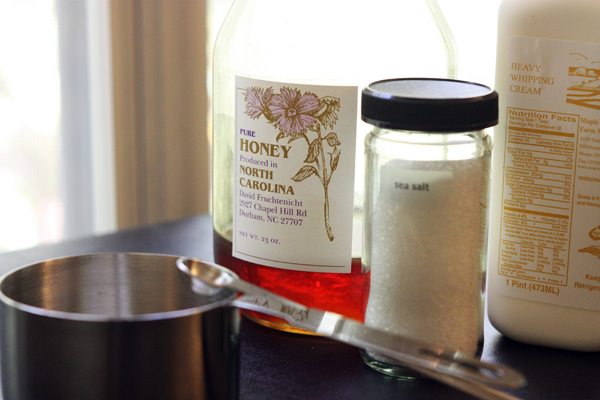 And it's super easy! With a cheap candy thermometer (available at any home goods store), a medium-sized pot, and a wooden spoon, you can make this caramel in less than 30 minutes.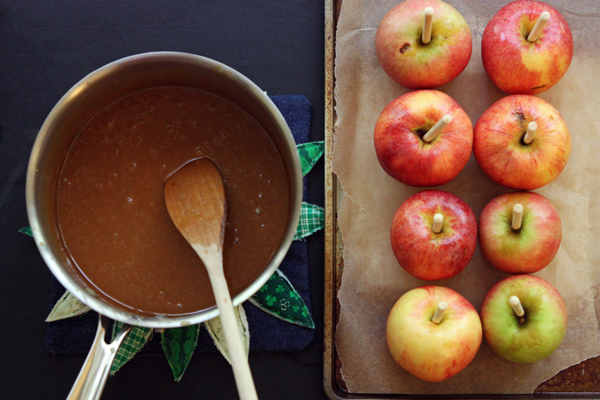 Then the apples just get a quick bath in the hot caramel, and you're done! A classic, delicious, show-stopping Halloween dessert.
Going to a Halloween party this weekend? Show up with a tray full of these! But save one for yourself. The others will disappear faster than those fall decorations on the clearance rack.
Happy Halloween weekend!
Honey Caramel Apples
Adapted from 101 Cookbooks
8 small apples, washed, dried, and cold
8 lollipop sticks
1 1/2 c heavy cream
1 1/2 tsp sea salt
1 1/2 c honey
Line a medium cookie sheet with parchment paper. Twist off the stems from each apple and all it to sit naturally. Insert a lollipop stick into the apple where the stem was, but make sure the stick is vertical. It may not follow the same track as the stem, but should stay vertical when the apple sits naturally. Set apples aside. Fill a large bowl half full with cold water and set near the apples. Make sure you also have a trivet or pot holder adjacent to the bowl and the apples for the pot of caramel when it's time to coat the apples.
In a heavy medium pot, stir together cream and sea salt. Heat over medium until just before simmering, stirring occasionally. Stir in the honey with a wooden spoon and place a candy thermometer onto the pot to track the temperature. Increase heat to medium-high, stirring constantly. Mixture will come to a boil and will cook for 10-15 minutes. Once the mixture reaches hard ball stage or 260°F, remove the thermometer and remove the pot from the heat. Continuing to stir, dip the base of the pot into the cold water, taking care to ensure that no water gets into the pot. Stir until the caramel is smooth and beginning to thicken. Place pot on the trivet and tilt so the caramel pools on one side.
Spin each apple on its side in the pooled caramel until it is covered to your liking. If the caramel is sliding off the apple or is thinning too much, let it cool for a few more seconds. You may also need to blot the bottom of the apple on the bottom of the pot above the caramel pool to allow extra caramel to come off. Place each apple on the parchment-lined baking sheet.
You'll need to work quickly to prevent the caramel from becoming too cool. If the caramel becomes difficult to work with, place it back on the stove for a few seconds to heat it back up.
Once all apples are coated with caramel, allow them to cool for 1-2 hours until set, then store in the refrigerator. Remove from the fridge 30 minutes before serving.
Enjoy!