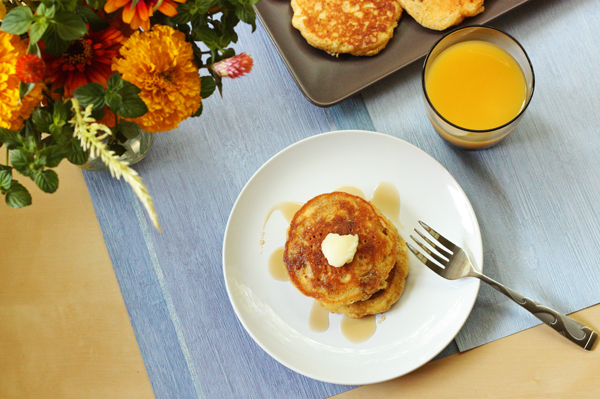 Raise your hand if you like the following:
a) pancakes
b) cornbread
c) corn on the cob
d) bacon
e) breakfast
If you raised your hand for none of these things, I question your culinary sanity. If you raised your hand for all of these things, THIS, my friend, is a recipe for you.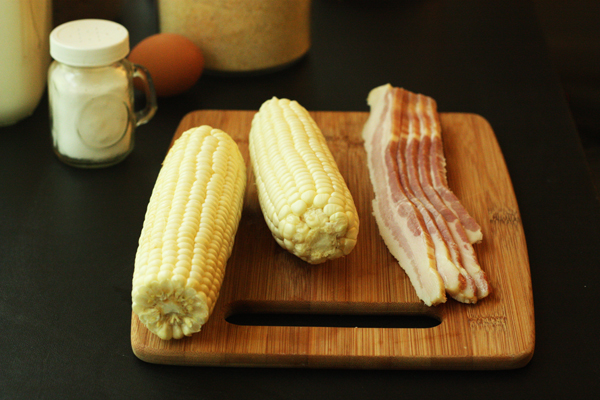 Here's how this happened. I had corn on the cob and bacon in my fridge. I recently saw a recipe for a breakfast hash featuring them, and wanted to make it immediately. Buuuuuuut I wondered: could I make it a little cake instead? Like a latke? Or wait! Even better… a pancake? Or what about a cornbread?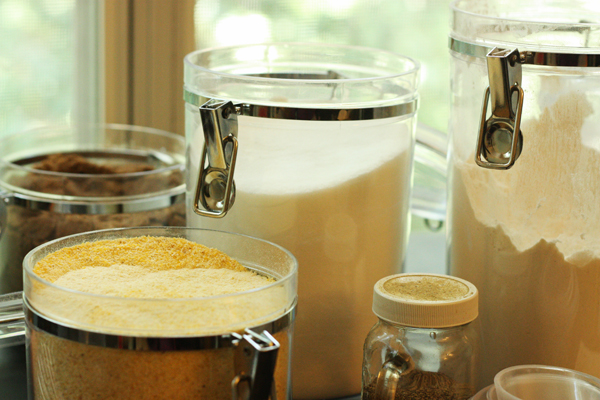 Then it became clear: a cornbread-y pancake (the latke idea was cast aside for another day) studded with corn kernels and bits of bacon? Couldn't possibly be all bad.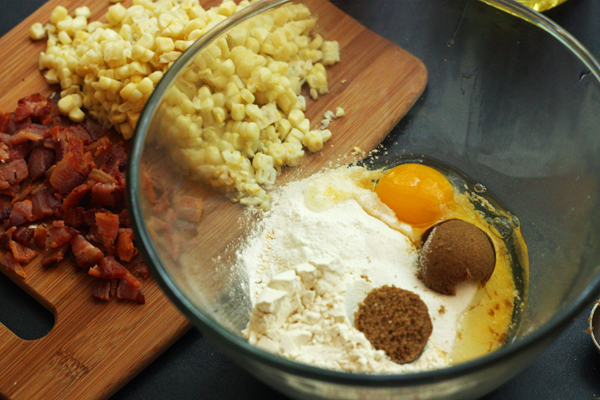 Using my parents' trusty pancake recipe, I swapped out white flour for corn meal, white sugar for brown, and of course added copious amounts of kernels cut from the cob and some positively miraculous bacon. The cakes would have had quite a bit more had I not nibbled at it generously while taking photos. Probably should have just cooked an extra piece for nibble protection.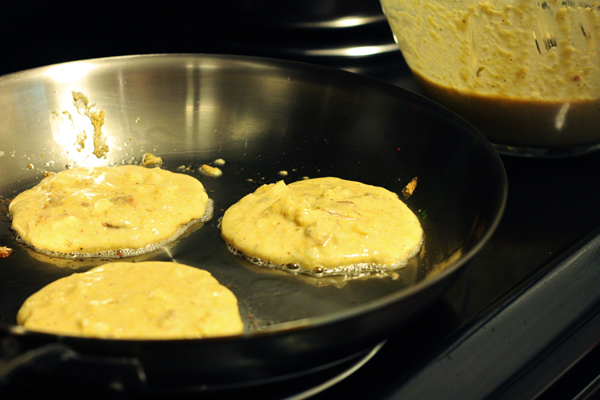 Then, just like pancakes, the batter cooks gently in a frying pan (or on a griddle if you have one… I don't) before being carefully flipped to the other side.
Do you know the rule for flipping pancakes? Wait until the air bubbles on the top of the pancakes have all burst. And use low heat! Slow and steady is the path to a non-blackened pancake.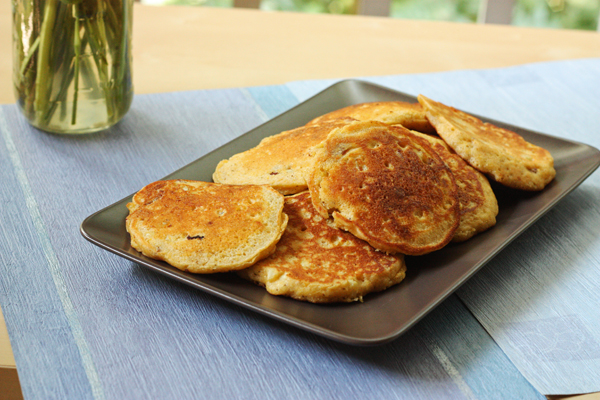 Then it's breakfast! The consistency and warmth of cornbread in a pancake is delightful. You can eat them plain or could toss an egg on top for some extra protein. Or, in true pancake style, butter and maple syrup. And we all can agree, I think, that when those little bits of bacon do finally meet a drop of maple syrup, all is well with the world.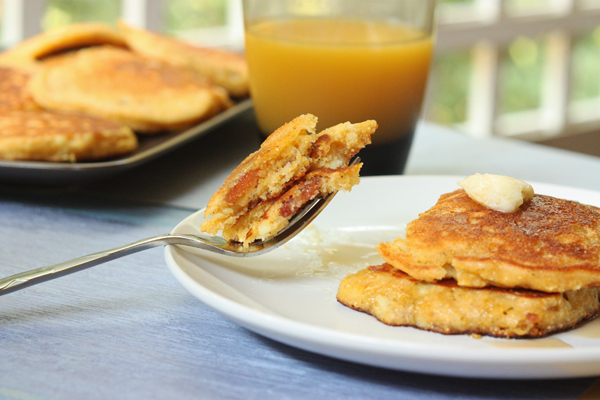 Sweet Corn & Bacon Pancakes
Adapted drastically from our family pancake recipe
Note: The pictures above only show about 1/4 pound of bacon. Uponcooking  the pancakes, I determined they would be improved with a larger quantity (what doesn't improve with more bacon?), hence the increased quantity listed below. You can use your own preferences and add more or less of either the corn or the bacon.

2 ears sweet corn
1/2 pound bacon
1 c corn meal
1/2 c all purpose flour
2 T white sugar
2 T dark brown sugar, packed
3 1/2 tsp baking powder
1 egg
1 c milk
3 T canola oil
1 tsp salt
1 tsp black pepper
2-3 tablespoons additional oil for cooking pancakes
Bring a large pot of water to a boil. Gently place shucked ears of corn in the water and boil for 5-7 minutes, then remove to a colander to cool. Meanwhile, slice up bacon into 1/2″ pieces and place in a small frying pan. Once bacon is in the pan, heat pan to medium and cook bacon until fat is rendered. Remove bacon to a plate lined with a paper towel to soak up extra grease.
Once corn has cooled, cut the kernels from the cob. I find the easiest way is to stand the cob on it's end and slice from the top, cutting as close to the cob as possible. Continue all the way around the cob until the flesh of the kernels has been removed.
In a large bowl, combine all remaining ingredients except the "additional oil" and mix well. Stir in the corn kernels and bacon.
Heat a large frying pan over medium-low heat with 1 T of oil. Once oil begins to glisten, make sure it is spread evenly throughout the pan. Ladle the batter onto the pan in small circles, using about 1/3 c of batter for each pancake. Allow to cook undisturbed until all air bubbles that have appeared on the surfaces of the pancake have burst. Carefully use a spatula to flip the pancakes to allow the other side to cook. Cook second side until golden brown, then remove from pan to a serving plate. Continue until all batter has been used, adding more oil to the pan as necessary to keep the surface slick. While you are cooking, cover the serving plate with aluminum foil or another plate to keep the finished pancakes warm.
Serve plain or with butter and maple syrup. Pancakes will keep several days in the refrigerator, or you can bag them into sandwich bags and freeze them.