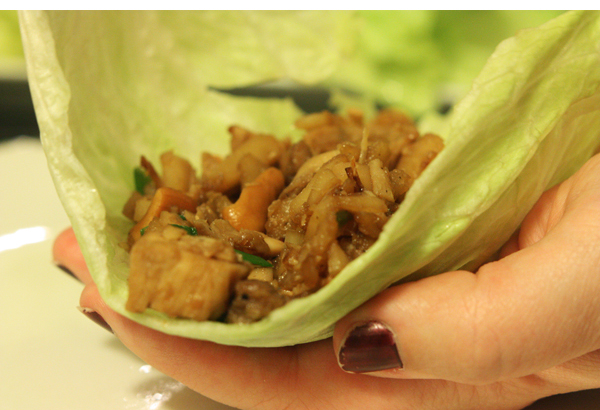 For the last couple of weeks, my Google Reader has been buzzing with "game day" recipes. Game day party decorations. And game day craft projects (which seems a bit bizarre, don't you think?), all in preparation that un-official American holiday: the Super Bowl!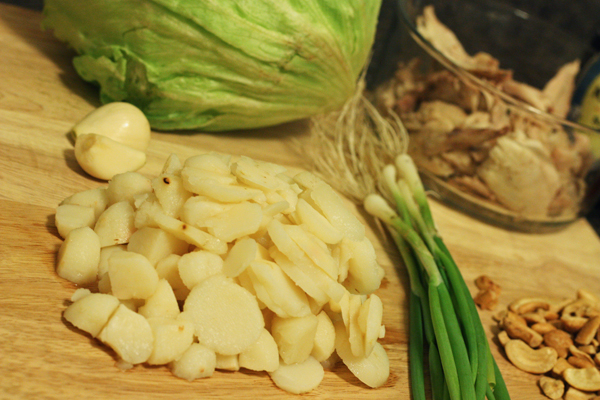 I must confess, (braces for judgement) I've never really watched the Super Bowl. Neither of my parents were ever particularly big sports fan, and more often than not, we would go skiing or see a movie on Super Bowl Sunday to take advantage of empty slopes and matinee tickets. In fact, I was in college before I sat down to watch my first Super Bowl work on a paper in the corner at my dorm's game day party.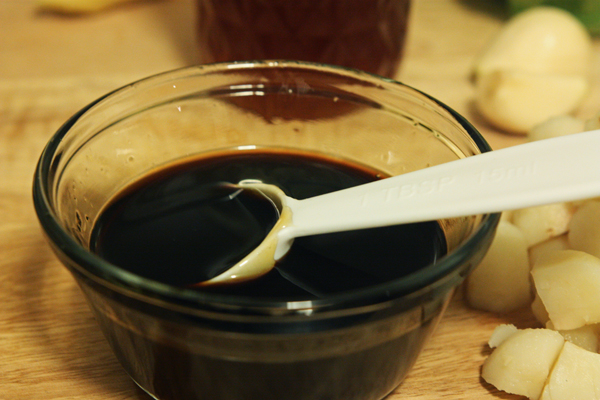 But the food, the food! Such a celebratory spread of mind-bendingly delicious snack food I've never seen! Wings and ranch and chips and dips and cookies and sodas and crackers and cheeses and and and and… it's an ode to snacking as much as it is to football. And I'm not a hater. If I could live on chips and salsa, I would totally do it.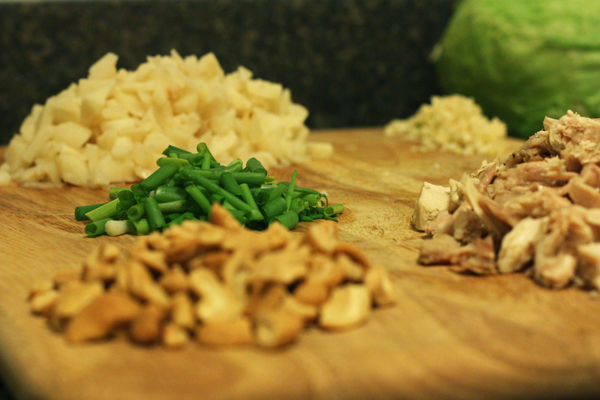 But it's pretty rare to see something green and fresh at a Super Bowl spread. Perhaps a veggie tray, accompanied by an obligatory bucket of dip, obviously. So I have a proposition for you: if you haven't decided what to bring to your Super Bowl party of choice, make these.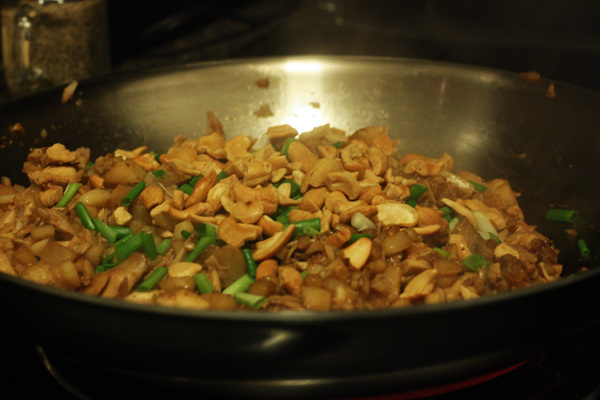 These are warm and savory. These are crunchy and zippy. These are interactive and fun to eat. These are full of nuts and veggies and chicken and wrapped in a crisp leaf of lettuce.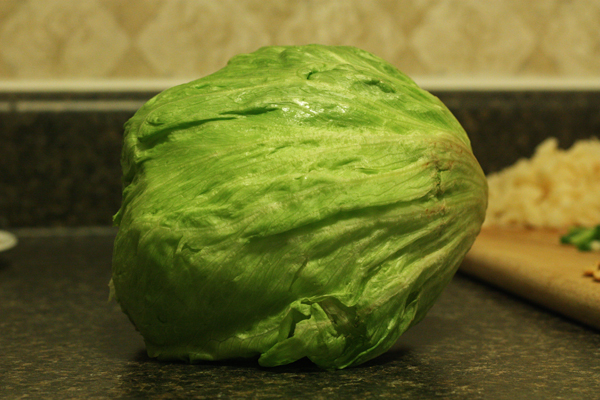 Now wait! Don't stop reading just because this is iceberg lettuce. I know, I know, iceberg lettuce isn't winning any foodies' choice awards these days. But it's perfect for peeling apart, leaf by leaf, to form crisp shells that stay, cool, crunchy, and fresh despite the addition of the warm and saucy filling. Save the field greens (ha, football joke) for another day. (My god that was bad.)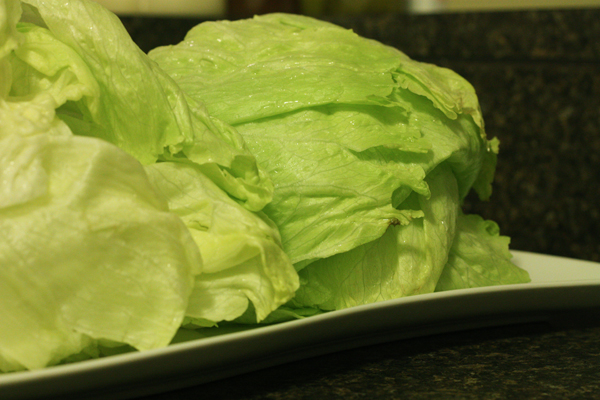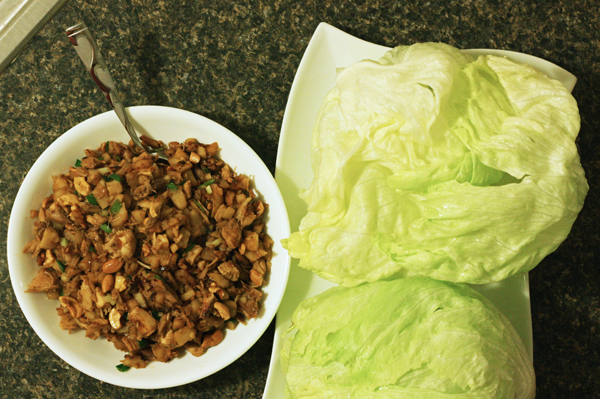 Double this. Triple this. It will disappear even faster than the wings.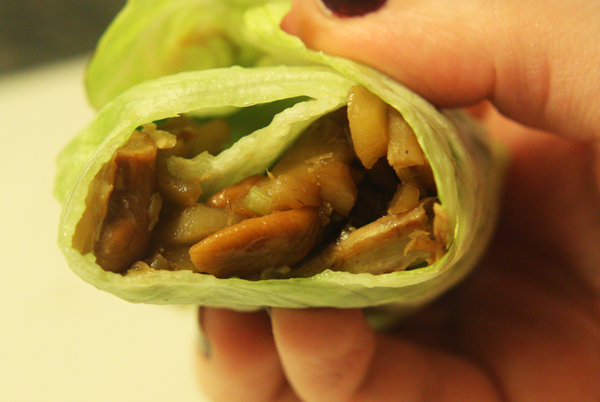 Chicken & Cashew Lettuce Cups
Adapted from Sierra, who adapted it from Real Simple
Serves 8 as an appetizer, 4 as a side, and 2-3 as an entrée
1/2 T canola oil
12 oz boneless skinless chicken, raw (or about 8 oz if using chicken that is already cooked)
1/2 tsp black pepper
2 cloves garlic, minced
1 T grated ginger (or 1 tsp ground ginger)
16 oz water chestnuts, drained and diced
3 T soy sauce
3 T honey
1/2 c roasted cashews, unsalted
1 bunch green onions, chopped
1 head iceberg lettuce
Remove outer layer of lettuce and discard. Working carefully, separate each leaf of lettuce from the head to form several "cups". Store in the refrigerator until just before serving.
Cube chicken into bite size pieces. Mince garlic, grate ginger, and chop water chestnuts & green onions before you begin cooking. In a small dish, combine soy sauce and honey and mix well.
Heat oil in a large pan over medium heat until oil shimmers. Add chicken to pan and season with pepper. Cook just until browning begins. Stir in garlic & ginger and cook for 2 minutes. Stir in chestnuts and soy mixture. Stir fry until chicken is cooked through. Remove from heat. Add scallions and cashews and toss to mix well. Remove from pan to a serving bowl.
To serve, spoon chicken mixture into lettuce leaves and wrap leaves around mixture, forming a wrap of sorts.